I like good, solid financial advice as much as the next guy, but when it goes over-the-top, well….we award the Boner of the Week! to the most outrageous item I found in the media during the last seven days.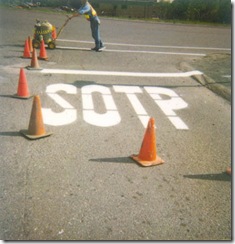 …and we're back to financial bloggers.
Don't get me wrong: I love reading money-oriented blogs. Sometimes I love them because their advice for financial success is spot-on. Other times it's because the blogger's sharing juicy personal stories. It's like reading their diary—you feel a little dirty but also thrilled that you know some secrets about their life and what gives them inner happiness.
I love some others because I get to wonder how come the blogger didn't invest in a spell-check button. Maybe saving money includes backing down on English lessons or spell-check tools.
Last week, one of the top financial bloggers on the "internets" shared a nice diary-type tale of a trip abroad. He allowed us to follow the travelogue with some crisp photos and helpful insights into the financial aspects of the trip. Trying to tie in some meaning, he discussed ways financial success can help your life.
Kind of.
Specifically, he wrote this: "Having money buys you freedom and happiness."
Oops.
How many things are wrong with this statement? Let me count the ways….one, two….three.
1) First, can money buy happiness? I hope you aren't that gullible. While it can be proven that financial success buys freedom– and a ton of doughnuts–there's no fact backing up that money can buy happiness. In fact, sadly, the opposite appears to be true. According to a story in Scientific American in August of 2010, money can impair the ability to enjoy purchased items. Researchers in Belgium have discovered that while wealth allows people to purchase more things, thoughts of how that lifestyle was acquired lowers the amount of happiness people experience. In this case, money detracts from inner happiness.
I will agree that I'd rather be rich and miserable than poor and miserable. After all, I think it was former editor-in-chief of Cosmopolitan magazine, Helen Gurley Brown, who said, "Money, if it does not bring you happiness, will at least help you be miserable in comfort."
2) Experts insinuating that money buys happiness is a reason I feel many have a spending problem. When I was a financial advisor, I met tons of unhappy rich people. They'd head to a store or expensive restaurant to buy away their ennui. I think they were buying into a house of cards. Do you want that for yourself? I don't think so. Make a list of goals…not just financial goals or things to buy. What do you want to do? Who do you want to be? Explore your world.
3) I think the goal of many bloggers is to help others. By presenting to a large audience that money = happiness, we propagate a stereotype that many are actively fighting to eliminate. I like a pocket full of cash as much as the next guy, but let's focus on building inner happiness. While it's true that having money—or rather a source of income—quells fears at the bottom of Maslow's hierarchy of needs, it's still only a fuel for life's goals. Let's not prey on consumer psychology by creating an illusion.  Chasing the next buck is not going to increase the amount of happiness we feel.
It might give you a warm, fuzzy feeling to go back and watch A Christmas Carol
if you'd like a quick holiday reminder about the meaning of happiness.
My point: I love the fact that you read this blog and others like it. It's exciting for me, too, to share better methods to manage cash, increase savings and prepare for a rainy day. Following the advice in my blog won't make you happy, although it is completely true that my incredible wit will charm you to tears. Will money buy happiness? Nope. But there is good news: financial blogs can help you achieve the flexibility to do what you wish, when you want, with whomever you choose. Sometimes those of us in the financial world get so enamored with financial success that we forget that money can't buy inner happiness.  ….or maybe he just wanted to be the boner of the week.
Disclosure: Purchasing A Christmas Carol from Amazon.com through the above link pays us a commission. Although that money won't make us happy, it will continue to allow the website to operate, which should totally fill you with joy.