****note: our Boner of the Week! post won't appear this week because I was so incredibly focused on consuming pumpkin pie that I neglected to scour the internet for that just-perfect financial misstep. We'll have some …um….stiff competition for next week's prize, I'm sure.
I've finally returned from the big Thanksgiving trip, 2011 edition. Although I'm always good for a few blunders–like spilling ketchup on my sweater within five minutes of reaching the restaurant—financial missteps aren't usually AverageJoe's style. For your viewing pleasure, I thought it'd be fun to lay out the list of savings from my trip. And, just so you don't think I'd a total prude, let's detail the areas where I really stepped in it, money-wise. I list of these savings as "potential" because I don't know if, faced with full retail, I would have really followed through with the purchase. There are so many ways to find a good deal, I'm becoming a curmudgeon when it comes to full-price.
Okay, here we go: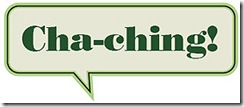 Got it right:
1) Hotel—I scored gigantic deals, thank you. First, I tapped the letters "Hotwire" into Bing (which doles out Rewards if I use it to search) in order to secure an $85 hotel room for $52 while on the road. The hotel had free breakfast, including waffles–mandatory on an AverageJoe holiday–so we avoided the cost of breakfast for me and two hungry teenagers. While in "holiday town" we also had our choice between my in-law's basement or a hotel. Thinking quickly, chose the basement, but Mrs. AverageJoe overrode my decision. That's when I remembered that I'm lucky enough to have a relative who works for a big, expensive hotel chain. He was able to put us up for four days at $56 each at an Embassy Suites. The normal rate is $115 per day. Cha-ching! Potential savings: $21 breakfast + $33 on-the-road hotel = $54, plus four days at Embassy Suites totaled another $236 in hotel savings + free breakfast savings of $84, giving us a whopping total of $374 in potential savings over what I normally would have spent.
2) Auto—We drove our most fuel efficient car rather than the most comfortable one. My Trailblazer, although completely paid off, is apparently the 2005 GasSucker model (never heard of it? Stop by sometime and I'll give you a test drive. It's fun to watch the gas gauge lower in real time as we tool around the neighborhood). In prior trips, we'd usually shell out $450 in gasoline expenses alone. This time, we opted for the 2011 Equinox, and only spent $212. What an incredible difference. Potential savings: $338.
3) Black Friday—This year I had a list of items I already needed or that my children wanted for the holidays. I also knew my brother in law would love DVDs. Best Buy had XBox games half off, a Toshiba portable hard drive I was going to purchase anyway for a third off, and some good DVDs for $.99 and $2.99. Potential savings: $215.
Oops:
1) Gasoline—I could have saved even more money in auto expenses had I used one of the gazillion apps available to find the lowest price gas stations. On two occasions I was stuck paying over $3.15 per gallon when only a few miles later (or earlier) I flew by stations charging as little as $2.97 (but usually around $3.03).  Potential overpayment: $6.80.
2) Black Friday—I missed some specials only because of poor planning. By the team we reached Bed Bath and Beyond, my coupon had expired. I also decided not to wait in an ugly hour-long line to check out at KMart. By the way…I haven't been in a KMart in forever. Does anyone else think it's a total hole? It might have been just the Black Friday chaos, but the racks were a mess, there was no festive music playing and they seemed ill-prepared for the long check out lines. Hey, KMart, if you're going to make us wait forever to pay you money, wouldn't it make sense to make the wait bearable?  I ended up buying my KMart purchase at Radio Shack, but I spent $14 more on a comparable item. Potential overpayment: $17.60.
3) Restaurants—I always check for specials before dining at home. In my rush to leave town, I totally forgot to research deals while out of town. That's frustrating, because I ended up eating out a ton and paid full price for every meal. I have no idea how to calculate my potential overpayment, but based on 20 percent off, it was easily more than $50.
Final analysis: Man was my 2011 holiday travel was a blast! But it was also expensive, as are most vacations. All in all, my "potential" savings of $927 minus overpayments of roughly $74.40 totaled $852.60.
In the final analysis, considering that I stayed in comfort, drove a reliable automobile, and had the opportunity to beat my mother-in-law at Scrabble, I'll take it!
How did you do during last week's Thanksgiving holiday festivities?
(Visited 54 times, 1 visits today)