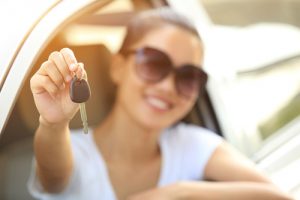 According to NADA's Annual Financial Profile of America's Franchised New-Car Dealerships, dealerships sold or leased more than 15.5 million new cars and trucks in 2013. That accounts for a 7.5 percent increase from the year before. As car sales grow and everyone you know seems to be driving around the newest model, it's tempting to jump in, buy it and speed off the lot with the wind in your hair. Despite the relative ease of purchasing a vehicle, it's important to know your options, find the best financing available and negotiate a price in your favor. Here are some tips to get started.
Set a Budget
It's impossible to know how much car you can afford without a budget in place. Make a monthly budget and see if you can stick to it for a few months before diving into an auto loan or car purchase. Make a list of your fixed expenses with a generous amount left over for emergencies and recreation. Use an app like Mint to help keep track of your budget and alert you on when you're overspending on set categories. Remember it's not enough to just plan for your auto loan. Consider the cost of your tag fees, car insurance, fuel, ongoing maintenance and extras like getting your car detailed or replacing a flat tire. As a rule of thumb, don't devote more than 15 percent of your household income to transportation.
Know Your Credit Rating
Get a free credit report from a site like Annual Credit Report to check your rating. Your score can directly impact your interest rate on an auto loan. Your credit report can also alert you to any erroneous information, credit fraud or mistakes. Your rating is calculated with a combination of factors from your credit history, outstanding debt and payment history. Your score ranges from 350 to 800. The higher the score, the better loan you can probably get.
Shop Around for Funding
The upside to securing funding through an auto dealer is taking care of your loan and financing in one place. The downside, car dealers are often paid a commission for it. Instead, consider a dealer like DriveTime where sales advisers aren't paid on commission, making it easier to trust their advice. They also offer a 30-day limited warranty, 5-day return guarantee and auto check history report on all used cars they sell.
Going with the car dealer's loan offer or big bank isn't the only way to secure a car loan. A community credit union generally offers lower rates and is more sympathetic to borrowers with lackluster credit history. Credit unions are known for offering more intimate customer service. Since they're funded by their customers, they work for their members and aren't motivated to sell you anything for their own financial gain. Profits from credit unions go back into their services and member offerings.
Negotiate the Price
Regardless of how you pay for your first car, remember the price is negotiable. Consumer Reports suggests purchasing a New Car Price Report to find out what the dealer paid and using it as a springboard for negotiation. Be warned, dealers like to lump everything together from financing to trade-in you might be offering. It can be difficult to figure out the numbers once it's lumped together. Negotiate one thing at a time and stick to the monthly amount you want to pay. Start with your rock-bottom price and let the dealer work you up slowly to a reasonable price you can drive away with.