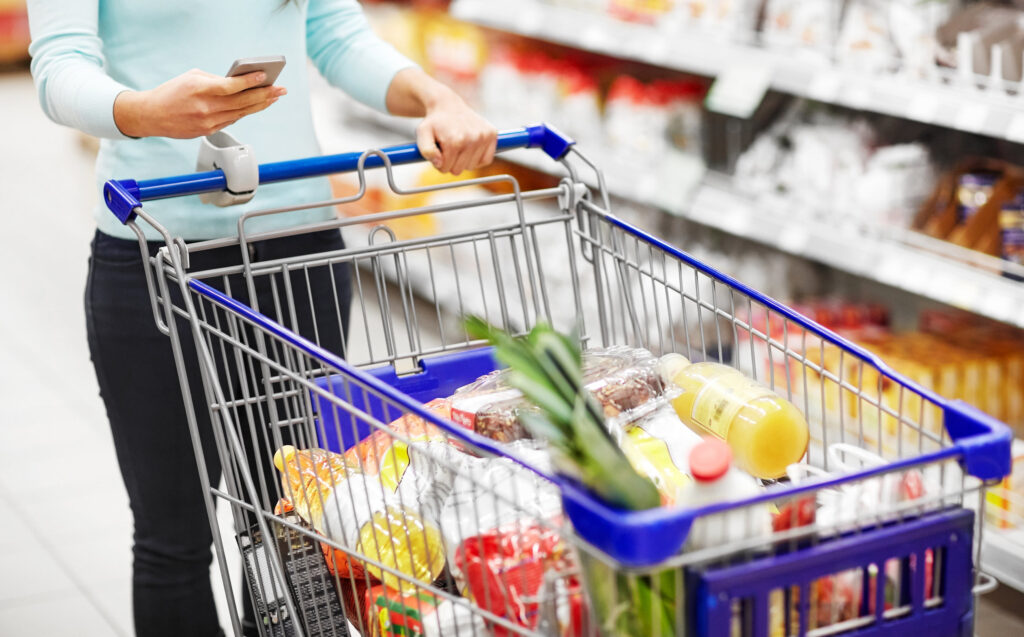 For many households, groceries are a big line item in their budgets. Overall, the average amount households spend on food at home came in at $4,942 in 2020, which is a substantial sum. That breaks down to about $411 per month or around $95 per week. However, that doesn't mean it's the amount a household should spend on groceries every month. In some cases, less may make sense. In others, it could take more. If you're wondering how much you should spend on groceries each month, here's what you need to know.
How Much Should You Spend on Groceries?
It's critical to understand that there isn't one figure that'll work for everyone. Instead, you need to look at the situation in the context of your household. That way, you can find a reasonable approach that lets you handle your needs without breaking the bank.
Averages Aren't Perfect for Everyone
Above all else, you need to know that average spending levels aren't right for everyone. For some households, spending $411 a month is completely reasonable. However, dedicating that much to food could break the budget of lower-income households, while it may be far less than a large family might need to spend to maintain proper nutrition.
Using percentage-based averages isn't necessarily better. For example, in 2020, consumers spent an average of 8.6 percent of their disposable income on food purchases. With that, you may assume that spending 8.6 percent of your budget on groceries could be a reasonable figure from an affordability perspective.
However, every household is different. For example, if you're working full-time and earning minimum wage, that leads to an annual income of just $15,080, or around $1,256 before taxes and other withholdings. In that case, $411 per month is clearly unreasonable. However, 8.6 percent is only $108 a month, or around $25 per week, which might be far less than you need to spend.
Since that's the case, it's important to realize that averages alone aren't a good indicator of what you should spend. Instead, you may want to try another approach.
Using USDA Food Plans as Guidelines
The US Department of Agriculture (USDA) created eating plans designed to meet health standards while respecting that households have different budgets. That can make them solid reference points when you're trying to decide how much to spend. Plus, it can help you figure out what to buy to maintain good nutrition.
The four categories available through the USDA food plans are thrifty, low-cost, moderate-cost, and liberal. When it comes to the costs of the thrifty plan and the other three plans, they're broken down by age and sex, allowing families to estimate how much they'll need to spend to support each household member's nutritional needs.
By reviewing those figures, you can see how much it typically costs to create nutritious meals at home. Essentially, they can serve as baselines, allowing you to see how much you might need to spend based on household size.
The main problem is that the plans don't factor in cost differences between locations, dietary restrictions, or similar issues that may harm the accuracy of the estimates. Since that's the case, it's best to consider them guidelines and not hard-and-fast rules.
However, if what the USDA lists is genuinely unaffordable, then it's okay to make a budget that involves less spending. The trick is to ensure you can dedicate enough to address your nutritional needs reasonably well. Then, you can use other techniques to keep your costs down.
How to Stay on Budget
Apply for Benefits If You're Eligible
First, if you qualify for any food-related assistance, such as SNAP or WIC, make sure you apply for those benefits. That'll give you more money to direct toward your food budget, helping you spend less out-of-pocket.
Typically, the application process is reasonably simple. Additionally, using the benefits is straightforward. Just make sure you read the rules regarding qualifying products. That way, you can incorporate the right items into your food plan and grocery list.
Set a Spending Limit
Once you know how much you can get through food-related assistance, it's time to set a target. Use the USDA guidelines and examine your other financial obligations. You need to determine how much is reasonable for you to potentially spend, effectively setting an upper limit that serves as a maximum. That way, you know that you need to aim below that number every month.
Use Sales, Coupons, and Rebate Apps
Once you set a budget for your groceries, you'll want to use a range of strategies to remain on target. Use a combination of sale flyers, rebate apps, and coupons (either physical or through websites and shopping apps) to find exceptional deals. If you can couple a sale with a rebate or coupon, your total cost may go down dramatically.
Just make sure you calculate the per-unit cost to determine if it's actually a deal, as not all discounts are created equal. Further, don't let a coupon tempt you into getting anything you don't actually need. It's only a deal if it reduces what you'll spend overall.
Once you dig into the sales and other discounts, use that information to create an official shopping list. Outline all of your meals based on the available discounts, recording the ingredients you'll need to make those specific dishes. Then, when you shop, buy only those items.
If you have trouble with impulse shopping, you may want to try online grocery pickup instead of heading to stores. With that, you can focus on precisely what you need, potentially making it easier to resist impulse purchases.
For stores with loyalty programs, make sure you sign up. In many cases, you can earn points that can reduce your grocery bill directly by saving you a specific amount on your next purchase. In some cases, you can cash out points for free items, lowering your bills further.
Like sales, coupons, and rebates, you don't want to buy anything you don't need purely for the points. Instead, it should simply be part of a broader saving strategy.
Create a Meal Routine
Finally, it can be wise to create a routine when it comes to eating plans. If you rotate through the same breakfast, lunch, and dinner meals, you'll have an easier time predicting your monthly grocery costs. While it may seem like this doesn't work with a coupon, rebate, and sale strategy, it actually can if you're brand flexible. You just choose the lowest cost version of the product you need.
Make Adjustments as You Learn
If you're new to budgeting, it's crucial to recognize that adjustments are often necessary. If you initially set a grocery spending target and determine it doesn't reasonably meet your needs, change might be required.
Review your grocery spending patterns to determine if the budget isn't working or if buying non-necessities is actually the issue. If it's the former, look at your overall financial plan and see if you can adjust your budget to give you the room you need.
Initially, you might need to review your budget every month to make sure it's working. That way, you can make changes until you find the proper target, allowing you to develop a spending plan that will work long-term.
How do you decide what to spend on groceries each month? Do you have a system that helps you stay on budget, or do you plan on the fly? Share your thoughts in the comments below.
Read More:
Tamila McDonald has worked as a Financial Advisor for the military for past 13 years. She has taught Personal Financial classes on every subject from credit, to life insurance, as well as all other aspects of financial management. Mrs. McDonald is a former AFCPE Accredited Financial Counselor and has helped her clients to meet their short-term and long-term financial goals.