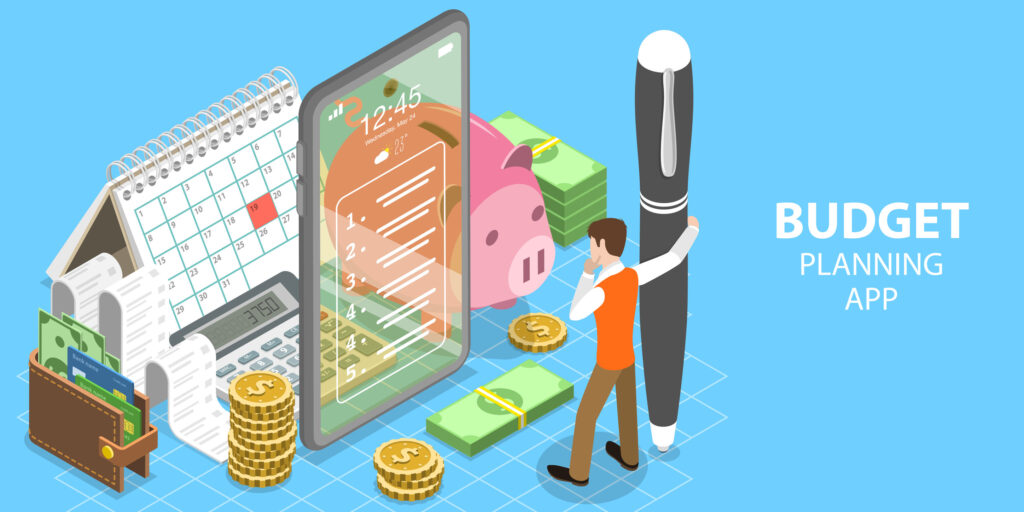 Keeping your finances on track isn't always easy. Even if you have the best of intentions and proceed strategically, coming up with a functional budget often involves some trial and error. However, you can simplify and speed up the process by turning to technology. Many amazing apps can make budgeting a breeze, allowing you to account for your bills, spending habits, and more, often with just a few taps on a screen. If you need help, here are five budget apps that can help.
1. Mint
When it comes to budgeting apps, Mint has long been a leader. It's incredibly user-friendly, making it a solid choice for the tech-savvy and those who aren't as comfortable with technology. Plus, it can sync with a variety of accounts. You can easily monitor your current bank account, credit card, loan, investment, and bill details, all from a single interface.
After you sync your accounts, you have a variety of budgeting tools at your disposal. Some of your spending is automatically categorized, reducing your workload. However, you can also make adjustments as you see fit.
Within the app, you have the ability to set category spending limits. Plus, you can sign up for alerts relating to the limits, ensuring you know when you're getting close to the line. Then, you can adjust your spending accordingly.
Mint also makes it easier to achieve your goals. You can choose a target and monitor your progress, which may keep you motivated. You can also track your credit score and net worth, giving you more tools to put you on the path toward financial wellness.
Ultimately, Mint is a free app with a ton of features. Plus, it's largely hands-off, making it a solid choice for anyone who wants to create and follow a budget without much legwork.
2. YNAB
If you prefer something a bit more hands-on, YNAB could be a better choice. This app uses a zero-based approach, ensuring you plan for every dollar of income every month.
When you get paid, you tell the app exactly where you want your money to go. Along with covering bills and expenses, you can direct money to savings and various goals. Essentially, YNAB aims to make sure you think about your finances regularly, increasing awareness and leading to more conscious spending decisions.
With YNAB, you do get the ability to connect various accounts to the app. This can simplify income and debt tracking, allowing you to allocate your money more efficiently. Plus, there is a slew of educational resources available, ensuring you have access to tips and helpful details that can improve your money management skills.
It is important to note that the learning curve is a bit steeper with YNAB. However, the time necessary to get everything set up can be a benefit. It ensures you take a close look at your financial picture, increasing the odds that you'll make wise decisions about your money and are fully aware of your spending habits.
3. PocketGuard
If overspending is an issue for you, PocketGuard may be your best bet. The app isn't as feature-rich as some others, aiming more for a simplified approach to money management. However, it does go the extra mile when it comes to curbing bad spending habits.
With PocketGuard, you can connect various financial accounts to make tracking your income and expenses easier. Then, the app helps you allocate how much you need to send to expenses, debts, and financial goals. Once it finishes those calculations, it factors in your spending habits and lets you know how much you have left over to spend.
Making the most of PocketGuard does mean you need to have an active plan for achieving various financial goals, such as saving for large expenses or paying down debt. That way, you can ensure they're factored into the broader equation when the app determines what you have available to spend.
4. Goodbudget
Another hands-on option for budgeting, Goodbudget relies on a strategy that's similar to the classic envelope system. It's more planning-focused instead of tracking-oriented, too.
Overall, Goodbudget is far more manual. You actively portion out your income into various categories, allowing you to choose how much you want to allocate. Additionally, you'll enter in each of your expenses and debts, as it doesn't connect directly to your accounts.
While some may worry that the degree of work makes Goodbudget cumbersome, there are benefits to the hands-on approach. Since you're logging every expense manually, it encourages you to think about every spending decision you make and lets you see its impact on your finances. For some, that can lead to smart financial decisions.
Additionally, for the security-minded, Goodbudget doesn't require any connections to your other accounts. While such links are typically low-risk, having none is technically the safest option available.
5. Zeta
For couples, Zeta is a budgeting app that makes it easier for both partners to get insights into joint financial responsibilities while maintaining separation in areas they prefer to keep private. As a result, it's a solid choice for couples in any stage of a relationship that share some expenses or bills but don't have fully entwined financial lives.
You can reveal or hide financial data from your partner, ensuring they see what's relevant without giving them full access to all of your information. That allows this app to work well for couples who bank separately but want to make sure that household expenses are properly covered.
Plus, you can set up joint financial goals, allowing you to work toward mutually beneficial targets together. The app will even send you reminders to have "money dates," ensuring you sit down together regularly to discuss your financial picture, make necessary changes, and otherwise keep the lines of communication open.
Have you tried any of the apps above and want to tell others about your experience? Have you used a different budgeting app to help you get a grip on your finances and think it could help others? Share your thoughts in the comments below.
Read More:
(Visited 64 times, 1 visits today)
Tamila McDonald is a U.S. Army veteran with 20 years of service, including five years as a military financial advisor. After retiring from the Army, she spent eight years as an AFCPE-certified personal financial advisor for wounded warriors and their families. Now she writes about personal finance and benefits programs for numerous financial websites.