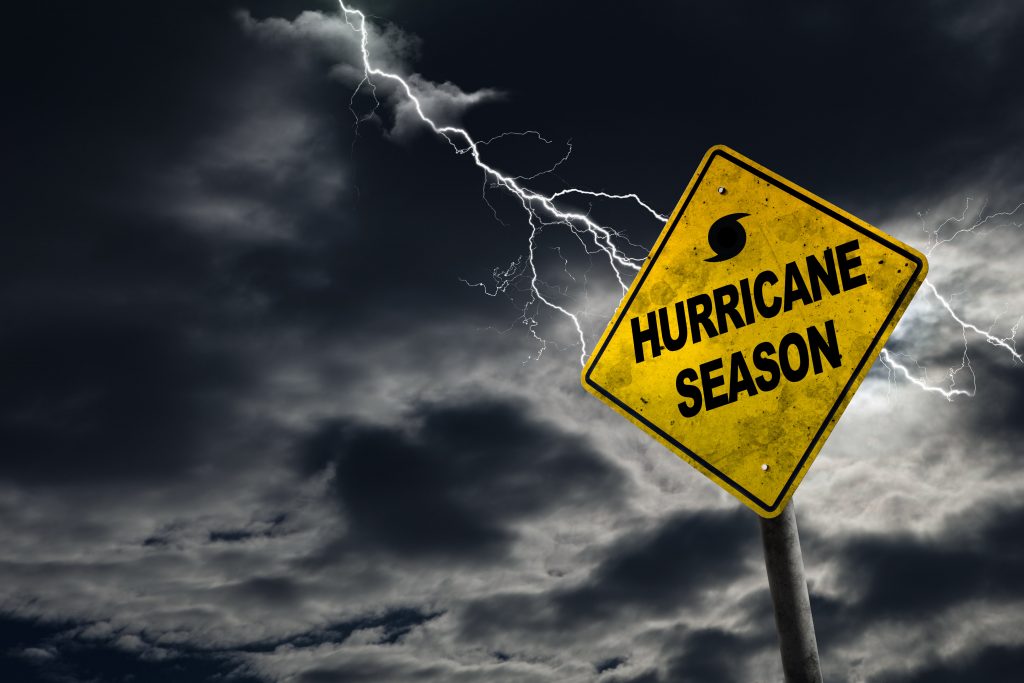 Hurricane season is currently well underway. While most people don't want to think about a hurricane hitting their home.  If you live in certain areas of the country, the possibility certainly exists. That's why having the right kind of insurance coverage is so critical. Without it, you may not have the proper level of protection if your house ends up in the path of a hurricane. If you are wondering what your homeowners insurance won't cover for hurricanes. Here's a breakdown based on insurance type.
What Typical Homeowners Insurance Won't Cover For Hurricanes
While homeowners insurance can be fairly comprehensive, it does have limits. Certain types of damage are often excluded if you have a traditional homeowners insurance policy.
In many cases, hurricanes aren't explicitly listed as non-covered events. However, the kinds of damage hurricanes often cause normally are listed as excluded.
For example, water damage caused by storm surges and floods isn't covered by the vast majority of traditional policies. If you live in a hurricane-prone area, some forms of wind damage might also be excluded. In both of those cases, you may need supplemental policies for flood and wind damage to secure the proper coverage.
Additionally, sewer backups related to a hurricane aren't usually covered events. In fact, you may have to have both flood insurance and sewer backup coverage to ensure you have all of the protection you need.
Finally, if you incur expenses during an evacuation, such as costs associated with temporary lodging, that isn't covered by most traditional homeowners insurance policies. However, if you come back to find that your house is now unlivable. You may have some coverage that can offset any temporary housing costs.
Dealing with Hurricane Deductibles
It's important to note that if you do have a policy that covers hurricane-related damage.  You may be subject to a hurricane deductible. A hurricane deductible is similar to a typical one. Since it outlines the amount you are responsible for paying to address the resulting damage.
However, hurricane deductibles are higher than your typical deductible. Additionally, they only apply under specific circumstances. Usually, a triggering event has to occur. For example, if a hurricane warning is issued by the National Weather Service, that may enable insurers to require hurricane deductibles.
Whether you may be subject to a hurricane deductible depends on where you live. They are only a factor if you reside in one of the areas that allow them. Currently, those locations include:
Alabama
Connecticut
Delaware
Florida
Georgia
Hawaii
Louisiana
Maine
Maryland
Massachusetts
Mississippi
New Jersey
New York
North Carolina
Pennsylvania
Rhode Island
South Carolina
Texas
Virginia
Washington, DC
Additionally, the amount of a hurricane deductible can vary. Typically, it's based both on state law and the value of your covered property. It could be as little as 1 percent of your home's value. On the other hand, it could be as high as 10 percent. This depends on applicable laws and what's in your policy.
Addressing Supplemental Coverage
As mentioned above, certain kinds of hurricane-related damage aren't usually covered by basic homeowners insurance policies. However, if you have the right supplemental policies or riders. You may have all of the coverage you need.
If you want reasonably comprehensive coverage for all kinds of damage a hurricane can cause. You may need the following extra policies:
Flood Insurance
Wind Insurance
Sewer Backup Insurance
Typically, by adding those three kinds of coverage, you can address most hurricane-related damage. However, as with all insurance policies. You'll need to review the details to confirm what is and isn't covered. Even those policies or riders can have exclusions. So you want to read through the policy carefully to make sure you have everything you need.
What Typical Renters Insurance Doesn't Cover
Renters have a different kind of insurance coverage than homeowners. With a renters insurance policy, there's never any coverage for the building's physical structure. That's because the renter doesn't own the building.
However, like homeowners insurance policies, renters insurance coverage does have limitations. In most cases, damage caused by floods created by hurricanes isn't a part of a typical renters insurance policy. Instead, the renter would need a separate flood insurance policy or a rider that addresses that type of water-related damage.
If you have a basic renters policy. Adding flood insurance or an appropriate rider may be enough. However, you'll want to review the policy details to confirm.
Additionally, it's important to note that renters aren't typically subject to hurricane deductibles. As a result, if you owe a deductible. It's typically the standard one in the policy.
What Vehicle Insurance Doesn't Cover
Both homeowners and renters insurance policies don't extend coverage to your vehicle. Regardless of whether the damage is related to a hurricane. As a result, you need a separate auto policy.
Unlike homeowners and renters insurance, comprehensive vehicle policies do provide hurricane-related coverage. With comprehensive coverage, damage that isn't related to a collision is covered. Which includes damage caused by severe weather.
However, if you only have liability coverage on your vehicle. Damage related to a hurricane isn't a part of it. In that case, you would have to handle any related expenses yourself.
Can you think of anything your homeowners insurance won't cover for hurricanes? Share your thoughts in the comments below.
Read More:
Tamila McDonald is a U.S. Army veteran with 20 years of service, including five years as a military financial advisor. After retiring from the Army, she spent eight years as an AFCPE-certified personal financial advisor for wounded warriors and their families. Now she writes about personal finance and benefits programs for numerous financial websites.