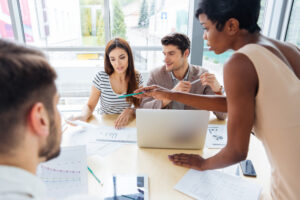 Now that you have a new business, you're probably amazed at the expenses you have. Don't get discouraged, as there are several ways that you can cut costs as a new business owner. Read on for more insight on how you can have a healthy commercial budget.
Go Completely Digital
Technology is no longer inaccessible to the small business owner. Gone are the days when you needed large hard drives and floppy disks to store vital information. According to Forbes, going digital, such as using a cloud repository, can support a 100% paperless process. As of 2020, at least 1/3 of all data passes through the cloud, so you don't need to keep bulky computers and a large tech team in-house. A few laptops and a VPN can work wonders for your business finances.
Refresh Office Furniture
While it may be tempting to invest in brand-new office furniture, you can save by refreshing the existing furniture that you own. You can use wood pens to fill in old scratches and adhesive remover, which comes in a 4oz bottle, to remove tough residues. A coat of paint can also refresh your furniture.
Outsource Services
It's okay not to do everything yourself. Plus, everyone on your roster doesn't need to work in-house. Even with experienced staff on deck, some services may be easier to hire out to outside contractors. As mentioned earlier, thanks to technology and cloud storage, you no longer have to keep a full IT team on staff. You can have an IT contractor available by emergency calls or e-mail whenever there's a problem. Instead of keeping a large janitorial service, you can have a commercial maid service come as often as needed to sanitize the office.
Track Expenditure
Your business expenses can quickly get out of hand if you don't keep track of them. Whether you're buying office supplies, company lunches, or paying for conferences, you should keep everything penny documented. Go over your business expenditure every week or every month to see where you can cut things out or switch vendors. For example, if office supplies are becoming more expensive, you may want to look around for another vendor. Cheaper ink cartridges, for instance, can be found on a site like Cartridgesave.co.uk. You may also reconsider the conferences you go to if your company isn't getting useful information or connections from them.
Go Green
Going green isn't only a good savings option for your business finances, it's also good for the environment. Make it an office policy to only use recycled paper or go paperless as much as possible. Instead of having water delivery in the break room, you can replace it with filtered faucets. You can even buy a small machine that carbonates water. Instead of paying for expensive parking spaces in the city, there are alternatives. You may encourage employees to take advantage of a shared biking program such as City Bikes, or the company can purchase transit passes.
Keeping track of finances is essential for commercial growth. While you can't run a business without spending money, you can cut costs and come in under budget if you're careful. Utilize this guide to your advantage as you start and grow your business. Over time, cutting costs will become second nature. Contact us today for more information about managing company expenses.