Time for some serious financial advice:
I'm recycling old magazines and donating books. My bookshelves are busting at the seams with books and periodicals I'm keeping for reasons beyond my knowledge. While I was making stacks today, I came across an Esquire special magazine which featured a HUGE list of phrases guys shouldn't use at work.
Keeping a job isn't just a good part of being a guy…it's part of being financially fit. That's why, if you're wondering how the hell this post fits this website, I was able to sneak it in under the wire.
I'm trying to help you keep your job.
Being a guy is part science/part art. Sometimes, I'll admit, I  don't even quite understand "the rules." I admitted at a bar one time that Muriel's Wedding was one of my favorite movies.
Let's just say that didn't go well.
I tried to make it better by telling them that I loathe Steel Magnolias (don't get me started), but apparently admitting that I'd even seen the film was a reason I've been told I have to forfeit my man-card.
That said, if you were a dude and said any of these in the office, it might catch my attention:
My Favorites From Esquire's List of "Things a Man Should Never Say at Work"
7) "You seriously wanted me to do that?"
6) "Nice Botox"
5) "I had a dream about you last night."
4) "How much're they paying you anyway, sweetheart?"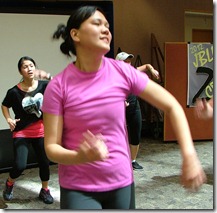 I'd fit in like a lobster at a seafood restaurant
3) "It's called Zumba. I've lost 12 pounds."
2) "That's not how we did it at my last job."
…and my favorite line from Esquire's "Things a Man Should Never Say at Work"
1) "They're white-chocolate cranberry. I baked them last night."
I hope these tips helped you hold onto your job a day or two longer. Any I missed?