If you're a subscriber to our podcast, then you know one of the things that I really enjoy is golfing – so it's not uncommon for people to ask (even if they're somewhat kidding) "So, how did you golf today?"  (Truth be told – pretty bad.  I'm usually a mid-80's golfer, but today I shot a 93.  Boo.)
To me, answering the "how'd you golf today" is the same as "What did the market do today?"  I don't like answering either.  Trust me – when I golf well, or if the market did exceptionally well today, I'll let you know.
Golfing and investing are very similar; they both require similar skill sets and disciplines.  Last week  discussed how you have personal responsibility with your investing plan
– today let's talk about what to do when you hit a wayward tee shot.
Sometimes even with the best swing, the ball just slices ever-so-gently into the rough (or as was my case today, the bunker).  How do you respond?  Well, there are two ways: first, you can throw your club, swear at the wind (or the tee box, or your teammate, or whatever) or you can focus on what you need to do to get the ball back in play.
One of the first things I learned about golf, after I gave up the swearing and became  semi-serious about it, was to always try to get the ball back in play.  If you're in the bunker, goal #1 is to not have another bunker shot.  If you're in the rough, goal #1 is to get it out of the rough.
Unless you're pro golfer Bubba Watson and can snap-hook a 7 iron from 185 yards in a playoff hole in the Masters, goal #1 is just to get the ball back in play.Investing and financial planning follow the same logic.Sometimes you hit a crappy tee shot (read: make a bad initial investment, have some external
force impact you financially, etc.) and you can respond only one of two ways:  you can throw your statement, complain about how your broker screwed you, whine about how the dude on CNBC lied, or:
you can get back in play.
Sometimes that means you have to punch out of the rough under a tree branch; sometimes you have to layup to the 100 yard marker; either way, don't get upset – just get back in play.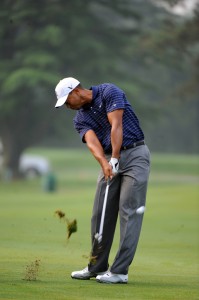 When you make a poor investment decision that means:
1) Don't worry first about assigning blame. Worry about correcting the problem.
2) Stay calm. Getting upset isn't going to help you create better returns later.
3) Once you've regrouped, THEN determine what went wrong. Was your broker the problem? Did you not analyze the investment correctly?
You'll invest much better following these simple steps that I learned from playing golf.
(Visited 247 times, 1 visits today)