I did away with my Boner of the Week! series that called out stupidity in financial media and blogs because I didn't want to be that guy. Well, at least not be that guy not every week.
But this site is called the Free Financial Advisor for a reason. My task is to show people the difference between the truth and lunacy; to dole out useful tips that you can apply, sprinkled with my own quirky sense of humor.
Buy the doughnut, the frosting comes free. Bargain!
What I also drag along is a HUGE sense of anger when I see absolute baloney (polite terminology) on the internets.
I fought it as an advisor, and I'll fight it here for you.
So, this week I'm going to un-bury the Boner of the Week! segment, along with the prerequisite, er, uncomfortable picture. Because I'm too lazy to find a new one, you're treated to my favorite from the old series.
You're welcome.
Let's rant:
A Tip For New Investors:
If someone shows off a chart with a couple squiggly lines and points at them BUT REFUSES TO TELL YOU WHAT THEY MEAN it isn't "analysis."
It's smoke and mirrors.
That's why I like the DQYDJ blog and ws fired up when PK agreed to join our little podcast. He presents a chart or concept and then explains it. I'm a little smarter for visiting DQYDJ. Check out How Do You Know You're Ready For Active Investing? Sure, I get PK's returns, but I also get books to read, a chart on his personal progress and the story of how he began. Good story, good tips, good times.
Onboard?
Don't try to just show me a chart and tell me "I predicted the financial markets would decline, and see, I'm right." No reference to how the chart works. No rationale behind the prediction. Just "I'm right. Deal with it."
Even if the chart is flippin' brilliant, do you treat financial sites like the circus? Do you come here to see my dogs and ponies? My smoke AND mirrors? Do you want me to flash you a quick glimpse of my 12 inch wealth of knowledge so you can swoon over it?
Hell, no!
Like you, I visit sites for tips and tricks THAT I CAN USE. I don't want to be shown stuff that I don't understand.
If you hand me a shovel and I don't know how to dig, all you gave me was a stick with a funny metal end.
Our "Boner of the Week!" target post (which I no longer point to directly, because that's not the point of the piece….the point is to help you make better, more informed decisions. If you visited this bloggers site this week, I'll apologize on his behalf), told us this week that "Mr. Brilliant" called the exact day the market was going to decline. He then advised us to stay out of stocks because it's a bad, bad time for the market which will correct to (AND THEN HE BESTOWED UPON US THE EXACT RANGE!!!!).
Someone alert Jim Cramer. There's a new sheriff in town.
Why the hell isn't this guy working for a huge Wall Street firm or being paid the big bucks by wealthy investors who eat these gurus up? I used to ask my clients this question when they'd bring in what I'd call "miracle fliers" from their mailbox. Some dude telling them that he has all the answers.
I was a good financial advisor. I knew one thing: I didn't have all the answers. Ta-Da!!!
Oh, my friends, that alone wouldn't raise my ire. Ready for the next one?
Then he tells us to subscribe so we can find out what stocks we should buy when the time is right.
Thank you, your lordship Mr. Merlin soothsayer.
I don't want a magical list of stocks. IF I did, I wouldn't be looking for them on your free internet site.
Here's what I want: tell me the criteria you used and I want to be taught to use it.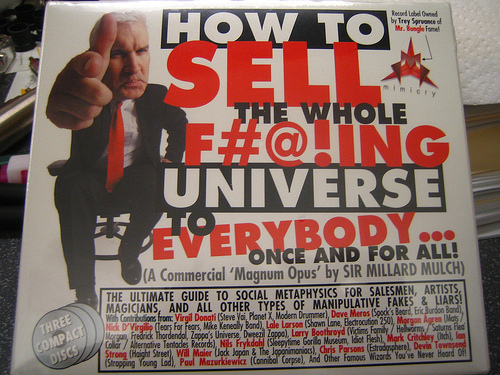 What I'm Railing Against
Did the dude call the market?
Yup. It appears he did.
Could he know how market conditions work?
Yup, he maybe can.
Are you just whining, Joe?
No.
I want this dude to tell me why, not what! A site like this is dangerous because you become dependent on the author. What happens if Mr. Brilliant has a Philly cheesesteak sandwich that doesn't agree with him tomorrow and his indigestion decides that you should go 100 percent into Zynga stock? Or he tells you that the end of the world is coming and you should sell everything? Would you just follow like a lemming off the cliff?
Don't follow someone blindly.
Learn to do your homework.
I naturally mistrust when ANYONE tells me they can call the market (after 16 years as a financial pro I saw professional gurus get beaten down by the financial markets time and time again).
One of my favorite stock trading books is called Trading Rules: Strategies for Success' target=_blank>Trading Rules, by William F. Eng. The basic tenant of the book is that you do yourself a huge favor when you quit pretending you know anything about the financial markets. Once you realize that it's a freakin' scary-ass place, you'll start protecting yourself and making money.
One of Mr. Eng's fundamental rules: Tips Don't Make You Money (Rule 7).
William F. Eng is a wealthy trader. I understand his background. I know nothing about wonderboy Mr. "I called it" dude.
Set stop losses. Learn how fundamental analysis works. Explore technical analysis.
But don't let someone tell you when it's the time to buy and the time to sell JUST BECAUSE THEY TOLD YOU SO!
They won't lose the money, you will. And then you'll be cursing the blogger, who won't hear you over the dance music he's playing for the rest of the suckers who hang on every word he says.
Rant over.
(Visited 123 times, 1 visits today)