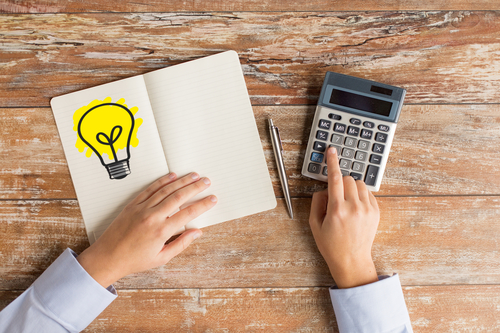 Only 38 percent of Americans have enough money saved up to cover an unexpected expense such as a $1,000 emergency room visit or a $500 car repair, Bankrate found. Twenty-six percent of respondents said they would cover expenses by reducing spending on other things, 16 percent would borrow from family and friends, and 12 percent would use credit cards. What would you do if you had to pay for a sudden bill? Here are a few strategies to help you prepare for the unexpected.
Build an Emergency Fund
Personal finance author Dave Ramsey recommends saving up a $1,000 emergency fund before pursuing any other financial goals. The purpose of this is to cover unexpected immediate expenses, such as fixing a plumbing emergency or buying new car tires so you can get to work. Store this money in a separate checking account so you're less tempted to spend it.
After meeting this initial goal and paying off non-mortgage debt, Ramsey recommends saving up enough to cover three to six months of living expenses, in case you lose your job or face a similar situation. In today's tough economy, saving enough for nine or even twelve months isn't a bad idea.
Start Budgeting
In order to save up an emergency fund, it will help to create a budget. Two out of three Americans don't prepare a detailed budget each month, according to a Gallup poll. If you're new to budgeting, a simple guideline experts recommend is the 50/20/30 rule.
The 50/20/30 rule means that you put 50 percent of your monthly income towards essential expenses such as rent, 20 percent towards financial goals such as building savings and repaying debt, and 30 percent towards discretionary spending on non-essentials such as clothes or entertainment.
Buy Insurance
Having adequate insurance is another preventive measure that can keep you out of financial emergencies. The NEA recommends that in order to have comprehensive insurance against financial emergencies, you should consider a range of possible policies.
Health insurance is essential in the event that a medical emergency treated at somewhere like CSU urgent care hits you with a high hospital bill. Life insurance can protect your loved ones in the event of your death, and some policies enable you to borrow or cash out funds. Disability insurance safeguards you in the event that you're unable to work. Mortgage life insurance can help your loved ones cover your house payments in the event that something happens to you. Homeowners or renters insurance can protect you against emergencies such as fire or theft. Auto insurance can protect you from the cost of having to replace a vehicle or make repairs.
Finding Financing When You Aren't Prepared
What if it's too late to take the preventive measures above and you need to raise funds fast? In this case, you still have a few options. Using your credit card or borrowing from family or friends are the most common strategies. If you need immediate cash and you have a credit card but you can't take a cash advance or would prefer to avoid the interest, you might offer to take a friend shopping on your credit card in exchange for them giving you the amount of cash you need.
If you've got something worth selling, you can use it to raise cash. Some good candidates include gold, silver, collectibles, extra clothes, and books.
You can also sell your labor. If you have freelancing skills in areas such as writing or graphic design, you might advertise them online. Sites such as TaskRabbit let you connect with consumers who need help with chores such as moving, home repair, cleaning, shopping, and event planning. You may also be able to convince people you know to give you money in exchange for promise with help on tasks. For instance, you might promise to babysit a friend's kids.
Another option is crowdfunding. GoFundMe includes a section where you can raise funds for emergencies. Finally, Need Help Paying Bills lists a wide variety of charities and other resources that provide assistance with bills, mortgage, debt, and other financial burdens.
Articles that are worth the read: