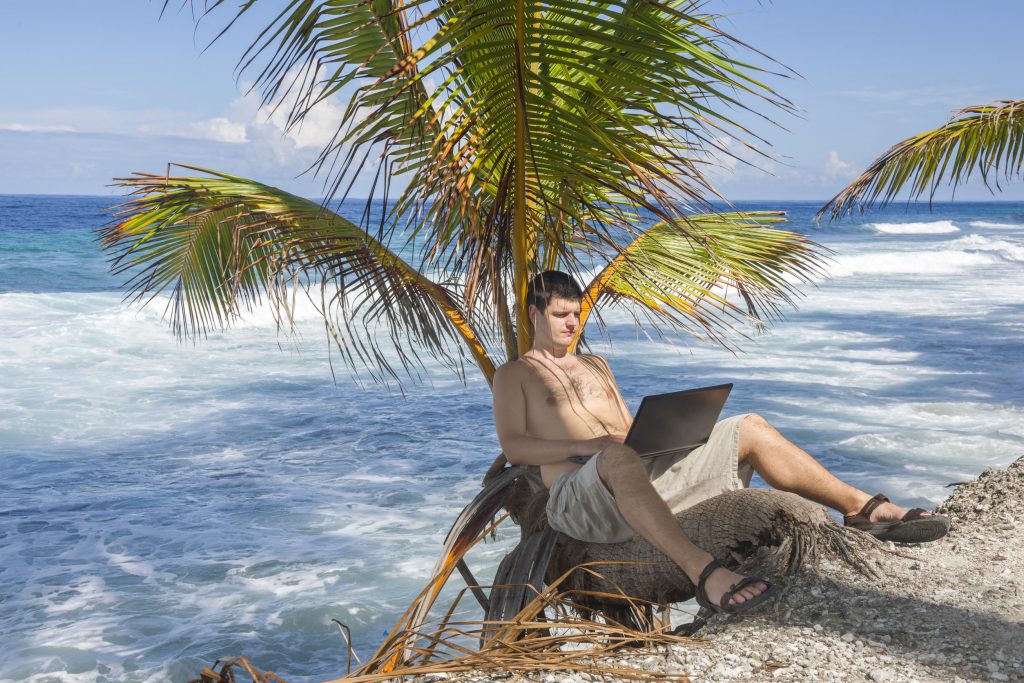 For many people, the idea of being a digital nomad is incredibly enticing. The ability to travel the world while maintaining an income seems like a dream come true, creating opportunities to explore a wide range of countries with limited financial risk. If you'd like that kind of lifestyle, here's a look at the best digital nomad jobs that you may want to consider.
Social Media Manager or Marketer
Social media-oriented professionals often have a significant amount of flexibility. Plus, making the position fully remote is simple since most of the tasks involve computers, smartphones, and internet-based services.
Your main responsibilities involve overseeing a company or individual's social media presence. You might create and schedule posts, develop ads, and engage with commenters. Market research can also be part of the job, as well as A/B ad testing and similar traffic-, sales-, or follower-boosting activities.
Software Developer
Working as a remote software developer could be your ticket to a digital nomad lifestyle if you have strong coding skills. Thanks to cloud technology, remote desktop connections, and similar services, this kind of work can be done from nearly anywhere.
Plus, since the demand for software developers far outpaces supply, more companies are open to remote arrangements. Whether you want a full-time job or to freelance, you probably won't have much trouble finding opportunities.
Virtual Assistant
Whether you've previously worked as an administrative assistant or simply have the skills for the job, becoming a virtual assistant could work perfectly if you want to be a digital nomad. The work is similar to its office-based counterpart. You may organize schedules, answer emails, make travel arrangements, handle research, and tackle similar kinds of tasks. The main difference is you never have to report to an office.
The only thing you may need to keep in mind is time zones. While some virtual assistant jobs are highly flexible, others do have set hours. So, keep that in mind as you're exploring your options.
Writer
Writing is a highly flexible position that lends itself well to a digital nomad lifestyle. Whether you launch your own blog or create posts for someone else's – either with a byline or as a ghostwriter – you can typically handle the work from anywhere. The same goes for copywriting, technical writing, and other specialized niches.
Another benefit of this option is you might be able to do a decent amount of the work offline. However, you'll need access to the internet for research, sending in deliverables, or posting pieces on blogs, so keep that in mind.
Customer Support Rep
While customer support reps used to work mainly in contact centers, these positions are increasingly becoming remote-friendly. With the right computer software and a strong internet connection, you can engage with customers over the phone, through chat messengers, or via email.
Do keep in mind that some companies have technology requirements, like making hard-wired internet connections mandatory. Before you apply to a company, see if you can meet their technology requirements while on the road. That way, you end up in the best position for your digital nomad lifestyle.
Video Editor
Video content is increasingly popular on social media. As a result, companies and individuals may hire remote video editors to ensure their posts are high-quality. That makes this a great option for digital nomads.
In many cases, you don't need an internet connection the entire time you're working. Instead, you'll need it to download the original footage and to upload the completed video when it's ready. During the time you're editing, working offline is usually fine.
Just understand that video files can be quite large. As a result, you'll want a strong connection whenever you need to upload or download. That way, you can capture the full file without getting disconnected and in a reasonable amount of time.
Can you think of any other fantastic digital nomad jobs? Have you tried one of the jobs above and want to talk about your experience? Share your thoughts in the comments below.
Read More: