If you've been building your savings to start investing and you've managed to put aside $30K, you may be wondering what your next step should be. If you're new to investing or don't want to be bothered with watching the market daily, low-maintenance investing is the best way to grow your money without it becoming a part-time job to keep up.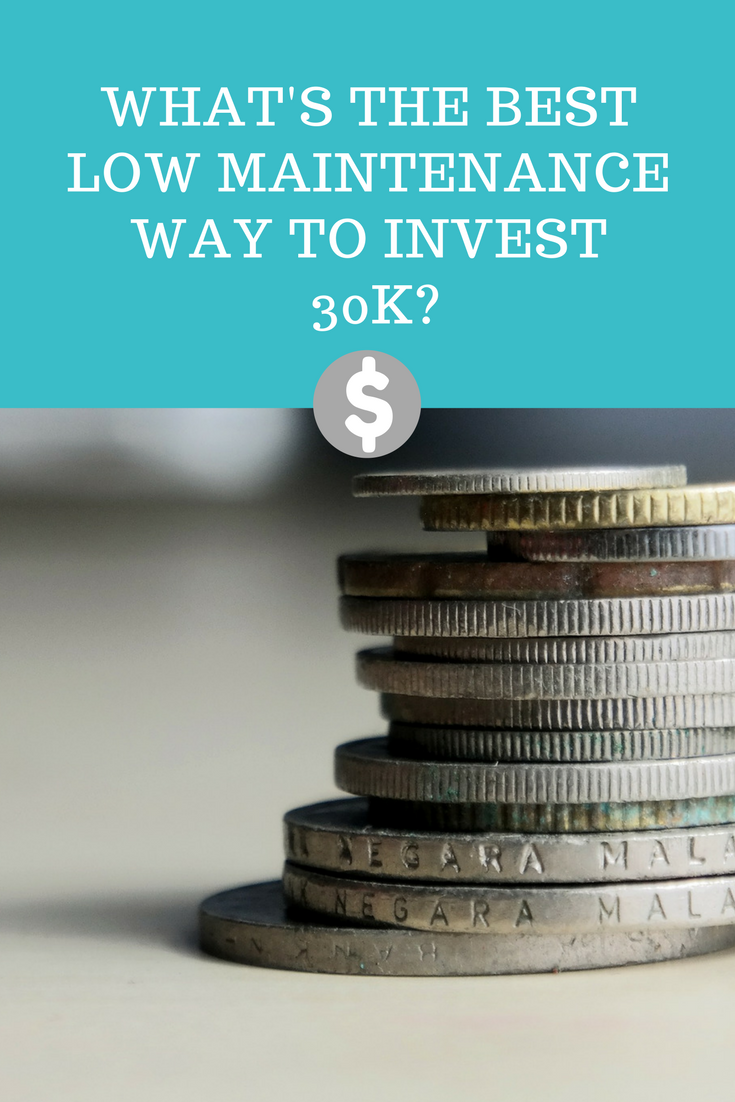 Here are some great ways to apply that 30K towards growing your wealth.
Pay Off Debt
First and foremost, use some of the money to pay off any debt you may have. It will save you money in the long-run. If you're carrying a $10K credit card balance with a 15% interest fee, you'll be paying an extra $1500/year in interest. That's money that can be better spent towards investments down the road.
Emergency Fund
If you don't already have one, put some of your money aside in an emergency fund so you know you'll be able to manage if something unexpected happens. You should have 3-6 months' worth of expenses put aside in an easily accessible account like a savings account. Just make sure it's not linked to your debit card so you can't spend it. The period of time you need to cover varies based on how long you think it would take you to find another job should something happen to your current job.
If you have already taken care of these two options, what's next? Consider how soon you'll wish to access your funds. If you want to be able to access your funds and any earned income with the next few years, you'll want short-term investments like short-term bonds, money market accounts, and CDs. I-bonds are also another good option as they are inflation protected savings bonds.
These options will earn interest, growing your investment, and help you avoid penalties and fees for early withdrawal. They are also easily opened at any bank or online, and they're easy to maintain.
If you're investing for retirement instead of short-term, a mix of stocks and bonds that adjust to minimize your risk factors is the way to go. You'll need to plan on your funds not being accessible for at least ten years or you'll pay hefty fines and penalties.
A Roth IRA is also an easy long-term investment, but you are limited to a maximum of $5500 a year in deposits. The best option is to diversify. Here are a couple of investment options to consider:
Option One:
A money market for your emergency fund with $10,000 (this will keep your money easily accessible and earn interest at the same time)
An investment account with $10,000
A Roth IRA with $5,500
Low cost bond fund with $4,500
Option Two:
Investing account with $9,000
A Roth IRA with $5,500
Brokerage Account with $7,500
1-year CD with $8,000 then continue adding to until you have enough for real estate investments
Managing investments of $30K doesn't have to be complicated. You can diversify your investments with just four or five different types of accounts to make it easy to keep up with your money and grow your wealth.
Like Us? Sign Up!
Subscribe to get the updates from The Free Financial Advisor.