Today's guest post comes from Susan Lyon, financial analyst with NerdWallet. Thanks, Susan!
What do E-trade, Schwab, and TD Ameritrade all have in common?  Aside from being the three largest online brokerages and some of the biggest brand names in investing, they also all charge investors upwards of $7.99 or more on the typical stock trade.
Think this doesn't sound so bad?  Think again.  A recent study by NerdWallet found that over 17 million investors are overpaying $1.8 billion every year on unnecessary (and sometimes very complicated or hidden) fees with the largest brokerages.
In light of the ongoing ETF price wars, you'd think a little of this competitive spirit would trickle down into the trading sphere – but this remains to be seen.
Where Is My Money Really Going?
Brokerages all make money by charging commission: that much is plain and simple.  But how much is too much, and is the peace of mind that comes from trading with a brand name broker worth it, NerdWallet asks?  The data says otherwise.
It's easy to assume that a brand name brokerage is giving you top-notch treatment and the best money can buy, but NerdWallet's study breaks down the top 3 brokerages' financial statements to question this assumption.  The key findings:
The big 3 online brokers spend a smaller percentage of their money on trade execution – what benefits the investor – compared to the little guys.
The big 3 spend far more on advertising and overhead expenses.
This data breaks down expenses at major brokerages by trade execution (what matters to the investor the most) versus advertising, employees, physical, legal and indirect costs: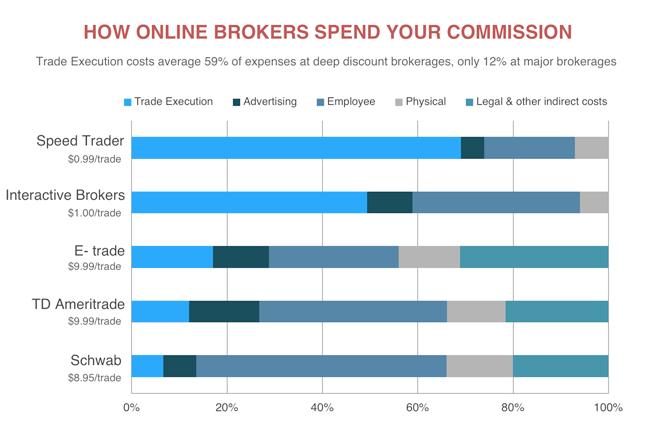 Lesson learned: active traders can meet their needs just as well by bringing their business to a new firm.  The average investor doesn't need most of the "extras" offered by the big 3 anyways.  Why pay for something you aren't even using?
Investors Can Avoid Fees By Shopping Around
The typical investor with these companies makes between 1 and 2 trades per month, so while a one off expense might not seem like a lot, we did the math and it really adds up.  If the typical investor makes only one stock trade per month, of approximately 100 shares, their annual fees at the largest 3 brokers come out to be:
E-trade $119.88
TD Ameritrade $119.88
Schwab $107.40
To make shopping around for better deals quicker and easier, NerdWallet's new brokerage comparison tool allows investors to compare their many options side-by-side to find the right fit for them.
How Do I Decide on the Best Fit for Me?
NerdWallet's new tool allows users to do their research before they invest, so they are made aware of all hidden and unpublished fees upfront to avoid unpleasant surprises later on.  Investors can search among the 74 brokerage accounts in the search tool by price, research, or data tools – whichever matters most to them personally.
The takeaway: just like in all personal finance situations, make sure to explore all your options before transferring your money.
Photo credit: Joybot