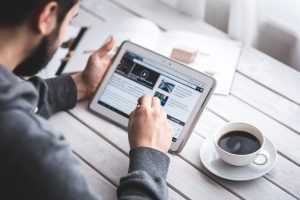 Big tech wants a bite of the financial services pie. I think technology and finance go hand in hand, but I also think it's mostly a one-way street, in terms of benefits. Technology has definitely given the financial services industry an upgrade, but the finance industry tends to think of big tech as a threat. Why is that? Today, we'll take a look at big tech, how they're changing financial services, and if those big banks actually have something to worry about.
What do you mean by "Big Tech"?
The names you know off the top of your head. Apple and Google to name two, but there are other players that don't get as much publicity. Cloud storage from Amazon and/or Microsoft. Software companies like Oracle. Chipmakers like Nvidia. Data companies like IBM. There are a lot of moving parts and it's no surprise, everything uses technology. What's different about financial services is the regulation, so adoption of new technologies is typically slower.
How tech changed finances
From a consumer standpoint, banking is easy. Checks are deposited directly into your bank account. You use your bank's app to review expenses and deposit any real checks you may have. Practically all bills are able to be paid electronically. Not to mention you can automate bill payments and transfers. Also, if you want to save for retirement or invest some money, there are several companies that can do it all online (though we always advise you to speak with a person for advice).
Big tech in finance moving forward
Big tech is already offering some financial products. Google has Google Pay, Samsung has Samsung Pay, and Apple has Apple pay. Apple is also working on a Buy Now, Pay Later (BNPL) offering, but nothing is out yet.
Big tech will be able to compete with legacy financial services companies because they have a competitive advantage. They don't have the regulatory oversight that current companies do and they have a customer base (and their data) that they can leverage with new offerings.
Parting thoughts
Do I think several big tech companies will come out with financial services offerings? No. I think there will be a select few that come out with some, but I don't think it'll be the scale of Wall Street, for example. I think it would behoove big tech and other large companies to remember that being a conglomerate doesn't work right now. Just this year, there were several companies that split their business up, based on industry (like GE). Could the conglomerate model come back around? Absolutely, but I don't think now is the time.
Related reading:
Technological Investment Opportunities
Why Financial Literacy is Important
Disclaimer:

**Securities offered through Securities America, Inc., Member FINRA/SIPC. Advisory services offered through Securities America Advisors, Inc. Securities America and its representatives do not provide tax or legal advice; therefore, it is important to coordinate with your tax or legal advisor regarding your specific situation. Please see the website for full disclosures: www.crgfinancialservices.com
My name is Jacob Sensiba and I am a Financial Advisor. My areas of expertise include, but are not limited to, retirement planning, budgets, and wealth management. Please feel free to contact me at: jacob@crgfinancialservices.com