New to financial planning? Start with the overview. Then understand cashflow. 
While preparing for the future and your retirement may not be at the top of your to-do list when you're young, it's the best time to do it. The more years you have to invest in your retirement, the better off you'll be when you get there. And insurance planning and risk management should be at the top of your to-do list.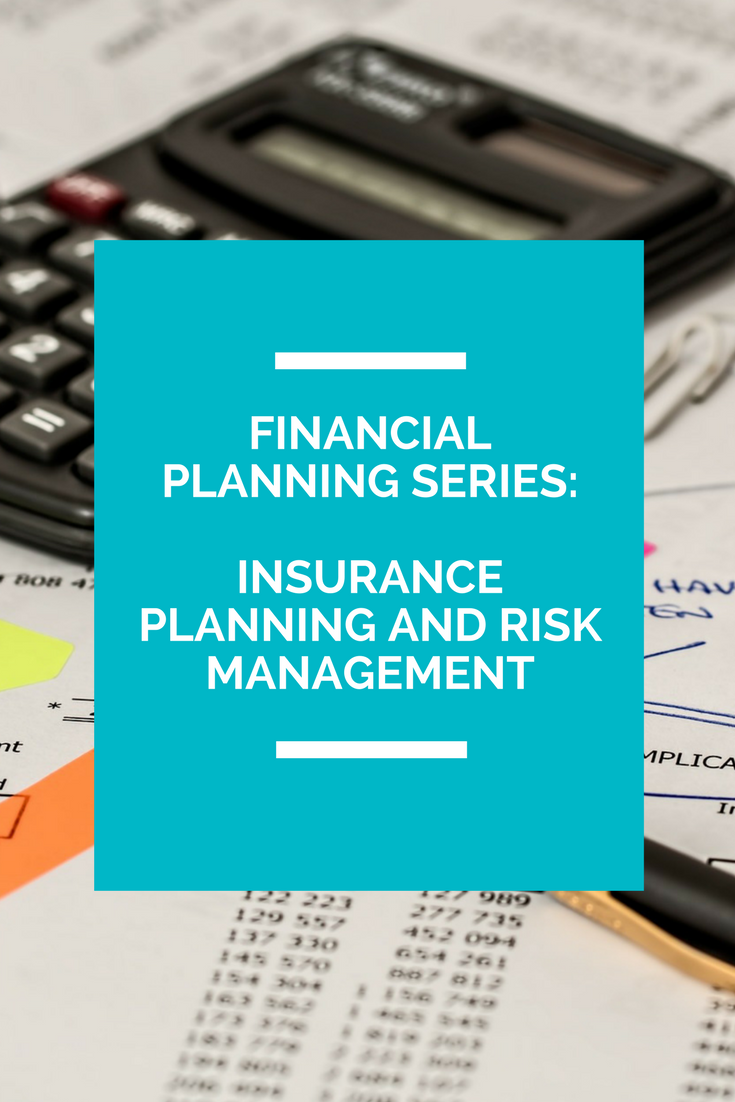 When it comes to insurance, you want to make sure your family will be well provided for if something should happen to you, but you also want to plan for your own needs. Let's take a look at what you need.
Life Insurance
Let's hope your family never needs this, but if they do, a life insurance policy will provide much need income for your loved ones. Not only will it help them survive without your income, it will also help to provide for funeral expenses and your financial liabilities. Plus the benefits are tax-free. The younger you are when you apply for life insurance, the better rate you'll pay. Waiting until your older to get life insurance will only increase your premiums. Look for a term policy and reevaluate your financial needs regularly so you can increase your coverage if need be.
Disability/Long-Term Care Insurance
Should you ever become disabled (temporarily or permanently) through an accident or illness, disability insurance will help to replace your lost income. It provides immediate cash flow to help you maintain your lifestyle and cover additional expenses resulting from your disability. Likewise, long-term care insurance will cover expenses and cash flow for daily living should you require longer care or need in-home nursing, rehabilitation, or a memory care facility. Everyone should have this, but if you can only afford it for one spouse, women are more likely to need it then men as they tend to live longer.
Homeowner's or Renter's Insurance
If you buy a house, your mortgage company will require you to have a homeowner's insurance policy to cover the financial loss should you experience a break-in, fire, or natural disaster destroying your home and your belongings. But if you rent, your personal belongings are not covered under your landlord's insurance policy. Be sure to have your own policy just in case of a disaster or theft.
Auto Insurance
Most states require you to have auto insurance if you drive and will ask for proof of insurance when you get or renew your driver's license. But cover yourself a little better than the minimum standards just in case you're ever in an accident. You'll need liability coverage for both personal and property damages, personal injury protection, collision coverage to cover any damage to your car, comprehensive coverage in case you have a different type of accident (like a tree falling on your car), and uninsured motorist coverage in case you are hit by someone who does not have insurance and can't pay for the damages.
Now that we've covered insurance needs, let's talk about your risk management.
First of all, what is risk management?
Basically it's identifying and analyzing how much risk certain investments have, will they grow and by how much. It occurs everywhere in the financial world including stocks, bonds and even insurance (determining how much you need and if you will actually need it). It is not a perfect science so mistakes will be made, but it's about making informed decisions with the information you have.
How does it affect you?
Simple, it involves making decisions based on your future needs (or what you think they will be) and the financial situation you are working towards. When it comes to investing, you are able to take higher risks with your money when you are younger, leading to a higher return on your funds, because you have more time to invest. The older you get and the closer you get to retirement, the less risk you'll want to take because you don't want to lose a significant portion of your savings and not be able to rebuild.
Insurance planning and risk management involving your investments are a great place to start your financial planning from the ground up. Looking at these items will help you build a strong foundation for increasing your investments and making sure you're covered for any unexpected events.
Learn more about financial planning by reading more on investment planning.
(Visited 77 times, 1 visits today)