Wow! So how long has it been since I've done one of these, huh? I know. I've been waiting, too. It's always good to throw down a few shout outs (but never as many as I'd really like…by the time I get these posts done I've read a bajillion great pieces).
The Diary
Thanks to everyone who responded to my last Diary post. It's awesome to get so many words of encouragement. Pauline at Reach Financial Independence gave me great suggestions on hiring a VA, Kathleen at FrugalPortland wrote to ask about which class we're taking, Siccora at Tackling Our Debt wrote to me about KeePass (awesome tip) and last, Matt at Dumb Passive Income offered to help me with SEO by working on a joint project together. Check out his site…pretty soon he'll SEO some Average Joe's Money Blog posts. Can't wait for the lesson, Matt!
Not getting my Diary? What the hell are you waiting for? Sign up and we'll get you caught up on the action behind the scenes at the blog. A quick note…the Diary is different than our newsletter (which is filled with awesome tips and discounts). Follow this link to find the Diary subscription page and we'll bring it to your inbox, pronto!
I'm a braggart
Total non-sequitur. Check out this kid.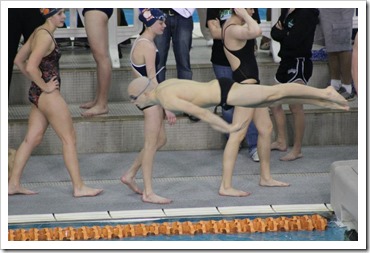 That's my son warming up at the Texas State Swimming Championships! He finished 14th in the state in both the 100 and 200 freestyle and anchored both of his team's freestyle relays. Thanks to our friend Kathy Anglin for the killer action shot.
By the way: He doesn't get it from me. I swim like a brick.
Some of My Favorite Reads
Holy cow. Again, I'd like to apologize to people who don't appear here today. I read these lists of "favs" on other blogs and totally get depressed when I don't see some of my AJ Money Blog awesomeness listed. First, I can't put as much time into these as I'd like AND there is just too much good writing.
Could you help me? To make this list easier, please write other bloggers and ask them to suck a little more. That'll help both you and me. Thank you.
I no longer do "Blog Post of the Week," but if I did, it would go to John's spouse Nicole at Frugal Rules. Her post "Losing Isaac, Finding Life in the Death of a Child" is so incredibly sad, yet unbelievably inspiring.
Our good friends Len Penzo and PK at DQYDJ never fail to make me laugh and teach me a lesson at the same time. Check out Len's 9 'Oops' Moments That I Ultimately Paid For (One Way or Another) and PK's take on the blog world's latest drama: On Shortcuts, Originality…and Casablanca.
KrantCents has written some fantastic pieces. The Case Against Paying Off Your Mortgage may be my favorite of all.
Possible Reason #1 I can't wait for FinCon: to personally again witness one of Jana's rants. If you've never seen the sun set over the Pacific Ocean, the Statue of Liberty in the early morning, the Grand Canyon at dusk, or heard one of Jana's rants, you're missing out on life. It's true. After meeting her last year at FinCon I now read her posts as if she's reading them to me. It makes them authentic. Check out Change Your Situation With a Little Drastic Action at Daily Money Shot. Special thanks, too, to Jana for running the Bloggers helping Bloggers program. Maybe that's why there's been so much good content lately around the interwebs….
Speaking of friends and FinCon, my friend Erin at Dog Ate My Wallet writes some wonderful, contemplative prose in Walking in the Rain.
John and Todd at Fearless Men are back with another awesome round of Best Fearless Men quotes. My suggestions, such as "Don't piss in the bathtub" never seem to make the cut. The bar must be pretty high….
Kim at Eyes on the Dollar writes a well-thought piece called Is Poverty in the United States an Excuse to Do Poorly in School? If you've watched Waiting for Superman, you know this is a complex problem. Read the comments for some great discussion, also.
A website I have more appreciation for all the time is Brick by Brick Investing. Soon-to-be-daddy Marvin does a super job of laying out the details of investing as well as anyone I've read. Read Lazy Attitudes…I Absolutely Love Them.
See that? I just went over my self-imposed "eight post" limit AGAIN and I still have about 30 more I loved this week.
Thanks everyone for stopping by our site. It's increasingly the fun of being a part of this community (even when we have the drama of your average 10th grade hormonal class) that gets me excited about doing this.
Hello…My Name is….
Check out two "new to me" promising bloggers on the scene since my last read-a-long:
Jose at The Wise Dollar has a unique voice and situation. He's taking care of his elderly parent's finances AND his own situation. Because of that you'll get a little of everything from his blog. Check out a sample: Estate Planning – Our Return From Miami.
The blogger at Write Your Own Reality is another distinct new voice. Check out To DRIP or not to DRIP where I promise he isn't talking about post-nasal anything….
Join In!
My friend Maria at The Money Principle and I are on Daily Mile, a fun site to track your running. Friend us both! We'd love to have more people out there (I say that and I've only been there twice…help me get there more often!). Aloysa at My Broken Coin pinged me a while ago, but I have changed profiles, and Shannyn at FrugalBeautiful uses the site often. Let's hold each other accountable to our running goals!
We're Very Popular and Modest, Too…
I'm grateful that our work has been displayed in many places in the past few weeks, including:
Laurie at The Frugal Farmer was nice enough to nod toward our post Average Joe vs. Upside Down Teacups and Other Nonsense in her awesome post Oops, I Did It Again (Almost!). Ever fight to reach your goals? Sure you have. Read Laurie's story about ALMOST forgetting the big picture.
Thank you to John at Frugal Rules, Holly and Greg at Club Thrifty and John & Todd at Fearless Men for pointing readers toward 5 Great Stock Buying Tips to Practice Today. Like two guys who high five each other because they wore the same shirt to school, John and I had similar posts on the same day (not eerily similar, like elsewhere on the internet this week, but "dude, awesome" similar….).
Maria at The Money Principle mentioned The Power of Big, Fat Audacious Goals, a post I was honored to write about my friends who ran 100 miles.
Marvin at Brick By Brick Investing, Grayson at Debt Roundup and Adam at Money Bulldog kindly pointed readers toward Average Joe vs. Upside Down Teacups and Other Nonsense. Thank you, guys!
Pauline at Reach Financial Independence and Erin at The Dog Ate My Wallet mentioned Long Term Care Planning, What Would You Do? to her readers. Thanks, Pauline!
Hope you're having an awesome weekend!
Photo: aussiegall
(Visited 407 times, 1 visits today)