Here's the best way to score a table at a busy restaurant. Walk up to a table of nice people and say, "Let's talk about insurance!" Within seconds, the table is yours.
Nobody enjoys the topic, but I think we all recognize the need for homeowners insurance.
I was reminded why again last week.
I received a message that good friends of ours who lived around the corner from our house had their home burn down. They'd recently relocated to Colorado.
Those forest fire pictures you've been seeing in the news? Those are the flames that destroyed nearly everything our friends owned.
We don't like to talk about insurance, but events like this are a good reminder that we should revisit the policy periodically to make sure we know what protection we own.
5 Important Homeowners Insurance Provisions
1) Replacement value coverage– Most homeowners policies are replacement value coverage, but it's worth checking. If yours isn't, you'll receive the fair market value of each item you claim. That five year old computer? Probably not worth the $1,000 you spent on it anymore….
2) Valuables itemized and insured separately? Although policies will replace your belongings, high value jewelry, artwork and personal items should have a separate endorsement. Insurance industry friends tell me to check with your agent or company because competing insurers have different levels of personal endorsements.
3) Renters? Roommates? Here's a sticky point. If you're living in a home but don't own it, you'll need renters insurance for your personal items. Many people rent because they have a tight budget, but this is one important area to spend the money (and hopefully never have to use it).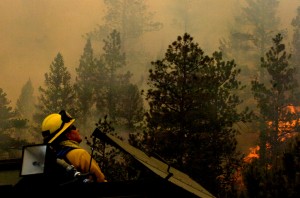 4) Deductible. Remember that recommendation some crazy website made about funding a cash reserve emergency account? Partly, that's so you can self-insure and tell the insurance company to take a hike! As your deductible grows, the amount you have to pay for insurance declines. That's the good news. The bad news? You'll owe a larger amount when you have a claim, so don't raise your deductible until you've funded your emergency fund.
5) Inflation protection. Because thinking about your homeowners insurance is feared worse than a trip to the dentist, inflation protection increases the value of your coverage over time. This way, even if you forget, you'll have protection that keeps up with rising costs.
While I can't say that you'll be the hit of the neighborhood by having a great homeowner's policy, you will be able to relax a little after disaster strikes. I'm glad my friend's family is okay. You can always replace a house.
Let's keep the discussion going in the comments. Now that we've covered some important homeowners insurance provisions, how do you score a good deal buying it?
Photos: Fire Fighter: Roby Ferrari; Forest Fire: National Guard