As someone who is passionate about finances, I believe that one of the best investments that anyone can make is in their finances. Although I haven't yet been to a traditional financial adviser, as my first priority right now is to pay off debt and build my emergency savings, it's something I definitely want to do in the future. There are many types of financial advisers, so here's a look at the different types and what makes them different.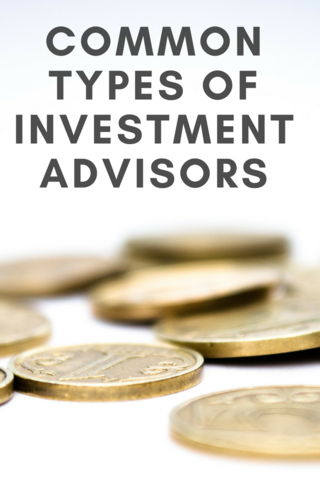 Certified Public Accountant (CPA)
Certified Public Accountants' expertise is taxes, so they offer advice on how to prepare taxes, how to invest for college and retirement so you pay the least amount of taxes, and how to prepare your estate so your survivors pay the least amount of taxes.
Certified Financial Planner (CFP)
Certified Financial Planners offer general financial advice on topics such as insurance, retirement, estate planning, taxes, and investing. They are great resources for anything from learning how to pay off debt to managing an estate. Certified Financial Planners must hold a Bachelor's degree (in the US), complete a specific coursework of financial planning courses, and sit through an exam. Additionally, they must have 3 years of professional experience (or 2 years of a CFP apprenticeship.)
Broker/registered representatives
Most people use the term broker to describe a person who buys and sells stocks, mutual funds, and other investment products, but that's not entirely the case; brokers are actually the person or company in charge of buying and selling investment products, while the individuals who do the buying and selling are technically known as registered representatives. Registered representatives are required to register with the Securities and Exchange Commission (SEC).
 Investment Adviser
Investment advisers are specialists on all things investing. Some of them charge flat fees or annual fees, while others require a minimum investment. Unlike brokers, who may mention a more expensive product to their clients so they can receive a greater commission, investment advisers have a fiduciary responsibility to offer less expensive products to their clients that meet their needs. Investment advisers who are registered with the SEC are known as Registered Investment Advisers.
Insurance Agent
Insurance agents sell life, auto, property, and other types of insurance and can help clients determine which insurance policy best suits their needs. Some insurance agents exclusively represent one agency, while independent agents sell policies from multiple agencies.
Attorney
Although most people wouldn't expect to attorneys to be financial advisors (and most aren't), there are some attorneys who specialize in tax law. Attorneys also prepare important financial documents such as wills and trusts.
Robo-advisor
Since many traditional financial advisors require higher investments and fees, consumers, especially millennial ones, are turning to robo-advisors. Thanks to technology such as developing computer-based algorithms, these websites and apps are able to offer financial advice to users. Examples of robo-advisors are Betterment and Wealthfront. 
Financial coach
Coaching is a relatively new phenomenon that is most popular with millennials. They look at the big picture and how their finances fit into their lifestyle. There are a variety of coaching certifications, but they are not required. Many coaches have degrees in fields such as psychology and social work.
(Visited 59 times, 1 visits today)