Thinking about getting a new vehicle? American car companies are eager to make deals following the recession, which saw sales drop and the age of the average car on US roads rise to 11.4 years according to Edmonds. com. But overall car sales have recovered, according to Zacks.com, up 8 percent from 2012 to 2013. Financing requirements have eased as well.
If you feel ready to update your '04 ride for a '14 or '15, this is probably as good a time to do it. The sales force is certainly ready for you, so it's best you prepare to speak with them.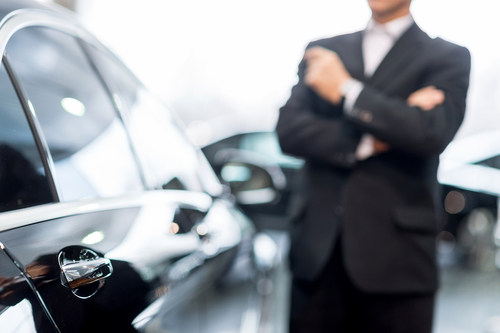 Buying a Vehicle Requires Research
Even if you only intend to look during your first visit to a showroom, it pays to do a little research up front. Edmunds.com advises buyers to read up on negotiation skills, pricing, rebates, and car reviews.
Look at sites with broad outlooks on vehicles, such as DriveTime, CarTalk, and Edmonds. These sites aren't affiliated with any particular car company and can afford to take a long view. Check out their Facebook pages where you can also see articles discussing various aspects of car buying, maintenance, driving advice, and more.
Finally, get a good idea of your creditworthiness if you need to finance your vehicle. Get a copy of your credit report to make sure it's accurate. Go over your budget and compare where a new vehicle will save you money on gas, repairs, etc. Keep in mind your insurance will probably go up with a newer car. Know what you can comfortably spend.
Brush Up Your Negotiation and Geniality Skills
Edmunds strongly urges potential car shoppers to adopt a non-confrontational approach when working with car salespeople. "Part of the car-shopping process is finding the right salespeople and working with them, not against them," Edmunds advises. Car salespeople are so universally despised that the larger culture seems to think that mistreating them is acceptable behavior. Most people, however, really don't have the stomach for this, so go with your natural good nature.
If possible, strengthen your negotiating position with a pre-approved loan. Credit unions often provide a better overall package, according to Consumer Reports. Dealerships will usually offer either a rebate or a low or interest-free loan, but with an outside loan, you can often get both.
Another advantage of outside financing is that it will almost certainly lower your stress level because you have already taken care of the most taxing part of any major purchase. Low stress contributes to more successful negotiation.
Keep in Mind that You're the Driver Here!
It's easy to let the salesperson lead the conversation, but don't let him dominate it. Here are some ideas from MSN Auto that will let you negotiate from a position of strength:
Settle on a price up front. Don't talk financing or trade-in or be swayed by rebates or promises of low interest rates.
If you're open to trading in your car, keep this information to yourself. A trade-in should lower the cost of a price you've already agreed upon, and not become part of the negotiating mix. Just be sure you know your vehicle's value.
Don't say how much you have to spend. The cars you are looking at already indicate what you are willing to spend.
Don't be swayed by extended warranties. Instead, put money in an account dedicated to car maintenance or shop around for a warranty from a third party.
Like Us? Sign Up!
Subscribe to get the updates from The Free Financial Advisor.