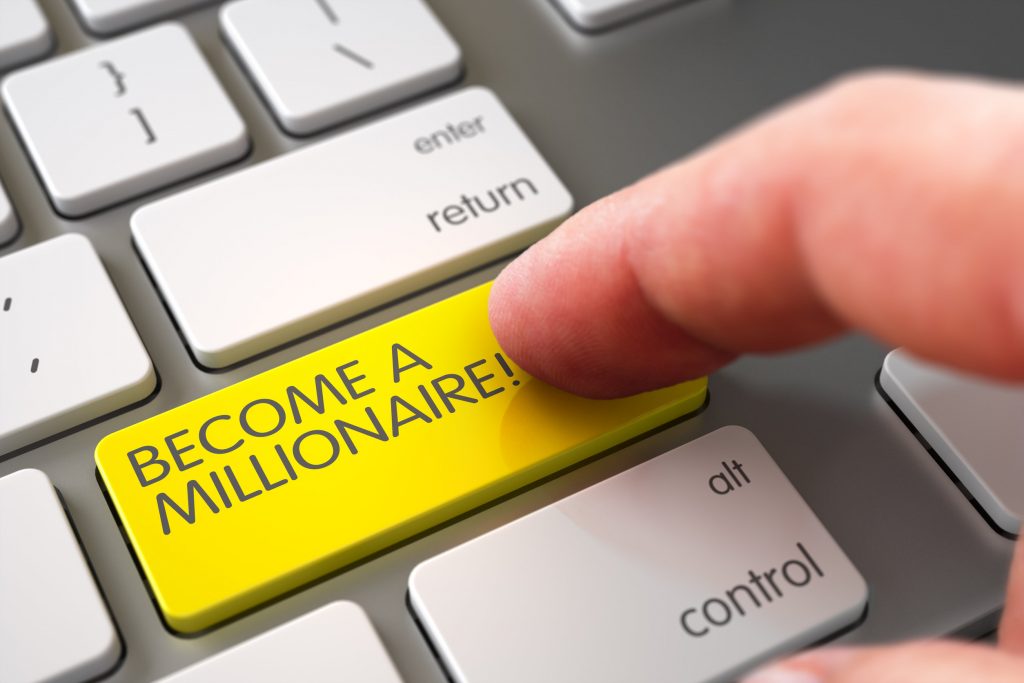 Many people dream of becoming millionaires but assume that it isn't possible. In reality, practically anyone can get on the path toward a seven-figure nest egg; you just have to use the right approach. If you're wondering how you could potentially become a millionaire, here's what you need to do.
Say "No" to Debt
Few things can hold you back from your financial goals quite like debt. A buy-now, pay later attitude comes with consequences. Monthly debt payments will take bites out of your budget. Additionally, you spend far more overall for the things you buy if you aren't repaying your debt right away. That's money you could be using to improve your financial standing essentially slipping through your fingers.
If you're hoping to become a millionaire, saying "no" to debt is essential. Instead, focus on only purchasing essentials, saving for what you want to buy, and maintaining things you own. That way, you can focus more of your money toward your goals.
Start Investing
Gathering up a seven-figure nest egg doesn't mean you have to save a full one million dollars. Instead, you need to set aside as much as possible using an approach that lets your money grow.
By investing early and regularly, you get to take advantage of compound interest and long-term gains. With compound interest, the interest you earn also starts earning interesting, helping even modest deposits grow.
Other types of earnings can also help. For example, reinvested dividends can boost your balance, adding a bit of something extra while you continue making deposits. Even stock value increases matter, as that's money you make without increasing how much you're personally saving.
Now, even though your savings can grow, that doesn't mean you shouldn't be setting a significant amount aside. While a general rule of thumb is to save 15 percent of your income for retirement, you may want to invest beyond that if you're hoping to become a millionaire. That way, you can stash away as much as possible, allowing you to get to a balance that makes you happy faster.
Boost Your Income
Since you need to set money aside if you want to become a millionaire, increasing your income is a good idea. That way, you'll have more cash to stash, allowing you to grow your balance as quickly as possible.
There are several ways to boost your earnings. You could ask for a raise if you're exceeding expectations at work or seek out a new job where you're paid fairly for your contributions. Volunteering for overtime is an option, as well as getting a second job or launching a side hustle.
Acquiring new skills that let you qualify for a better-paying position should also be on the table. While heading back to school could potentially help, there are alternatives. Internships, apprenticeships, and other forms of on-the-job training could do the trick. Going online and using free resources may also work.
Stave Off Lifestyle Creep
One issue with boosting your income and savings is staving off lifestyle creep. If you start thinking that luxuries are suddenly affordable, you may forgo savings and start spending instead. As a result, you may not have enough set aside to reach a $1 million balance.
If you increase your income and start thinking about moving to a new home, buying a new car, or something similar, pause for a moment. Consider whether what you're contemplating is based on needs or wants.
If what you're thinking about doing is a legitimate need, then moving forward may be okay. However, you want to do it as frugally as possible, ensuring you don't end up spending more than necessary to cover that requirement.
However, if it's a want, remind yourself about your dream of being a millionaire. That way, you can focus on your goal.
Do you have any other tips that can help someone work their way toward becoming a millionaire? Share your thoughts in the comments below.
Read More:
(Visited 29 times, 1 visits today)