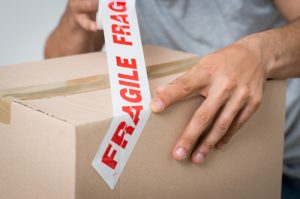 Member corporations of Worldwide ERC Workforce Mobility Association  spend an average of $12.2 billion annually on relocation assistance,  according to a report recently published by the group. But what does that  figure mean for an employee's own out-of-pocket expenses? Moving  Company Reviews compiled data to show moving from Chicago to Denver  with 12,000 pounds of personal property could cost around $8,000.  Meanwhile, a local move may run about $2,000.
For employees who need to be mobile and jump at a new job opportunity, thousands of dollars can be out of reach. Some companies offer relocation packages, but they don't always cover the full expense. To figure out what your true budget for moving is, calculate some of these hidden expenses before you pack up your things.
Moving costs
Many companies will still offer reasonable location packages for employees and even take care of the details of organizing the move. Others will give you a sign-on bonus or flat fee to budget out everything yourself. When you need to find movers on your own, find out if they're insured, if they offer flat fee services and if materials like moving boxes and packaging are included. Check out major moving companies like Mayflower and compare their prices.
If you're not moving far for your job, an hourly fee may be the better option. Some companies like College Hunks Hauling Junk and Moving calculate a reasonable hourly rate depending on where you live, a flat-rate to cover the movers getting to and from your homes along with dollies, tools and protection for your personal property. Regardless of how much it costs to move, remember to budget out your move in advance and come back to your boss to negotiate their offer. They may not want to budge on relocation assistance, but may increase your annual salary or offer other perks.
Storage
Storage expenses are easy to forget in the frenzy of relocating and starting a new job. You may find your new property isn't as expansive as your last and requires a monthly storage budget. Or you may discover your new house isn't as move-in ready as you thought and you need to bunk in corporate housing for a few months. The cost of storage can send your budget into overdrive if you wind up with damaged property or need to invest in extra boxes, tape and packaging.
Mortgage or rent
Buying or renting a new home can add to the joy and excitement of relocating for a job. Unfortunately, there are many hidden costs to acquiring a new property from first and last month's rent and closing costs. Getting a similar space in a quality neighborhood in your new city may may cost more than you realized. There are also less obvious fees attached to moving into a new home. For instance, many utility companies require a disconnect and reconnect fee.
Insurance
Your homeowners, health, life and even car insurance can vary drastically depending on what part of the country you live in. Don't get caught busting your budget before factoring in these next steps. Search online for insurance quotes to determine the average cost of specific types of insurance by state. For example, car insurance in Georgia could cost less than 14 percent of the national average. Meanwhile, moving to Louisiana could cost more than 41 percent of the national average.
Replacing items
Make a budget for all of the items you plan to throw out and keep an ongoing tab on moving day. It's tempting to think you'll either throw out junk or keep everything tidy and organized for your move. But it's unlikely you will move away with milk, bread, spices, half-empty cleaning products and old shower curtains in tow. Although these small items may not cost much individually, it could add up fast and put a strain on your budget.
(Visited 135 times, 1 visits today)