The perfect accessory to any outfit is an overstuffed wallet. And we don't mean a receipt-crammed pocketbook, either. If your charmed lifestyle is siphoning just about all of your paycheck, it's time for a change. Don't worry, no penny-pinching required here—just a few smart financial adjustments. You can have your stilettos and matching handbag, too.
Take Control of Your Household Bills
Pat yourself on the back for setting up those monthly automatic payments. But, if you're relying on the "set it and forget it" method, you could be losing money on miscellaneous fees or account errors. Start by taking a thorough look at your itemized bills. With highlighter in hand, mark any miscellaneous monthly charges and usage fees. Then use these tips to remove them and negotiate reduced payments.
Cable and Internet: If you bundle services and pay your bills on time, the ball is in your court. Use your customer loyalty as leverage for lower rates. Do your homework and familiarize yourself with competitor offerings. Make mention of the savings you could gain by switching providers. Customer service-minded companies do what it takes to keep valued customers. If not, make the switch.
Cell phone: Even if you're locked in to a mobile contract, you can still shave a few dollars off your bill. Take a few moments to understand your contract. What does your mobile package encompass? Are you paying for 6 GB of data when you only use 3 GB? Lowering your data package can save between $10-$20 per month. Does your plan include unlimited text messaging, or are you paying a bundle in overage fees? Look at your usage history to decide whether to reduce your monthly usage or increase your plan and save on overage fees.
Auto insurance: Don't overpay for car insurance. Try The Hartford's auto insurance calculator to shop for the best deal. Answer a few short questions, and the site provides you with the best options to fit your budget and lifestyle.
Create a Spending Plan
Now that you've negotiated your way to extra savings, how will you allocate your new-found cash? Forget budgeting; this isn't a course on deprivation. It's about making the most of your hard-earned dollars, so you can enjoy a well-lived present while preparing for a sound future. Have you been eyeing that new Kate Spade handbag, those stunning Michael Kors heels? You can make them yours. Visit LearnVest's Money Center to determine your financial priorities, set goals and track your progress. Find out what stays (haute couture) and what goes (perhaps your daily coffee run?).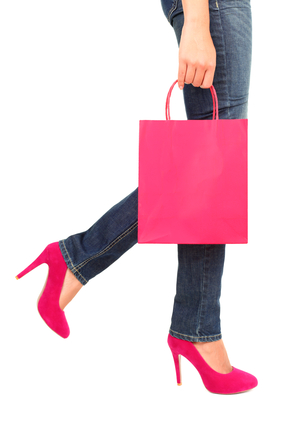 Shop Smarter
You're strong, successful and independent. But when it comes to the latest shiny object, you're a deer in the headlights. Even the most headstrong females can fall victim to the overpriced trends. Your smartphone provides much-needed guidance to save you from making rash decisions. Download the ShopSavvy app and never overpay on the items you love again. Use the barcode scanner on any product you have your eye on, and the app delivers a list of stores that carry the item. You'll also see the price points available (both online and in-store) to ensure the best deal possible.
(Visited 23 times, 1 visits today)