Today I'm going to finally do something I've wanted to do for a long, long time. I'm going to tell you who I am.
I'm not good at this. While it's fun writing stories that include snippets of my life, penning a piece all about me me me me me me me me me isn't.
Don't get me wrong: the internet doesn't care about me (although it truly breaks my heart….). This post won't change the world. It's just good to be me on this blog.
Why did I blog anonymously in the past?
Some people blog anonymously for good reasons. They don't want family to know who they are or they're worried their boss might start reading. Anonymity frees them up to say things they otherwise wouldn't say.
Being anonymous for them is security.
For me it's different. I've lived in the public eye for a long time, with my blog or otherwise, I've had a contractual obligation not to enter a financial arena as myself. That's all changed now. That obligation is over. Different than many, I'd prefer to write as myself.
So, here it is: AverageJoe is Joe Saul-Sehy
Wow. I know. You had no idea who I was and still don't.
Here's a picture of me then: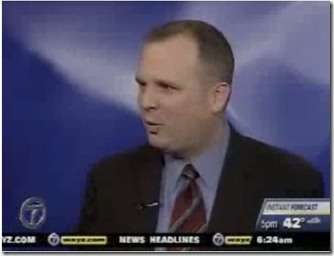 Handsome, huh?
I was one of a few people (12 to my knowledge) who spoke on behalf of the company I was associated with in the national media. It was a big national firm. This photo is from a gig I held for 9 years: I was Detroit's Channel 7 WXYZ "Money Man," appearing twice weekly on the news talking about (shocker!) money.
As part of my media job, I've been quoted on WSJ.com, in Brides Magazine, Child Magazine, Best Life Magazine, The Los Angeles Times, Chicago Sun Times, Baltimore Sun, Detroit News, Detroit Free Press and others. I hosted a radio show on local Detroit radio for awhile on a barely-listened-to channel.
It was fun.
Blogging anonymously didn't stop me from telling you about who I am. I told you that I ran track and cross country for The Citadel, the Military College of South Carolina. Many people have "glory days" stories. I was the guy who accidently pulled off his shorts in front of a large crowd of people.
I mentioned that I'm originally from a small town in west Michigan called Vicksburg. That's why I had no idea how hotel charges worked on a "big date" and didn't know the dress code when looking for a theater.
Networking didn't go well all the time, either.
I have twins that are going to graduate from high school in the spring. They're great students but also do a hell of a job driving a car on top of a mailbox.
If you'd like more of my story, check out why I left financial planning.
Here's a picture of me now, hard at work entertaining you: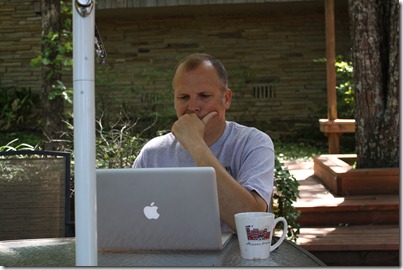 I'd love to tell you more about me me me me me me, but I think I'll continue to do it in the context of pieces I write. Just like you're a multi-faceted person, so am I. Because I can't fit it all in here, I think we'll stop for today.
What I loved about blogging anonymously:
It was a really tough task trying to build credibility based on writing quality alone….without my name, experience and credentials. It was humbling a year ago to write stuff and hope that 20 people would read it after speaking to huge audiences when I'd give speeches at Chrysler, Microsoft or other local companies. Having to build an identity based on solid facts and hard work while establishing a new trust in a guy named AverageJoe was a richly rewarding experience.
In closing this sappy me me me me me post, thanks for reading my stuff. I'm still humbled by the number of people that stop here every day. It's the biggest part of what makes writing this so rewarding.
(Visited 544 times, 1 visits today)