Thinking of forming an LLC? Here's how to make sure your business meets the legal requirements.
When forming a business, you will want to make sure you start off on the right foot. Keeping things above board is crucial and will prevent you from running into legal problems in the future.
What is an LLC?
An LLC (Limited Liability Company) is a legal business structure that protects the owners' personal assets (home, vehicle, bank account, etc.), in the event the business goes into debt. This, provided no fraud is detected or the company failed to meet legal requirements. Each state has its own guidelines for forming and managing an LLC, however, they all follow the same principles. Here's how to form an LLC.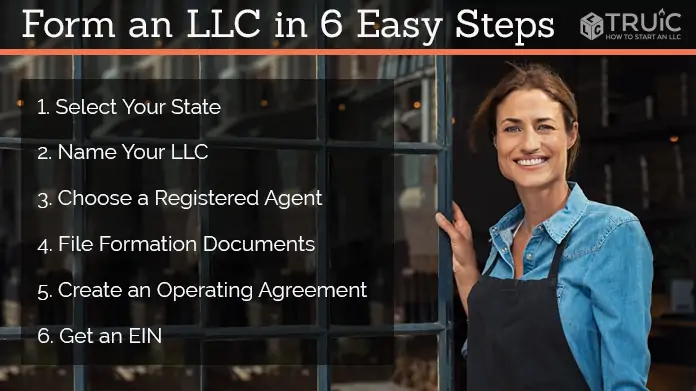 7 Steps to legally form an LLC
Select the state in which you plan on doing business
The first decision you will need to make is where you will form the LLC. Most entrepreneurs choose the state in which they reside or plan to conduct business (domestic LLC). That said, you can also form your LLC in any state regardless where you are based. 
If you wish to expand your  business in another state other than where your LLC was formed, you will need to register as a foreign LLC in that state and will then need to fill out additional forms and pay a fee to that Secretary of State.
Name you LLC
To avoid getting in trouble with the law from the outset of your business, you will need to ensure your LLC name is legal. Although each state has their own naming requirements, all have these in common. 
Your company name should include the phrase Limited Liability

Company or the abbreviated form

L.L.C. or LLC.

Restricted words like "bank","attorney", "university" may require additional paperwork and a licensed person, like a doctor or lawyer, will have to be part of your LLC.

Your business name cannot include words that could confuse your LLC directly or indirectly, with a government agency (FBI, Treasury, State Department, etc.) 

Words or phrases that promote illegal activity, are obscene and are forbidden by law are not allowed.  You can find a list of prohibited words on the website of your state's business regulatory body.

Your business name must be unique and not conflict with any other businesses already registered with the state.  If you need help with naming your business, consider using online business generators. Most are free and can provide you with an extensive list of creative and unique name suggestions. Then check the name availability on the website of your state's business filing agency.  In addition, do a thorough online search to help determine whether your business name is available or not. 

While you're at it, you will also want to register a domain name (.com) whether you plan on having a website now or in future. Some online business generators also search for domain names, or you could search Godaddy for available domain names.

Then, trademark your name to protect others in similar industries in the U.S. from using them. You can do a trademark search on the

 

Federal trademark Database

.
Tip: Consider setting up a professional email account: Try Google's G Suite – it's free for the first 14 days, and thereafter for a minimal monthly fee. 
Keeping your business name, website, email and trademark as similar as possible makes it easy for customers to remember and easily associate it with the kind of service or product you provide.
Select a registered agent
State laws require corporations and LLCs to have a registered agent, sometimes referred to as an Agent for Service of Process or Statutory Agent. A registered agent is an individual or business entity that receives or sends legal documents such as  tax forms and notice of lawsuits on your company's behalf. Many startups choose to hire a registered agent for this part of their business, but you can also appoint a friend or colleague, or act as your own registered agent. Legally, the registered agent must be over age 18, have a physical address (not a P.O. Box) in the state where the business is conducted, and be available during office hours during the work week. 
File Articles of Organization
To make your LLC officially exist, you will need to file LLC formation documents, known as Articles of Organization with the Secretary of State's office. Some states refer to it as a Certificate of Organization or Certificate of Formation. You can do this on your own, with the help of a lawyer or through a professional LLC filing service. Most states offer online filing and filing fees vary per state.  Basically, your Articles of Organization will include the following:
Name, address and purpose of your business

Name and address of the registered agent

Management structure (does your LLC have a single manager, two or more managers, or are all members managers). Owners are referred to members.

Name and address of the manager and members of the LLC 

Duration of LLC: Some states require you to specify how long your LLC will operate. A few states set a statutory limit on the duration (usually a few decades). 
Get necessary business licenses
Depending on the nature of your business, you will also have to obtain a local, federal or state licence. Failing to do this can result in fines or worse, your business may be temporarily or permanently shut down. For example, businesses selling alcohol or firearms are required to obtain a federal business licence. You can review federal licences and permits here. State licences differ from state to state, so be sure to find out your state requirements. 
Get an EIN
All businesses need an (EIN) Employer Identification Number. Also referred to as a Federal Tax Identification Number, it allows you to open a business account, and the IRS to keep track of your business' tax reporting. You can obtain an EIN free online from the IRS.
Operating Agreement


Although legally you don't have to file an Operating Agreement with the state, it is something you will want to have in your LLC's records. Because An Operating Agreement specifies the rights and duties of the LLCs members, and the distribution of income to its members, it will give you something to refer to in the event of a dispute. All members must sign the Operating Agreement for it to be valid. A good idea is to have your attorney notarize the document. 
Conclusion
When forming your business, it's never a good idea to cut corners. Making sure your LLC runs in accordance with the law will give you peace of mind and allow you to focus on getting your business off the ground.
(Visited 3 times, 1 visits today)