Ah, the budget.
While I dream about hot, soapy fun, I'm not sure that "a budget" is what I had in mind. Sure, I'm into crazy stuff as much as the next guy, but this whole budget and soap thing….I thought, "I'll pass."
…until I was recently looking at my dishwasher.
Then I thought, "I'll pass….out! This is awesome!"
Here's hot, soapy, and the key to my biggest budget dreams of all time.
When I want to get stuff done….you know, real stuff, like washing dishes or clothes, I don't do the job by hand. I throw in a few ingredients and let a machine handle it.
People tell me that they like to budget by hand. I don't get it. I could wash my clothes by hand. They'll probably smell a little and I'm fairly certain I won't do a wonderful job….but I could do it.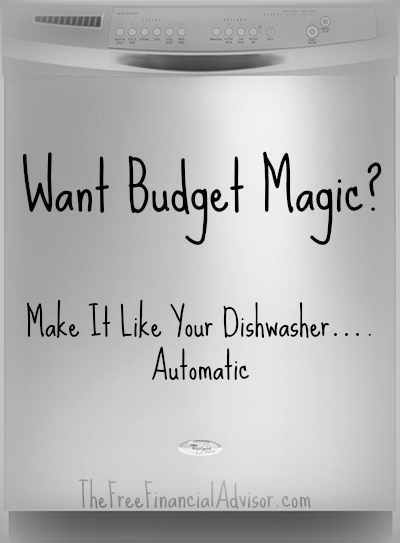 Instead I just press a button.
I've got better things to do than sit around and worry about how I'm spending every penny. I could be playing video games, running, or working on writing an article about budgeting…..(how META!)
Instead, try these ways to create the automatic thrills of a budget lifetime:
1) Soak in your expenses without writing stuff down. Ummm….how unbelievably wild and crazy. Using a system like Mint or YNAB instead of writing out every expense? Oh la la.
2) Wash down easy purchases automatically by avoiding the store. I've been using Amazon's Subscribe and Save for some time now for basic household expenses. Not only do I get great prices, but I know what a large portion of my grocery budget is going to be before the month begins. This also saves me time at the grocery store, so I can spend more time writing crazy dishwasher/budget analogies.
3) Rinse yourself in free, credit protecting services. Afraid you'll damage your credit by missing payments on your credit card? Ask your lender about automatic minimum payments. Sure, you want to stay ahead of the game, but if you accidentally overlook a payment, you'll keep your credit intact. …and nothing is sexier than a perfect credit score.
4) Spin your investments by reinvesting dividends. I swoon when people start talking to me about dividends. Is it getting hot in here? Until you're ready to start spending your fortune, use the power of automatic dividends to build your savings quickly, and better yet….without paying attention.
5) Dry out any rough investments by scheduling alerts when your funds drop more than your risk tolerance can stand. Who wants to worry about the financial markets? Well, I do, if there's something to worry about. Here's a plan: use alerts to tell you when there's something you should pay attention to. Until then, spend your days sprinkling rose pedals across your bed and singing horrible love songs. Or not.
Aren't those sexy? I know what you're thinking. "How can I get more of these tips, but on my mp3 player or phone?" Check out the Stacking Benjamins podcast every Monday or our single-interview Short Stack on Fridays for more overwraught analogies…..
My brother just sent me this hilarious SNL Amazon.com skit video….talk about hot, soapy dream! 🙂
(Visited 32 times, 1 visits today)