Average Joe's Money Blog
-Our resident bloggers, AverageJoe and OG, writes what informative and interesting posts at least three days a week.
Monday through Thursday - They bring financial planning news, strategies and tips.
On Fridays Joe shares his choice for the Blog Post of the Week!, where he crowns a blog writer as the winner in his soon-to-be-esteemed competition.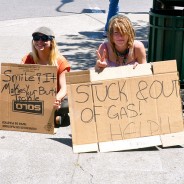 Here's a problem: you're at the end of your money and there's three days left before you're paid. Where do you turn? Maybe you've been there…I was in this situation in my early days as a financial advisor. It was horrible. Here I was, telling people about how to manage their money, and I was sweating every meeting, just praying that they'd sign on the dotted line. One time I even ran out of gas on the way home and had to search frantically for money under my seats. There are two solution levels: "Right now" and "Never...
read more