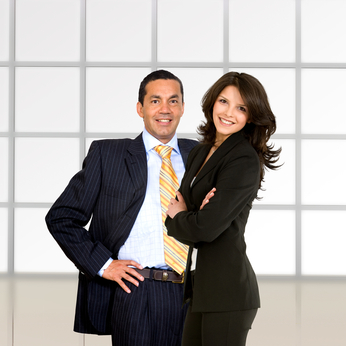 A solid marriage is the first thing you need in order to run a successful business with your spouse, but that's certainly not the only thing. Partners that share the same visions, goals, outlooks, and can stand each other's company 24/7 are more apt to make it work. Subsequent steps to success involve a mixture of business sense, legal sense and common sense that can help you reap the rewards of working so closely with someone you trust and love.
Decide on Business Type
Whether you're buying a franchise, launching a start-up or taking over an established area business, you should both agree on the business type: partnership or joint venture. Your next step is to file the required paperwork to ensure you meet compliance requirements.
A husband-wife business automatically qualifies as a partnership, or you can take advantage of the Small Business and Work Opportunity Tax Act that lets you file your business as a joint venture. Partnerships file a single tax return on Form 1065. It assumes all contributions, gains, losses, business decisions and balance of power are split 50-50. A joint venture lets each spouse file his or her own tax return using Form 1040. The joint venture option files the same way a sole proprietorship would, listing individual contributions, gains and losses, according to IRS.gov and SBA.
While the IRS says a joint venture doesn't usually get you a higher tax return, it does keep Social Security retirement credits separate.
Figure Out Who Does What
Clearly defining your roles and duties can stop potential power struggles before they even start. Decide on each spouse's title and compile a detailed list of responsibilities and tasks that come with those titles. Make tasks easier for both of you by looking into tools like online accounting software from Quickbooks, which can make handling the books easier for both of you.
Also devise a plan for settling disagreements that involve major business decisions. Set up an impartial board of directors. Make sure each member only has only the best interests of the business in mind and no personal ties to either spouse. Your board of directors can be your go-to source for settling key decisions from a business, rather than a personal, perspective.
Have an Exit Plan
While no one tracks divorce rates for husband-wife businesses, with 40%-50% of first marriages ending in divorce, according to Divorce.usu.edu, an exit plan becomes a must-have plan.
Even if your marriage doesn't end in divorce, an exit plan can be essential if you two realize that working together simply doesn't work. A common exit plan strategy is for one partner to sell the business to the other, either as a one-time purchase or over a set period of time. Splitting the business in two is another option.
A third option is to sell the business to an outside party and split the profit. Either spouse may decide to continue working at the business, but neither has the full set of responsibilities that come with being an owner.
(Visited 8 times, 1 visits today)