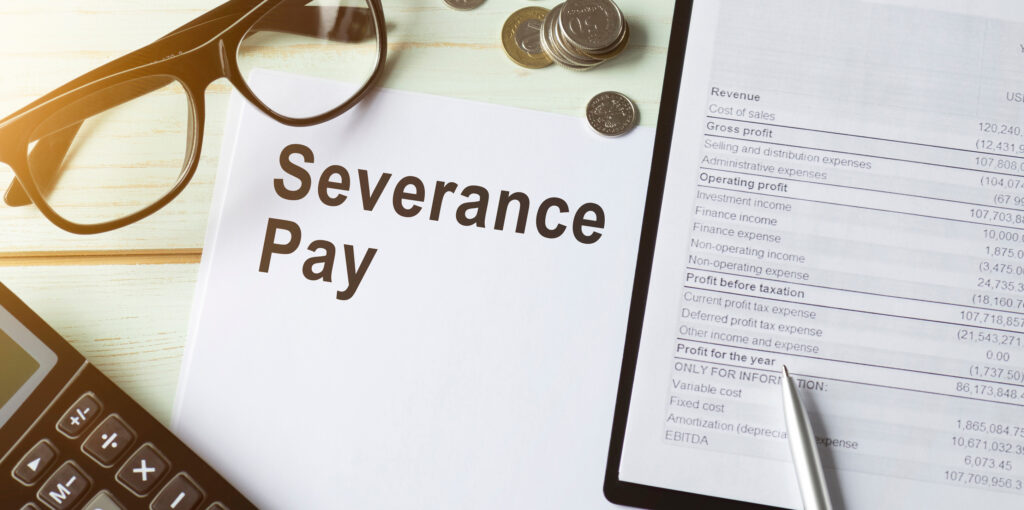 In some cases, companies offer severance pay to laid-off employees. If you're someone receiving severance pay or want to ensure you're prepared should a layoff and severance pay come later, it's wise to have a plan for the money. Otherwise, it may not last as long as you'd expect. As you create a strategy, here are ten things not to do with your severance pay.
1. Big Purchases
Generally, you shouldn't use severance pay for a big purchase. Primarily, that's because the money is meant to substitute for your income until you find a new opportunity.
Unless the big purchase is essential for living, such as replacing a broken down refrigerator that isn't repairable with a reasonably-priced model, it's better not to treat the cash as a windfall that you can use for luxuries. That attitude can cause you to splurge far more often than you may realize, causing your severance pay to run out fast.
However, if you're talking about a genuine essential, you could potentially make a big purchase as long as you plan accordingly. Determine if you can reasonably survive on what remains until you find a job. If the answer is yes and you're willing to stick to a strict budget moving forward, then the purchase is potentially supportable.
2. Small Splurges
In some cases, people feel like they deserve small splurges when they're going through an emotionally challenging situation like a layoff. They view the purchases as a pick-me-up, hoping it will improve their mood.
The issue is that small splurges can often add up fast. For example, while paying $5, $7, or more for a coffee at a café may seem like no big deal on the surface, if you do it every day for weeks on end, that represents a lot of money.
If you do want to give yourself the occasional treat, work it into your budget. For example, you could allocate $10 per week for spontaneous splurges. Then, pull out the $10 in cash and only use that money for the small luxury purchase. Once that cash is gone, no more splurges until you get the next $10 the following week.
3. Lend the Money
Some people receive their severance pay as a lump sum, and it can be a large amount of money in some cases. As a result, people may believe it creates an opportunity to assist their nearest and dearest, particularly if the person they know is struggling financially.
However, lending the money comes with the risk of not getting paid back. As a result, if the person who borrows it doesn't handle their side of the arrangement, you might find yourself falling short during a time when you don't have other income.
Ultimately, lending money to loved ones is always risky, but it's particularly dangerous during times of personal uncertainty. Since that's the case, it's better to avoid this entirely.
4. Risky Investments
When your regular source of income disappears, and you aren't sure when you'll get a new job, investing the cash might seem like a smart move. However, all investing comes with risk, and not all opportunities are created equal. There's always a chance that an investment isn't going to pan out, causing you to lose significant amounts of money.
Since financial distress can increase your odds of considering risky investments, as those may seem like they have the most growth potential, your chance of losses is high. As a result, it's usually best to avoid investing your severance pay in hopes of quick growth, as you could suddenly find yourself without a source of income.
5. Ignore Taxes
Many people don't realize that severance pay is taxable. Additionally, even though an employer usually withholds some of the money for taxes, it may be insufficient, depending on what's listed on your W-4.
Additionally, the entire amount is taxable in the year you receive it. As a result, lump sums could mean owing more in taxes during one year than you'd expect. That's particularly true if you're shifted into the next tax bracket up.
If you're receiving severance pay, understand that it's taxed the same as normal income. Review your withholdings, determine if enough was set aside, and consider saving some of the severance pay to cover any tax shortfalls should they occur.
6. Calling It Spending Money
Generally, severance pay is a short-term income replacement. However, calling it "spending money" can cause you to adopt a potentially dangerous mindset. It may lead you to believe that spending every dollar is okay, even if that means not having an emergency fund to cover the unexpected.
While it's true that using severance to cover expenses is fine, it's also wise to save some for potential emergencies. At times, that may mean adjusting your budget and spending habits to live on less, at least until you find a new job to replace your income. But it's an adjustment worth making, as it can ensure that you're not in a tough spot if something unanticipated occurs.
7. Keep Your Old Budget
Even if your severance pay provides you with the same amount of income you had previously for several months, that doesn't mean you should keep your old budget. Instead, it's best to find areas where you can cut back. That way, if you don't secure a new position before the period your severance pay covers ends, you still have some money available.
Ideally, you want to scale back as much as possible while still ensuring all of your obligations are met. Remember, any sacrifices you're making are likely short-term, as you can move toward your old budget once you're working again if the income amount is similar. Plus, if you end up in a job that pays less, you'll have a potentially workable budget already in place, which could give you peace of mind.
8. Skip Health Insurance
When you're laid off, you usually have the option to continue your health insurance. That's because of the Consolidated Omnibus Budget Reconciliation Act (COBRA), which outlines requirements for employers to have pathways for terminated employees to keep their coverage for up to 18 months.
COBRA insurance will cost more out of pocket in many cases, as the employer doesn't have to pay a portion of the premiums. However, declining health insurance puts you at risk. Any medical needs you have before you get a new job with medical coverage will have to be paid out-of-pocket, and that's potentially far more costly than covering the higher premium. As a result, it's better to take a close look at this option instead of assuming that skipping it is the right move.
9. Let Debts Get Behind
After a layoff, it's potentially tempting to look for ways to put any required debt payments on pause until you have a new position. Many lenders do have programs that make that possible, but some do come with financial risk. For example, forbearance can let you skip some payments, but interest may continue to accrue on your remaining balance. As a result, your debt could grow surprisingly quickly depending on the terms.
With some lenders, you might have to pay make-up payments once the pause ends. In this case, you could find yourself owing several payments all at once, and that could throw your future budget way off balance or might increase your risk of default.
While it's fine to use the various programs if you genuinely can't keep up with your debts, it's better to continue with payments if you're able. That ensures you don't accidentally accrue more debt through interest or find yourself in a bind later.
10. Not Getting Financial Advice
In some cases, using your severance pay seems simple. After all, you can generally treat it like income, using it to cover expenses and save for an emergency.
However, if you aren't sure whether you'll get a new job quickly or if the pay in a different position would at least match your last one, getting financial advice from a professional isn't a bad idea. They can help you come up with a plan to stretch your severance pay to ensure it lasts as long as possible, giving you more wiggle room if finding a new opportunity proves more difficult than you initially expected.
Is there anything else that you think people should avoid doing with their severance pay? Do you have any tips that can help someone properly manage their severance pay? Share your thoughts in the comments below.
Read More:
Tamila McDonald is a U.S. Army veteran with 20 years of service, including five years as a military financial advisor. After retiring from the Army, she spent eight years as an AFCPE-certified personal financial advisor for wounded warriors and their families. Now she writes about personal finance and benefits programs for numerous financial websites.