Have shows come automatically to your iPod! Use the 2 Guys iTunes page here.
Listen to shows on your smartphone! Try the Stitcher app here
Want to listen at your computer later? Right click the podcast and save the file to your desktop.
Wondering WHY  your budget, money and investments aren't performing as well as they should? We have the answers on this week's show. Also, we welcome the Makin'SenseBabe to the show, as she joins Dominique Brown and Len Penzo to discuss people who place restrictions on estates….you know those people who say "You can't inherit my money unless you quit smoking….OR…..you can't have the cash until you finish college…." Is that wrong? Should people do that with their money?
We discuss the new Stacking Benjamin's podcast and how to subscribe next week to the new show AND we share our feelings about Iron Man 3…and much much more.
Just for fun, check out our brand spankin' new logo: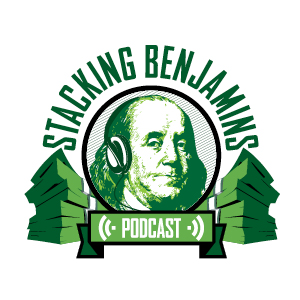 As always, these notes will fill in during the day on Monday.
Podcast Show Notes
<> Open
<> Stat of the Week: 37% of people say they can reach their retirement goal without using stocks.
<> Shortwave: Ruling your inheritor's lives after you've died. Should you?
<> Top 5 Money Management Systems
<> End Show
Iron Man 3 (Both Joe & OG saw it this week!)
(OG & Joe both…thumb sideways)
Stacking Benjamins notes
– New Feed Next Week
– 3 Shows During First Week (Mon/Wed/Fri)
– Please give us a review on iTunes and use social media to share the new podcast!