Nothing says the holidays like a good, old fashioned game night around the table with friends or family.
At least, in theory.
Here's the way it usually goes: someone suggests a board game (such as Monopoly), everyone agrees, excitement ensues.
…and quickly dies.
Three hours later everyone's poked their eyes out. The damned game is long, boring and ends in a whimper for everyone but the winning player.
What's fun about that?
Find Fun Games In 10 Minutes!
Research isn't just for your investments.
If I'm attending a film, I'll run by RottenTomatoes.com to see how people like it first. I don't need an award winning critical analysis or a full-fledged review, but I'm not going to waste my hard-earned time on a crappy movie like The Expendables 2 (see how OG feels about THAT movie near the end of this podcast episode). If I'm headed for vacation, a quick flip over to TripAdvisor gives me some great local restaurants to visit. Ask me sometime about the mafia place in Vegas we went to off the strip. I ate well and felt safe in the booth next to Don Corleone.
Similarly, if I'm going to play board games, I'm going to make sure they're good. Luckily, there's a site for that: BoardGameGeek.
Since finding this mecca for all things board games in 2001, I've had WAY better luck finding stuff that wasn't a waste of time. As it turns out, many are award winning titles (I'd never known there were tons of awards for quality board games). BGG, as it's referred to within the rabid board-game community,  is a community-driven place, where geeks like me list their favorites. If you're looking for some good games on financial topics, there are many to choose from.
Consider this your lucky day. I've previewed many of them just because I knew someday we'd be making this very list.
Now, as my gift to you, here is AverageJoe's board game gift guide:
To Teach Kids About Money
I'm a big fan of this game. My own children learned the difference between different valuations of money and how to make simple change with this one. Kids love it because the game is about building an amusement park. Dad likes it because the game is short and interesting.
It's also one of the few games on this list widely available. If you're looking for the perfect gift to give your children to start them on the road of financial management, this is it.
For Wall Street Fans
I've played so many good games of Acquire that I can't count them all. Players add tiles to a board to grow corporations and increase the share price. When two tiles are placed next to each other a merger happens. The smaller company is swallowed by the larger one. Shareholders of the swallowed company get to trade in shares for the new company (often as in real life), cash out (as in real life) or wait for the company to re-emerge elsewhere on the board (I wish this happened, but hey, two out of three ain't bad!).
Although there's some serious strategy here the rules are simple enough that I've played with a large variety of people. My mother likes the game as much as my financial planner buddies. While I can hold my own against the planners, mom is quite the cutthroat merger and acquisitions expert. We refer to her as "Mrs. Geeko."
On Entrepreneurship
You say that you actually love Monopoly? A friend of mine called this "Monopoly for Smart People." That's not a knock on Monopoly. In this game each player owns a power company. You attempt to create monopolies in regions while upgrading your plants. Wind, garbage, oil, coal and nuclear power plants are all represented.
I love the fights for resources. If everyone owns a coal plant, the price skyrockets. You have to bend your strategy around everyone else to win this treasure of a game.
Be sure and set aside plenty of time. This one usually clocks in at over two hours, while nearly other game on this list is completed and put away in under 90 minutes. The good news? It doesn't feel like two hours and nearly everyone feels involved until the end. I've come from last place to win in the last two turns without feeling like the game was just trying to "keep it close."
On Negotiation
First of all, don't play this with people who become angry during negotiation, because this game will drive them to it. Players work to complete "deals." The "Boss" (active player) is told by the game how many other players they need to involve to complete "the deal." Everyone negotiates for a slice of the pie.
Cards in the game change "who's the boss" and swap player control over in-game characters in the game.
Not surprisingly, the loudest player isn't often the winner. At our game nights, the person who is open to compromise will usually come out ahead. If you want to learn about negotiation and get some practice without any of the real-world stress, this is a good primer.
On Elections
1960 – The Making of the President
Is someone in your family fascinated with politics?  This is a great peek into the first campaign that was as much about the press and television as it was about which state the candidate was stationed in at the moment. Decide whether to be Nixon or JFK. Formulate your message. Keep up with current events. Attack the other candidate's position. Build your ground team in each state.
The finale of this game always is a nail-biter. Did you do enough in California? Should you have given the other candidate Florida to wrap up Pennsylvania? Should you have spent more time in smaller electoral states? With an election around the corner this is a good way to get back on top of the process, even if this particular battle was fought over 50 years ago. Because this is a two-player game, it won't make appearances at game night, but you and a friend will have a great time battling over issues and swing states.
On Buying and Selling Collectibles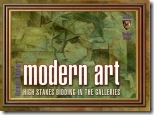 Modern Art
Players in this game are art collectors. Your goal is to amass the most money buying and selling art. The key? Sell works that are high in value while buying those that will later become popular.
We go one extra step to make this game even more fun:  I bought a little easel (the type used to prop up plates). As players present artwork for sale, we place the portrait on the easel and say something like "I know you're all excited that I'm making available the newest Karl Gitter piece, ((made-up name here)). Some of the names we created were unbelievable.
Forget the business and finance aspects, Joe! I just want a good game!
Okay, here are five good choices:
Playing Against Each Other?
If your friends have never played anything but "traditional" games like Monopoly and Life, this will bowl them over. Easy to learn, fun to play, and with just a little strategy, Ticket to Ride has brought more people into the "wow, there are some cool new games out there!" world.
Each player attempts to complete a handful of "tickets" between cities by connecting track between them. Watch out because once a section of track is claimed another player can't use that spot!
This game has been so successful that there have been countless spin-offs. Both the original Ticket to Ride (featuring a map of the USA) and Ticket to Ride Europe offer challenging but easy game play. Ticket to Ride Marklin adds passengers, Switzerland is a tighter map made for smaller groups, and Nordic Countries is full of choke points so you'll be angry at all of your friends for stealing your routes in no time flat.
Quietly Over Coffee
The current "Spiel de Jahre" award winning game in in Germany (where designer board game sales are high), this was called "Scrabble for Neanderthals" by the designer.
Not only is the game pretty and engaging, but it's good for your friends who live on spell-check or who refuse to play anything which will improve their vocabulary beyond "dude" and "where's the Rice Chex?" This is our favorite quiet game on a lazy Sunday afternoon when we've finished reading the paper.
Your goal? Create lines of shapes (think words in Scrabble) made up of all the same color but different shapes or all the same shape but different color. Make a line of six and you'll score bonus points for forming a "Qwirkle!"
Point scoring is simple. Add one point for each tile in a line. If a newly-laid tile improves a second line, score it again along with the entire second line. Then add six points for any Qwirkle.
As a Team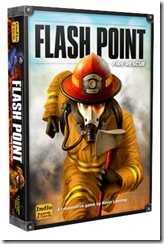 Flashpoint Fire Rescue
One of the newest ideas in board games is to pit the players against the game. If your game night crowd doesn't like confrontation or is just up for a good challenge, this is a good alternative.
Players take on the role of fire fighters battling a roaring blaze inside a home. Each member of the team has a different role as the group tries to rescue a family and their pets. My kids wanted to rescue the pets first. Remind me not to be caught in a blaze with Cooper, our cat. I'm second choice, apparently.
This game is also a business story on it's own. The tiny company Indie Games used the website Kickstarter to raise enough funds to put this game out. Increasingly, small companies are turning to alternative means to find funding for product innovations.
This game isn't yet widely distributed, but you can find it easily at many hobby shops or directly from Indie Boards and Cards.
With a Large Group
Having lots of relatives or friends over for the holidays? Looking for a good party game? Organize your game night attendees into teams and play the trivia game where nearly nobody will know the answers! A question is asked, such as "how many miles between the earth and the moon?" Every team makes a wild guess on a small dry erase board. All of the answers are lined up from smallest to largest, then each team guesses who's the closest without going over.
Every year at Thanksgiving my in-laws split up into the four smaller family units and go at it. This game has become our "last game before we say goodbye." We have lots of laughs and plenty of groans….and we all stink at trivia.
If you've ever dreamed of being a board game designer and thought it was the key to wealth and riches, read this story by Northstar Games co-founder Dominic Crapuchettes. His company has become undeniably successful even though he and his partner Satish Pillalamarri have had to persevere through the most trying circumstances.
For a Laugh
This may be the funniest game I've ever played. Take the game "telephone" and commit it to paper. Each player has a secret word or phrase and draws it. The next player guesses what it is. The following player draws a picture of the guesser's guess. Before you know it, a tiger has become a jaguar, has become a car, and has become a four-wheeler.
Points are awarded, but this is actually more of an activity than a game. Don't worry about being a good artist. The worse you are the funnier the comedy that ensues.
P.S. – You can purchase these games anywhere, but if you'd like to support the blog, we've added each of these games to our Amazon store, here. If you'd like to support a great site that supports the board game community, here's a link to the BoardGameGeek marketplace.
I hope you try a few of these out during your next game night! What are your favorite board games about money…or just for fun?