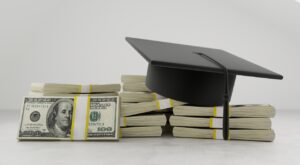 I had this question posed to me and I thought it was interesting, I also think I have a different response than most people would, so let's talk about it. Do you have too much borrowed for student loans? Does a dollar amount define the answer? Or is it situational?
Current student loan debt dilemma
To illustrate what the current student loan debt landscape looks like, I'd like to show some statistics.
Since 1970, the average student loan debt has increased by 2,807%. After adjusting for inflation, the average student loan debt has increased 317%.

The current average student loan balance is $37,113.

Total student loan debt is currently $1.75 trillion and grows 6 times faster than the national economy.

Those aged 25-34 are most likely to hold student loan debt, but people aged 35-49 hold the greatest proportion of debt – $600 billion.

Over 25% of borrowers owe more than $100,000
Student loan debt is a problem. I do believe it's a manageable problem though. At least, it's manageable going forward. Which brings me to my next point and the answer to the proposed question.
Situational answers
Here's my no answer, answer. It depends. Some students will borrow over $100,000, but they could go to school to become a doctor, dentists, lawyers, or engineers.
Another question to ask is what school are you going to? Is it necessary for you to go to a big school that costs $50,000 per year? I think in most instances, probably not.
I think those are the two biggest questions that help answer the "how much too much" question. What are you going to school for and what school are you going to?
I think that the push to go to college to get an education is cyclical. Obviously, there are professions where it is very much needed, but there are others where that's arguable. I also think that there's been a lot of innovation done in the educational space that has provided legitimate alternatives to your typical college education. As with most things, however, only time will tell.
What are your post-graduation plans?
Do you anticipate you'll earn a lot of money? Does your profession have a track record for medium to high earning potential? That is definitely a factor to consider. You could have your sights set on going to college already, but answering those two questions will help you decide what type of university to go to (online, state-run, private, etc.).
Mathematical answer
There's a percentage answer, there's not really a dollar amount answer because it's relative to your income. Lenders, specifically, want to see your debt to income ratio below 43%. So if your projected income to debt ratio is above that number, then you need to think about alternatives.
How much is the average starting salary in your industry for your position? If it's $50,000 per year, that's where you start. How much student loans will you have when you graduate? Using the national average, it's $37,113.
Breaking it down. Your monthly gross income is $4,166.67. You plan to pay off your student loans in 10 years and your interest rate on that debt is 8%, so your monthly payment is $450.28. Your debt to income ratio is roughly 11%.
If you're looking for a home to purchase, the proposed mortgage will get added to that monthly student loan payment to help calculate your new debt to income ratio, so pay attention to that as well.
Related reading:
Is it a good idea to pay off student loan debt quickly?
Simple solutions for repaying student loan debt
The pros and cons of refinancing your student loan debt
Disclaimer:
**Securities offered through Securities America, Inc., Member FINRA/SIPC. Advisory services offered through Securities America Advisors, Inc. Securities America and its representatives do not provide tax or legal advice; therefore, it is important to coordinate with your tax or legal advisor regarding your specific situation. Please see the website for full disclosures: www.crgfinancialservices.com
(Visited 83 times, 1 visits today)
My name is Jacob Sensiba and I am a Financial Advisor. My areas of expertise include, but are not limited to, retirement planning, budgets, and wealth management. Please feel free to contact me at: jacob@crgfinancialservices.com