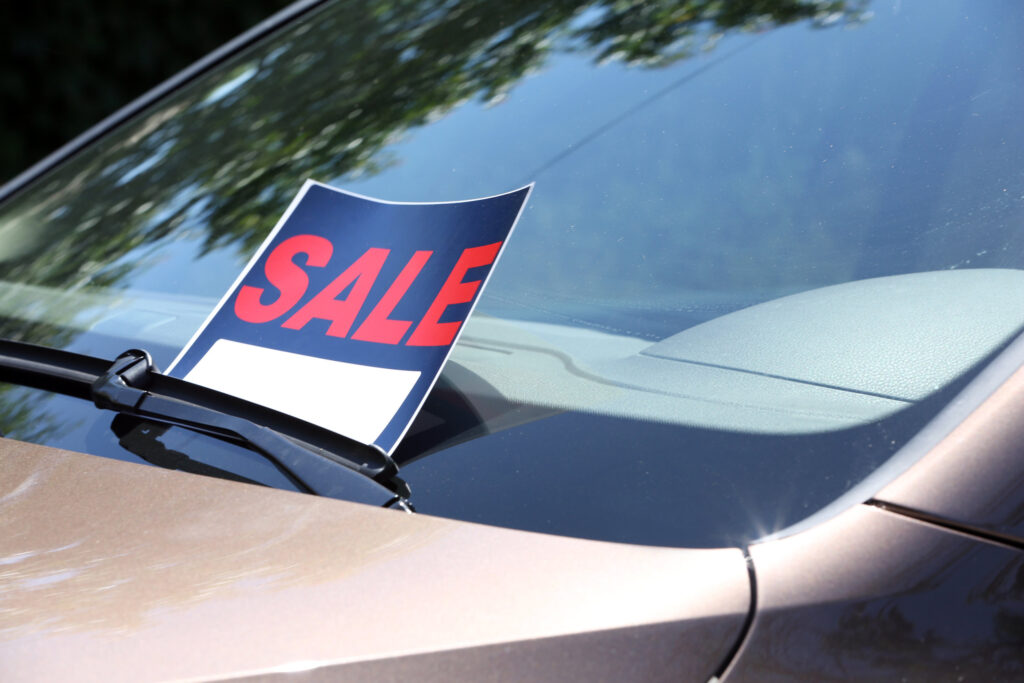 When you're looking to sell a vehicle, a private sale might be the most attractive option. Often, you have the potential to get a bit more cash by going that route, as the buyer isn't necessarily going to flip the car for a profit. However, a private-party sale is typically more complicated than the alternatives. If you want to make sure you handle it correctly, here are steps to follow when selling your vehicle via a private sale.
Get a Value Estimate
The first step you need to take is to estimate the value of your vehicle. In many cases, it's wise to get an inspection from a mechanic you trust. While it may cost a little money, they'll be able to find any issues that you may want to address to ensure you get top-dollar. Otherwise, you can adjust your price based on the information.
If your vehicle is in exceptional shape, then you'll have proof of that, too. That may help you secure a higher asking price, all because you went the extra mile to get the information.
Once you know the condition, you'll need to assess the aesthetics. Wear and tear, scratches, dings, cracks, stains, and other issues all impact the value of the vehicle. The same can go for lingering odors, particularly smoke or pet-related smells.
As you find those types of issues, you can choose to address them or leave them. With the former, you'll have a better chance of getting a higher price, so it could be worth the effort, depending on the potential cost.
After making those decisions, you can estimate the value. There are online calculators – including one by Kelley Blue Book and another by Edmunds – that can make that process easier. They'll take the make and model into account, as well as the mileage and condition.
Run a Carfax Report
While running a Carfax report isn't technically a necessity, it's a smart move. Many prospective buyers will want to see the information on the report – particularly when it comes to accidents – so it's wise to see what'll show up before you attempt to sell. That way, if there's a mistake, you can get it corrected before it impacts a sale.
Plus, if the report is accurate, you can let potential buyers know that one's been run already. Then, you can show it to them when they come to view the vehicle.
Find the Title
You'll need the title for the vehicle to complete a sale, so you want to make sure you have your copy available. Otherwise, you'll need to order a replacement from your local licensing or motor vehicles agency.
Getting a replacement title can take time, particularly if you want to avoid an expedite fee. However, you can't complete a sale without one, so you want to make sure you either have it or have one on the way before you proceed.
Gather Maintenance Records
If you were diligent about maintenance, getting copies of your records can help you sell for a higher price. In some cases, you can request reports from service providers, particularly if you had the majority of your maintenance handled at one place. Otherwise, you may need to find your receipts or after-service printouts.
Thorough Clean Your Vehicle
Having a clean, tidy vehicle will make it easier to sell. You'll want to remove all personal property before you invite others into the car, including items in glove boxes, seat pouches, compartments, or similar places. Then, clean the vehicle inside and out, ensuring every spot is addressed along the way.
What you'll use to clean may depend on the materials present. However, it's often best to choose options designed specifically for vehicle materials. That way, you know that they won't damage any surfaces.
Otherwise, you can pay a company to detail your vehicle. While this can cost a little bit, it may save you some time and energy. Plus, you'll know that the job was thorough.
Once you've finished cleaning, only put back genuinely essential items. Usually, that's limited to the registration, proof of insurance, and any manuals that came with the vehicle.
Check Your Fluids (and Consider an Oil Change)
Before you sell, you'll want to take a moment to top off any fluids. Ensuring the coolant, brake fluid, windshield wiper fluid, and oil are all where they should be makes a difference, as buyers may check those to estimate how much care you've given while owning the vehicle.
In some cases, going forward with an oil change – even if it isn't time for one – is a smart decision. That way, it's fresh and topped off, and there's a new filter, which buyers may appreciate.
Replace Worn Windshield Wiper Blades
If your windshield wipers don't fully clear rain from the windshield, replace them before you list the vehicle for sale. Otherwise, if you take buyers on a test drive and the weather isn't on your side, it could make for a poor experience. If that happens, you may lose the buyer or get a lowball offer.
Contact Your Insurer
While some prospective buyers may have their own insurance that covers them during test drives, others may not. As a result, you'll want to confirm with your insurance company that others driving your vehicle are covered under your policy while they're behind the wheel. If that's the case, find out if there are any conditions, just to be safe.
Take Multiple Photos
Once all of the steps above are done, it's time to take photos for your listing. If your car is in running condition, take it to a location that will serve as a nice backdrop. Then, photograph the exterior from at least eight angles, showing the entire vehicle. If there's damage to disclose, you may want to take some close-ups, too. That way, you can be upfront about any issues.
Since you don't want the license plate to show in the images, you'll need to blur the information using photo editing software. If you don't have access to that, either cover the plates with a plain sheet of paper or remove them for the photographs, uncovering them or putting the plates back on immediately after.
For the interior, you just want to generally show the space with a picture or two. Then, get a few close-ups of any features you want to highlight, as well as any damage you're disclosing.
Write Your Ad
Once you have the photos, it's time to write the ad. You'll want to cover the basics – such as the make, model, and mileage – as well as highlight features that'll interest buyers and support your asking price.
If you're not sure where to start, you can review currently active ads for inspiration. While you don't want to copy what others say, it could give you an idea about what to highlight and how to format your ad.
Be aware that you may need to change up your ad for different platforms. Some sites give you more room for text than others, for example. As a result, you need to consider what works best on each platform you'll use, ensuring you create an ad that will resonate with those specific users.
Place Your Ad
Once you're confident in your ad, it's time to place it. You can use low-cost resources like social media, Craigslist, or CarGurus if you prefer. An ad in a local paper may also be wise, especially if you're in a larger city and it'll show online and in print.
Putting a "For Sale" sign in your car window may also help. You can either list a contact number on it or point someone to an online ad. However, the latter isn't easy to capture while the vehicle is moving, so keep that in mind.
Deal with Buyers
If your ad and images are enticing and your vehicle is well-priced, buyers will likely reach out relatively quickly. In most cases, it's wise to favor written communication, such as text or email. That way, you can easily track what was shared in each conversation.
Initially, you want to ensure that the prospective buyer has a driver's license. You may also want to ask if what they're looking for in a car. That way, you can find out about any potential dealbreakers in advance.
It's also wise to ask if they're purchasing a vehicle for themselves or for someone else. In some cases, the latter is a red flag, particularly if you can't speak with or meet the actual buyer, as that could be a sign of a potential scam or upcoming robbery attempt. However, there are some situations where it isn't usually a concern, such as a parent purchasing a car for a teenage child.
Finding out when they want to buy and how they intend to complete the purchase is critical, too. If you need to sell quickly, a buyer that has to wait might not be a great fit if you've got other interested parties reaching out. If the buyer is using a loan, that can take time and may fall through, so you'll need to decide if you're willing to wait or take the risk or if you'd rather focus on cash buyers.
After you know how they intend to pay, you'll need to arrange a meeting with the buyer. If they refuse, trying instead to pay by wire transfer and use a service to pick up the vehicle, that's likely a scam. Insist on an in-person meeting in a safe area. Many police departments will allow people to meet in their parking lots, so you may want to reach out to your local one and see if that's an option, as that's one of your safest bets.
Handle Test Drives
Let others know where you'll be, and take a friend or family member with you if possible. That way, if the buyer wants to test drive the vehicle, you can have someone already in the car, making it harder to steal. Confirm the buyer's details before beginning, taking a picture of their driver's license and sending that to another person not at the deal, as well as confirming it with the DMV.
If your contact comes to the meeting with another person, only let the buyer you've been communicating with in for the test drive. Have them follow a pre-determined route, sticking to main roads that are well-traveled to reduce the risk.
Keep a friend or family member updated as the test drive goes forward, letting them know when you pass various landmarks. That way, someone has a clear idea of where you're at on the route.
After completing the loop, speak with the buyer about their interest and discuss next steps. Some may be ready to move forward with a purchase. Others may need to think about it. Either way, outline what's to come and, if you're showing the car to different buyers, let them know, ensuring they aren't surprised if it sells before they decide.
Complete the Sale
Once you've found a buyer, it's time to wrap up the sale. You'll usually end up negotiating the price. Know what your bottom dollar is before having the conversation. Then, go back and forth with the buyer, ensuring you don't agree to an amount below that number.
If a buyer doesn't offer a fair price, don't be afraid to walk away. If your price is reasonable based on the condition of the vehicle, it's better to move on to another buyer than get bullied down too far.
With the price settled, it's time for payment and title transfer. Make sure the buyer shows up with the agreed-upon payment amount and type. Be wary of personal checks, as those may not clear. Instead, stick with cash, cashier's checks, or money orders, as those are far safer.
Only sign over the title after payment is received. After that, the vehicle belongs to the buyer. Deposit your payment immediately and contact your motor vehicle department to record the sale with them. Reach out to your insurer, too, removing the vehicle from your policy.
Have you ever sold a vehicle using a private sale and want to tell others about your experience? Can you think of any other steps a person should take along the way? Share your thoughts in the comments below.
Read More:
(Visited 110 times, 1 visits today)
Tamila McDonald is a U.S. Army veteran with 20 years of service, including five years as a military financial advisor. After retiring from the Army, she spent eight years as an AFCPE-certified personal financial advisor for wounded warriors and their families. Now she writes about personal finance and benefits programs for numerous financial websites.