With the holidays quickly approaching, I think it's time we discuss proper spending and saving for this time of year.
The holiday season is a special time of year that brings together family and friends to share a special day with one another.
That said, it also brings along expenses. Buying gifts, food, and for some, plane tickets. What can you do to help save money during this time of year? Let's find out.
Save!
Your holiday spending plan should start on January 1st. Set up a recurring transfer from your checking to your savings account.
Start with an amount that's realistic. Personally, I do a weekly transfer. $10 per week. Multiply by 52 and we get $510 (technically) for holiday spending.
Another way to boost your savings is to start with one dollar amount, say $5, and increase it incrementally throughout the year.
There are a ton of savings challenges out there. Check this one out!
Start early
When buying gifts, a lot of people wait to buy big items on Black Friday or Cyber Monday. Regularly marked down items are priced relatively similar to those items that go on sale after Thanksgiving.
Save yourself the hassle and stress, and buy items throughout the year.
Make a list
Create a list of the people you want to buy gifts for. After that, assign a dollar amount to that person. This is how much you will spend on each person.
Here's an idea for next year. Make that list right away and add it up. Whatever the total is, that's how much you need to save for your holiday budget.
Another point I'd like to make. If your list is long and the total $ spent is high, you might want to consider removing some people from your list.
I know this might sound harsh, but you don't have to buy them something. Maybe bake some cookies for those you won't buy gifts for.
Use tech to your advantage
There are so many apps and programs out there that can help you save money. A few of my favorites are Coupons.com and Gas Buddy.
For online shopping, there are browser extensions and apps like RetailmeNot and Honey that find coupon codes for you.
The link below is an article about 7 different apps that can help save you money during the holidays.
7 Best Apps for Holiday Shopping
Track your spending
There's no better way to gauge outgoing cash flow than tracking your spending. When you track your spending, you not only figure out how much your spending, but on what.
Better yet, use that list you created earlier and record what you spent on them. It keeps you honest and gives you a "checklist" so you don't buy for someone more than once.
Make gifts
Handmade gifts are so much less expensive than store-bought gifts (most of the time). Also, in my experience, they are more appreciated than purchased ones.
Take a skill or craft you enjoy and make something special for someone.
Holiday party alternatives
There's a large number of things you can do instead of your normal holiday party. For one thing, if you do have a party, make it a potluck! Everyone brings a dish so the financial burden of preparation doesn't fall on one person.
Take the family sledding. Start a Secret Santa. Go for a walk/drive through a neighborhood and admire all of the Christmas lights.
One thing I found when researching for this article that moved me was volunteering at your local food pantry. Serve and set up a meal for those in need.
Treat yourself
There's one other person I want you to put on that list. Yourself. We bust our backs trying to make a living, and often, we think about treating everyone else, but not ourselves.
This year, do something for yourself. Buy that thing you've wanted or take yourself to dinner. Whatever #treatyourself looks like, do it. You deserve it.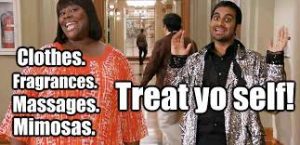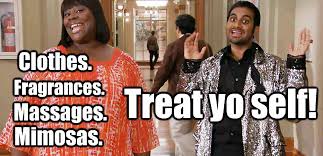 Related reading:
Does Money Reduce Your Holiday Cheer?
(Visited 48 times, 1 visits today)