ClickTrades Overview
Owned by KW Investments Limited, authorized and regulated by the Seychelles Financial Services Authority (FSA), ClickTrades is an online trading services provider establishing accounts for customers all around the world, except for the USA, Canada, and Japan residents.
With a long track record in the industry, it has become a reputable trading brand, constantly upgrading its services to meet the demands of the fast-changing markets. ClickTrades is well-known for its innovative and proprietary trading software, the 0-commission trading, useful educational resources, and a broad range of trading tools, including the popular Trading Central.
Asset Classes Covered
Diversity is one of the keywords when it comes to ClickTrades Assets. Customers using the WebTrader will have access to 2,100+ instruments, ranging from CFDs on FX, stocks, indices, commodities, cryptocurrencies, bonds, and ETFs. At the time of writing, there are 50+ CFDs based on currency pairs supported, , including majors, minors, and exotic pairs. Traders will have access to up to 1:300 leverage and fixed spreads for more of the FX pairs.


Due to increased interest in the stock markets, most of the ClickTrades offer is comprised of CFDs on shares from some of the popular markets around the world. USA, Germany, Australia, Switzerland, France, Canada, and CFDs on shares from many other markets are included right now. Up to 1:10 leverage, variable spreads, and 0 commission are some of the reasons why traders should choose this offer.
For traders wanting to get exposure on the stock markets, but prefer more liquid instruments, both CFDs on indices and ETFs have been included in the ClickTrades asset offer. S&P500, DAX30, Swiss 20, Sweden 30, VIXX, and the US dollar index, plus ETFs like QQQ, DIA, EWT, IDU, or FAS can be traded with leverage and variable spreads.
Commodities had been very active in 2020 and traders need access to as many instruments as possible. With ClickTrades, customers will be able to trade CFDs on cocoa, coffee, corn, rice, soybean, Brent oil, crude oil wheat, gold, silver, copper, and many other industrial or agricultural commodities, with up to 1:200 leverage and variable spreads.
Lastly, CFDs on bonds on 10Y German Treasuries, Gilt 10Y Bonds, US TBond 30Y, and the US TNote 10Y are covered for traders interested in the bond market. At the same time, CFDs on some of the popular cryptocurrencies like Bitcoin, Bitcoin Cash, Dash, Ethereum, Litecoin, and Ripple.
ClickTrades Trading Software
To get access to all of the above-mentioned instruments, traders will have to use the ClickTrades WebTrader, a proprietary and intuitive trading platform, available on both desktop and mobile devices. This is a platform designed to keep traders connected to the markets on the go or from the comfort of their workspace while accessing world-class assets.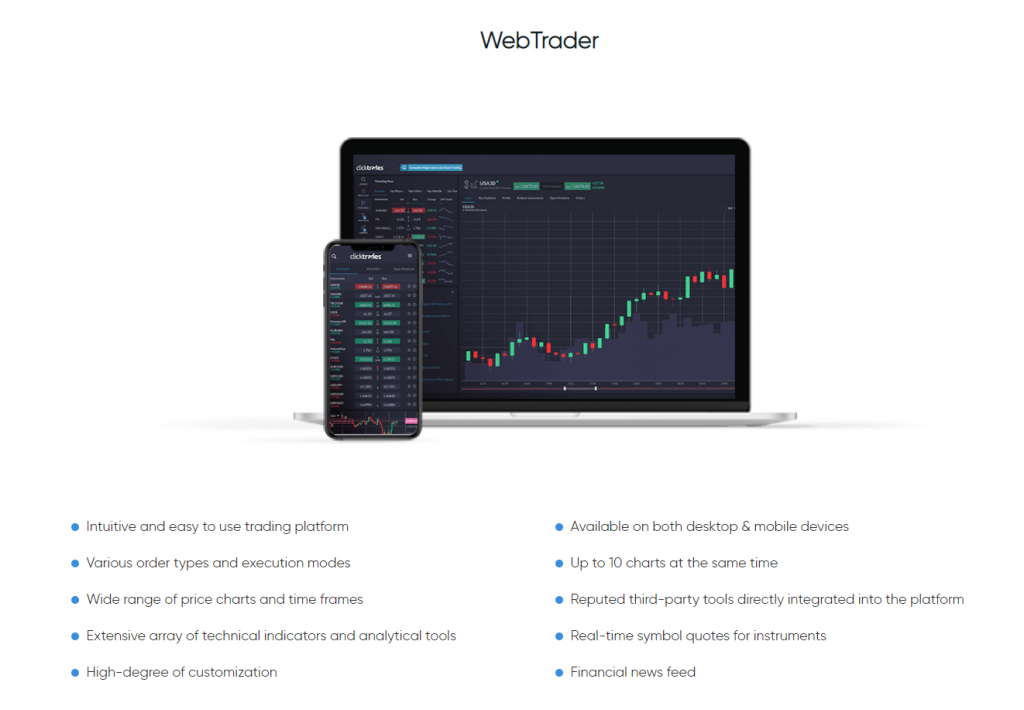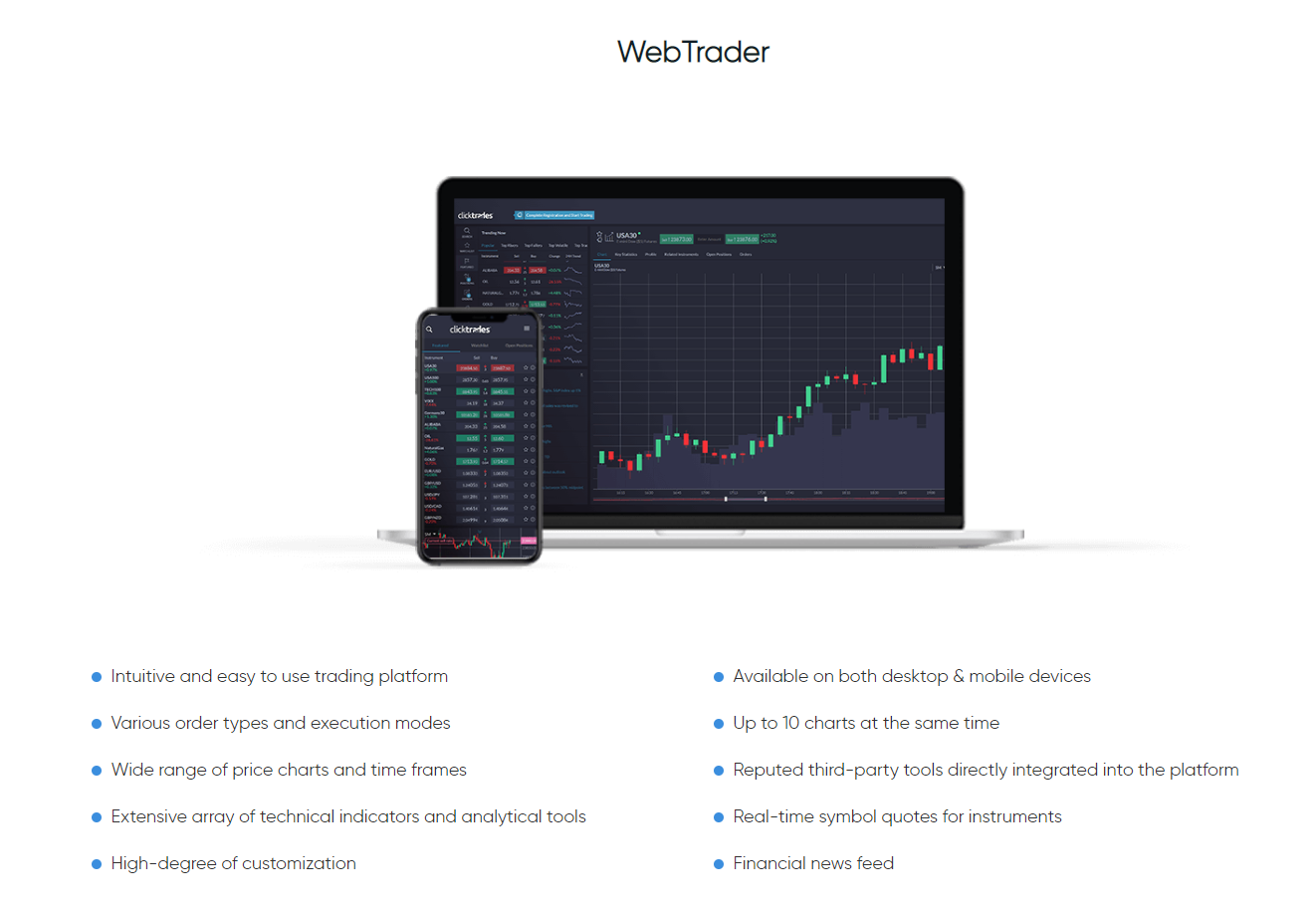 Versatile, adaptable, as well as powerful 3rd party tools like Trading Central, make the WebTrader a complete gateway to the markets, integrating a full pack of features suited for many different trading strategies. With this platform, ClickTrades' goal is to create the optimal trading environment and be a client-focused broker.
Also, the broker has support for the popular MetaTrader 5 platform, one of the most reliable platforms in the world, integrating many trading tools. It's easy to access, has fast trade execution, is available on both desktop or mobile, and comes with an extensive package of analysis tools (built-in indicators, custom indicators, different time frames, and charts).
Summary
ClickTrades had proven over the years to be a reliable trading partner for customers. With 2,100+ instruments, reliable proprietary trading software, as well as many trading tools such as Trading Central, the broker continues to be a suitable choice for traders looking for diversified trading services.
Risk Warning: The materials contained on this document are not made by ClickTrades but by an independent third party and should not in any way be construed, either explicitly or implicitly, directly or indirectly, as investment advice, recommendation or suggestion of an investment strategy with respect to a financial instrument, in any manner whatsoever. Trading CDF's involves significant risk of loss.
(Visited 41 times, 1 visits today)