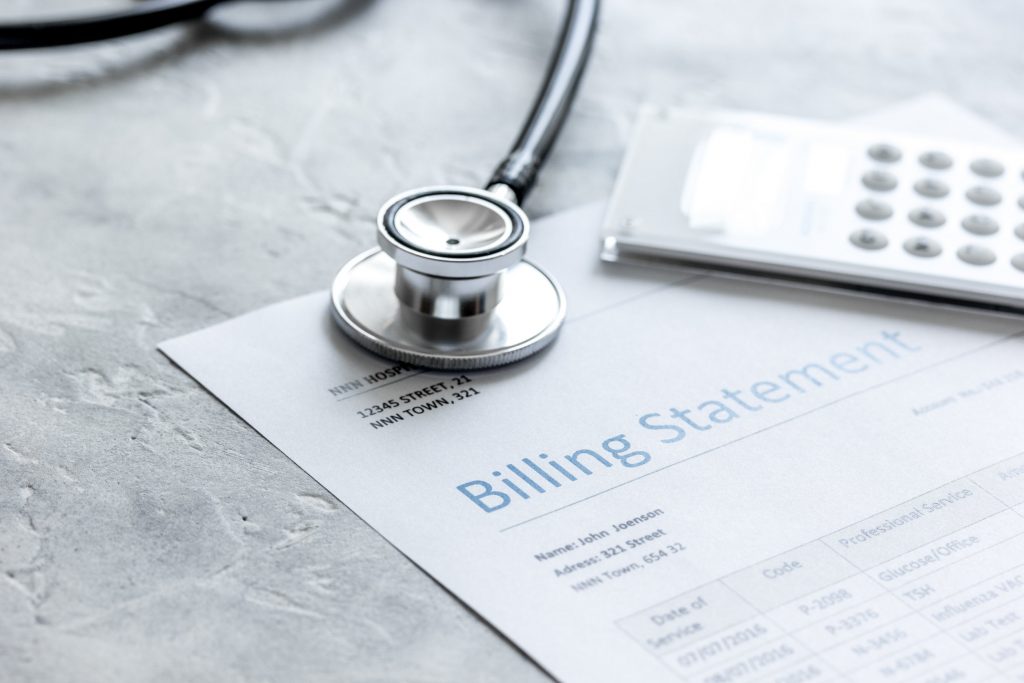 An unexpected trip to the emergency room (ER) usually comes with a pretty high price tag. Whether you have medical insurance or not, the amount you owe could be significant, so much so that fitting it into your budget may be impractical, if not impossible. Luckily, you can negotiate your ER bill, creating an opportunity to reduce what you owe. Here's a look at the best way to negotiate an ER bill.
Review the Bill for Accuracy
Before you do anything else, you need to take a moment and make sure your ER bill is accurate. Mistakes aren't as uncommon as you'd think, and when they occur, you may be able to get them removed if you can show that they are incorrect.
If you're ER bill only shows one total, request an itemized bill from the hospital. That way, you can review each individual charge to see if any might be mistakes. If your itemized list only featuring medical billing codes and not descriptions, there are numerous sites online that let you check them. However, you can also speak with the billing department and ask for the definitions.
If you do find errors, speak with the hospital billing department about the mistakes. Request that they remove or recode those line items and re-submit your bill to your insurance company. That way, you'll be working with an accurate bill once your new one arrives.
Research Going Rates for Services
Another step you need to take before actively negotiating is to research the going rate for the same services at other hospitals. In some cases, you can secure a lower price by simply pointing out that other facilities charge less as long as you can prove that is the case.
Similarly, if you're uninsured, researching the rates that insured patients are charged can work in your favor. It lets you determine the fair market price for the services you received and use those as a basis for a cost reduction request.
Gather Up Some Cash
Before you make the call to negotiate, determine how much you could afford to pay in cash right away. Many healthcare facilities offer cash discounts, especially if you can make a substantial lump sum payment right away.
Mainly, cash discounts are offered for two reasons. One, they allow hospitals to avoid credit card fees or similar expenses. Two, they eliminate a lot of administrative work, including issuing you additional bills, handling account maintenance, and following up on your debt.
See if you can gather most of what you owe in cash before the due date on your bill. That way, you have another point to pursue during the negotiation.
Start Asking About Financial Assistance
With all of the information you've gathered in hand, it's time to contact the hospital and begin the negotiation process. Usually, once you have an accurate ER bill in hand, your first step isn't to focus on the charges themselves when you call the billing department. Instead, you want to ask about financial assistance programs.
All nonprofit hospitals are required to have financial assistance programs for long-income patients. Additionally, the majority of for-profit hospitals have them as well.
Exactly what's available may vary by state and facility. Additionally, whether or not you qualify may depend on several factors, including your income level, whether you have insurance or Medicare, and more. However, if you are eligible for assistance, your out-of-pocket obligation may shrink substantially, if not disappear entirely.
Continue with the Negotiation
If you don't qualify for enough financial assistance to make your bill manageable, continue with the negotiation. Present what you know about fair market prices for the services you received as a starting point. See if they are willing to reduce any of the individual charges that aren't in line with local norms.
If the first person you speak with isn't able to do anything about pricing, ask to speak with a supervisor. You may have to move a few levels up to get to someone who has the ability to negotiate the costs, so keep asking for the person's supervisor until you reach the right people.
After that, if you have enough cash to pay most – but not all – of the bill, as about cash discounts. Don't lead off with how much money you have available. Instead, simply ask if they offer price reductions to people who can pay the majority of the bill in cash all at once.
If the cash discount they offer brings your bill down enough, you can simply arrange to pay it. If you are just barely short of the total price they present, ask if they would take the amount you have available instead. In some cases, if you're close, they'll accept. However, this isn't guaranteed.
Request a Payment Plan
Many hospitals understand that ER bills are hard for patients to manage. As a result, most make payment plans available to patients. Not only are they a way to avoid medical collections while spreading out the repayment process, but they are also usually interest-free.
Speak with the billing department about payment plans and see what they can offer. If the payment size is manageable, you can simply agree to the terms and begin making payments.
However, if you're experiencing a hardship that makes the payment they presented too difficult to shoulder, be honest about that. Let them know what you can reasonably afford and see if they are willing to accept that amount instead. If they agree, you can move forward with the arrangement.
Get Help from a Patient Advocate
If you've spoken with the billing department and still haven't found a mutually acceptable solution, you may want to connect with a patient advocate. A patient advocate will help you navigate financial assistance programs and negotiate with the healthcare facility, increasing the odds that you can get the bill reduced to a manageable point.
As you look for a patient advocate to assist you, check the credentials of any contenders. Ideally, they need to be certified by a reputable organization, as well as have education or training that's relevant to your situation. That way, you can rely on their expertise, as well as increase your odds of finding a solution.
Do you have any other tips that can help someone negotiate an ER bill? Share your thoughts in the comments below.
Read More:
(Visited 53 times, 1 visits today)
Tamila McDonald is a U.S. Army veteran with 20 years of service, including five years as a military financial advisor. After retiring from the Army, she spent eight years as an AFCPE-certified personal financial advisor for wounded warriors and their families. Now she writes about personal finance and benefits programs for numerous financial websites.