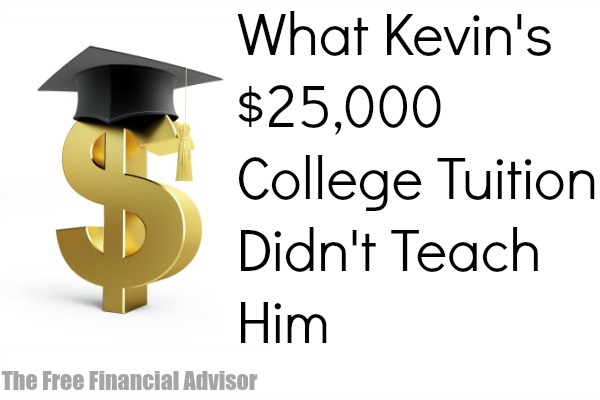 It's been about eight years since I graduated college. I was 22 at the time and excited to start my career. I started off working as a mortgage banker at a local Chicago bank getting paid a small monthly draw and commission.
I know what most of you are thinking. Why would you go straight for commission based job right out of college? The short answer is that real estate has always been my passion. Luckily in college, I was able to save up a little money doing affiliate marketing with online gaming sites. I had very little debt and was living comfortably.
It was about a year down the road after I graduated that I things started to spiral out of control, and before I knew it, I saw my finances spiraling a bit out of control. How did this happen? I knew everything about net present value, gross domestic product, and calculating an internal rate of return. However, one thing I had no clue about was  personal finance.
Building and Establishing Credit
Colleges simply don't put enough emphasis on how important your credit score is. It's a three digit number that determines how much credit you're given and will have a huge impact on your future finances. Most students typically have what's called a "thin file" report. A thin file report means that there aren't enough trade lines on to provide a FICO score.
The underlying problem with this is that it's hard to establish a credit score when you can't obtain it. I established credit by becoming an authorized user on a family member's account. After a short while, I was able to get a small $500 limit account. I slowly began to build my credit score and my creditors increased my limit over time.
I never knew how important credit was when I was 22 years. It wasn't until I got into the mortgage industry where I saw the enormous difference in a homeowner's mortgage rate that a few points could make.
Using Credit Responsibly
We're all guilty of this. We overextend our credit, and we dig ourselves a hole too deep to climb out of. Having a large credit limit almost gives you a sense of "free money" to use. Your monthly payments are small enough to the point where you think you can afford to keep a large balance. In 2007, credit card companies didn't need to require the fine prints of "By only paying the minimum payment, it will take you 27 years to pay off your debt." It wasn't in those exact words, but you get my drift.
The Credit Card Act of 2009 now requires creditors to show on the statement how long it would take to pay off a balance if the customer only makes the minimum payment, as well as the total interest cost to pay off the entire balance in 36 months. Unfortunately, that wasn't the case in 2007.
And Then it Went Downhill
A few years later after I got my first credit card, my credit limit went from $500 to $20,000. I had credit card offers coming in my mail every single day. They clearly wanted my business and were offering a nice incentive to sign up (usually a ton of airline miles).
It wasn't long before I overextended my credit. I found it more difficult to payday my debts and was never able to see real progress.
What exactly do you do in this situation? I couldn't recall any classroom lectures on how to convince credit card companies to lower your interest rate. It was up to me to do my research and figure it out myself. At the end of the day, I was able to set up a payment arrangement plan with my creditors (similar to that of what credit counseling companies provide).
Personal finance is something that needs to be mandated in schools. No matter how book smart you are, your lack of knowledge in personal finance can make or break your future.
This is a guest post from Kevin Yu, a Senior Associate at Avant and managing editor at ReadyForZero. He also blogs for the Huffington Post and is part of the start-up incubator, Y-Combinator.
(Visited 17 times, 1 visits today)