A lot of people take time out of their schedules to help others, whether through volunteer work or by making more personal gestures to friends and family. Others don't want to limit their giving natures to time outside of their careers. For those who want to make giving back a daily, in-career exercise, here are a few suggestions of where to get started and what kinds of opportunities are out there. Some are easy for lateral work transitions while others require specialized training, but all result in jobs that make improving the lives of others a central fixture.
1. Social Worker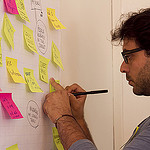 Image via Flickr by kennisland
Social work is a wide and varied field that concentrates on giving support to those who need it most. This can come in the form of advocacy for the homeless to help them get off the streets, outreach to people struggling with substance addiction, supporting special needs children, or a number of other areas in the community. Social workers tend to require a Bachelor's degree in social work, plus some volunteer experience. To get a feel for the reality of social work, consider volunteering at shelters or in police support programs.
2. Psychologist/Psychiatrist
If you want to go deeper into the field of social work and help those who struggle with more challenging issues, you may want to consider a career as a psychologist. Today, both a Master's degree in social work and a PhD in psychology are considered terminal degrees to become an accredited counselor. If you want to enter a similar field that concentrates more on medicine, you can pursue a PhD in psychiatric medicine to become a psychiatrist, working with patients to treat their mental issues with medication and other methods.
3. Nurse Practitioner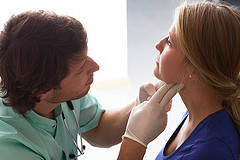 Image via Flickr by comsalud
Doctors and medical specialists are valuable care providers, but they rely on dedicated nurses to make treatment consistent and holistic. Career nurses often go beyond the minimum requisite education to practice nursing, pursuing nurse practitioner certification to give them the skills and credentials they need to advance in their careers. Nurse Practitioners often lead teams of nurses in addition to performing their regular duties. Nurse practitioners are also qualified to diagnose many medical conditions and in some cases prescribe medication or otherwise manage the long-term care of specific patients.
4. Educator
Another highly varied field, education spans serving students of every age, background and level of need. Because of the technology that is used today, it is possible to attain teaching certification online. Anyone with a Bachelor's degree can earn Accelerated Teacher Certification or a Master's in Secondary Education through an online university, allowing him or her to move into a teaching career quickly. By enrolling in one of these online programs, prospective teachers will have the opportunity to learn on their own time, so that they do not have to quit their current jobs until they have completed their education and have started teaching. Online programs provide the flexibility that adult learners need, making it easier to become an educator.
The core of the education world is in certified primary or secondary school teachers who receive Master of Education degrees, there are many opportunities in related fields that don't involve working in a school or directly with students. Tutors and adult educators tend to work for community or private organizations to meet the needs of a specific population, such as English Language Learners or children with learning disabilities. Educational administrators do not work directly with students, but their behind-the-scenes responsibilities put standard office responsibilities into the context of education.
5. Emergency Services
There are men and women who put their lives on the line and rush to save the lives of others every day. These emergency services professionals are functions of society, but they are also people who are at work. For those up to the challenge, a career in emergency services can be very stable and rewarding. Jobs in police and fire departments range from administrators to field officers and commanders, providing a career path that has a lot of growth and variety. You can also pursue work as a paramedic if you want to be a part of the emergency response side of medical care. Each of these fields requires certification through an appropriate academy or state-recognized organization and benefit from an education background in fields like criminal justice, medicine, chemistry or biology.
Helping others through your work takes dedication and a true desire to make the world a better place through your job. Each of the above fields can lead to long and rewarding careers that will give you the chance to wake up every day knowing you're not just going to work, you're also going to change the lives of others for the better.
(Visited 41 times, 1 visits today)