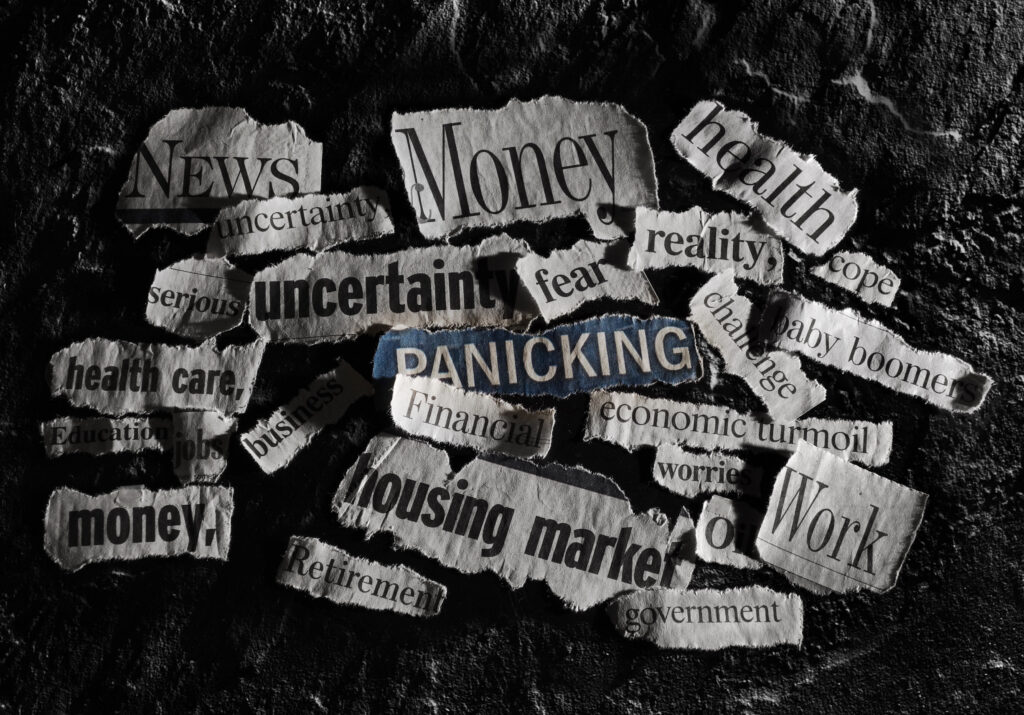 If you're worrying about money, you're not alone. Financial anxiety is incredibly common, and it's often quite difficult to manage. But even knowing that it's widespread, many people don't understand the causes of financial anxiety. Here's a look at anxiety and finances, and why they so often seem to go together.
Why People Have So Much Anxiety Over Finances
Overall, the causes of financial anxiety are surprisingly varied. In some cases, the concerns are based primarily on a lack of assets. For example, living paycheck to paycheck and struggling every day to make ends meet can lead to significant worries about money. Essentially, not feeling that you have enough cash to live comfortably or safely potentially leads to anxiety.
Another cause of financial anxiety is concern that you can't handle a financial emergency. These worries can occur even if you're able to pay your bills and address your various needs. In this case, the issue is primarily that your financial situation is a bit tenuous, as a single major incident could functionally derail your financial life.
In some cases, people get anxious about their finances because they don't feel they are well-informed about money. Not knowing what moves are smart or right can lead to a substantial amount of worry, especially when a significant financial decision lies ahead.
Others may experience financial anxiety based on what they want for the future. For example, even if you're making ends meet today, concern about whether you'll be able to afford retirement when that time comes could lead to anxious feelings.
A sense of a lack of control can also lead to financial anxiety. Worrying about where every dollar goes, being hypervigilant about household spending, and being concerned that a single misstep can cause everything to fall apart can lead to anxiety, even among people who are living comfortably from a financial standpoint and are prepared for the unexpected.
Finally, some people end up with anxiety about their finances because their parents were worried about money. In this situation, the person is incidentally taught that finances are hard to manage and worth worrying about, essentially causing them to develop the habits their parents showed as they grew up.
How to Deal with Anxiety About Your Finances
If you're experiencing anxiety regarding your finances, then addressing the root cause is typically essential. Here are some approaches based on a range of situations.
Education Yourself on Personal Finance
When it comes to personal finance, knowledge is power. If you're not overly familiar with the world of money, spend time learning the fundamentals to improve your skills. Dig into how to write a budget, plan for the future, and use various financial products without getting yourself into trouble. Look at how compound interest can work for and against you. Read about smart credit card use and how to avoid missteps.
Often, learning about your finances can do a lot to relieve anxiety. It removes some of the mystery about how money works, and that can quell fears that are stemming from a lack of understanding.
Create a Budget
In some cases, concerns about money are based on not knowing where your money is going or if you have enough to address your needs. In this situation, having a budget can potentially relieve your anxiety. It allows you to allocate your income to specific purposes, creating a plan that will enable you to make ends meet and manage savings goals.
When you begin, start by examining your spending patterns, preferably your activity over the last six to 12 months. See how much you're spending in various areas. Then, use that information to identify categories where you're overspending and establish baselines for certain expenses. Once you do that, you typically have enough details to put a realistic budget together.
Talk to Someone Trusted
Money is often a bit of a taboo subject, so it's common for people to bottle up their feelings about it and not discuss it with others. However, speaking with someone you trust about your concerns is often beneficial. It gives you a source of support – and potentially guidance – which can make moving forward easier.
Additionally, it's often critical for spouses to talk about their finances regularly. By doing so, it's easier to get on the same page and plan together effectively. Plus, it ensures that one spouse doesn't end up in the dark and prevents spouses from taking financial actions behind the other's back, which can avoid feelings of resentment or distrust.
Remain Future-Focused
In some cases, people experience financial anxiety because they're dwelling on a financial mistake that created hardship. While it's wise to spend a little time looking into what went wrong – as that can help you avoid similar missteps down the road – it's best to quickly transition to a future-focused mindset.
Concentrating on how to fix the problem can relieve anxiety. It helps you focus on solutions instead of errors, which can spur forward progress that improves your financial situation. As the issue improves, that can often lead to a sense of relief, making it easier to keep moving forward.
Create a Safety Net
A financial safety net can do a lot to relieve anxiety about money. When you have an emergency fund, you know you've got a cushion for handling the unexpected, and that makes your financial situation seem less precarious. Similarly, saving for retirement can relieve concerns about your financial future, which may reduce anxiety.
Precisely what the financial safety net should look like will vary based on your situation. However, aiming for at least three months of living expenses in a savings account is a reasonable goal. Additionally, contributing to a retirement account as soon as possible gives you the benefit of time, allowing smaller deposits to grow and making it easier to stay on target.
See a Counselor
If your financial anxiety is problematic to the point of it disrupting daily life, seeing a licensed mental health professional is a wise move. Finding one that focuses on finances is potentially the best option, but choosing a specialist that concentrates on anxiety isn't a bad choice either. In both cases, the counselor can help you learn about the origins of your anxiety and can provide insights that make managing your feelings easier.
Can you think of any other reason why anxiety and finances often seem to go together? Do you have any tips that can help someone reduce anxious feelings when figuring out how to manage their money? Share your thoughts in the comments below.
Read More:
Tamila McDonald is a U.S. Army veteran with 20 years of service, including five years as a military financial advisor. After retiring from the Army, she spent eight years as an AFCPE-certified personal financial advisor for wounded warriors and their families. Now she writes about personal finance and benefits programs for numerous financial websites.