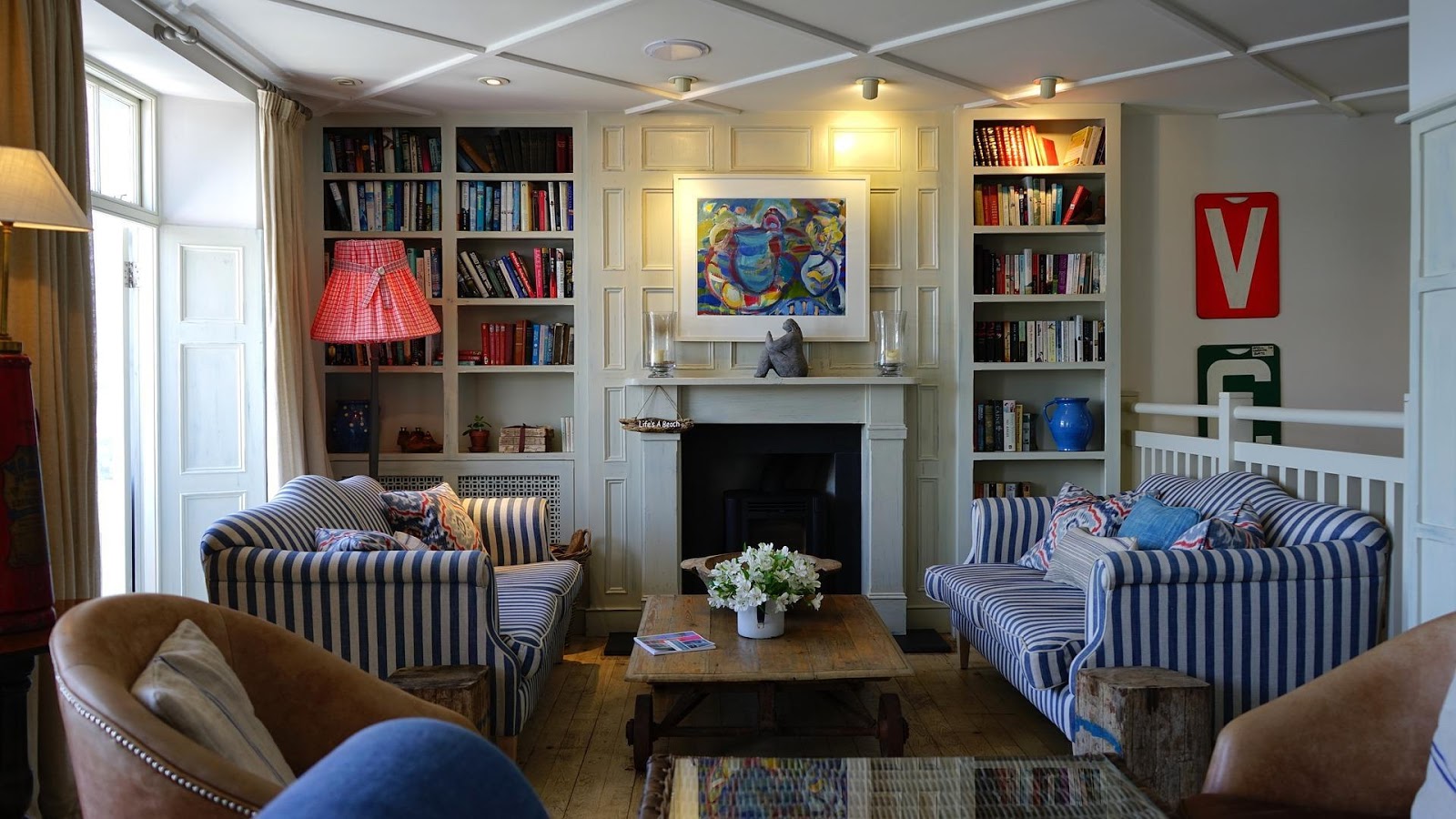 Source: Pixabay No Attribution Required
A home is arguably the most valuable asset you can own. It provides you with safety, security, and peace of mind. It's where you relax and enjoy yourself; a sanctuary away from the outside world and all the hullabaloo. But what would happen in the event of a disaster? Provided you have a homeowners insurance policy which covers you against disasters, you shouldn't have too much to worry about. You may have to vacate your premises while the repair work is being undertaken, but an effective homeowner's insurance policy should provide for additional living expenses and loss of use of your home. Homeowners policies have become more expensive over the years owing to inflationary pressures and coverage limit increases. We begin our analysis with coverage options, insurance terms, and perils.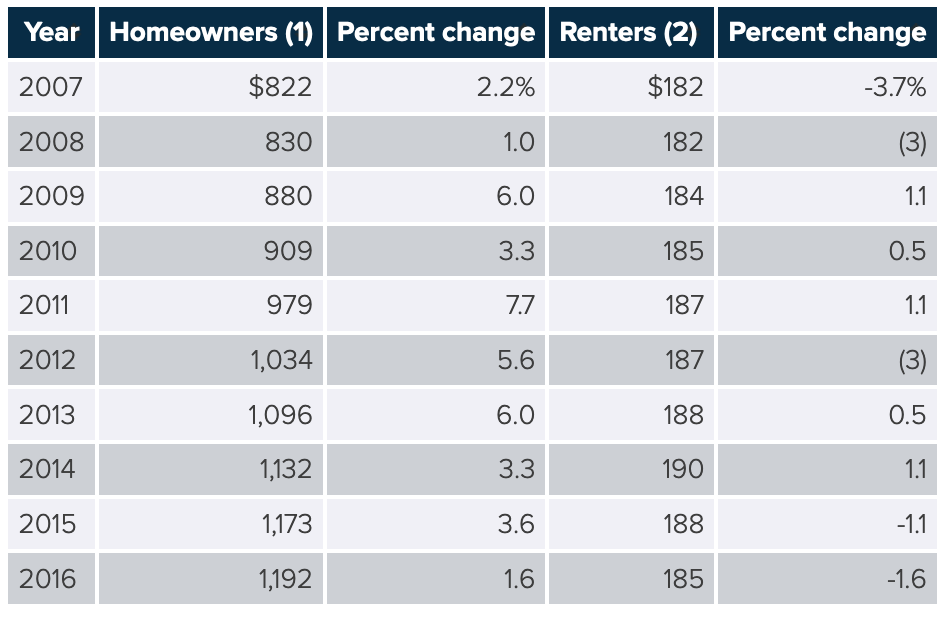 Source: Average Premiums for Homeowners and Renters Insurance NAIC (National Association of Insurance Commissioners)
Many home insurance policies provide additional living expenses coverage, otherwise known as ALE. While your house is uninhabitable, any additional expenses you incur should be covered by your homeowners insurance policy. It's easy to see how these costs will add up, with storage fees, meals, hotel fees, transportation costs, and the like.
'Additional living expense insurance is coverage against the additional costs of living incurred by a policyholder if they are displaced from their place of residence.'
It's important to point out that homeowners insurance policies vary from one customer to the next. There are many different types of coverage options, and policyholders must understand what is covered by their plan. The type of coverage you can expect from your homeowners insurance policy depends upon the plan you have selected. Each policy has several different types of coverage, notably named perils (your personal property), open perils (other structures including your shed, barn, fence, driveway, outside fountain), and your dwelling coverage i.e. your home's structure.
Perils encompass well over a dozen different disaster-type scenarios that can occur, including damage by vehicles, aircraft, short-circuits, volcanic eruptions, explosions, vandalism, fire & lightning, freezing, riots and civil unrest, falling objects, smoke, sudden and accidental water overflow, and accidental tearing or cracking etcetera.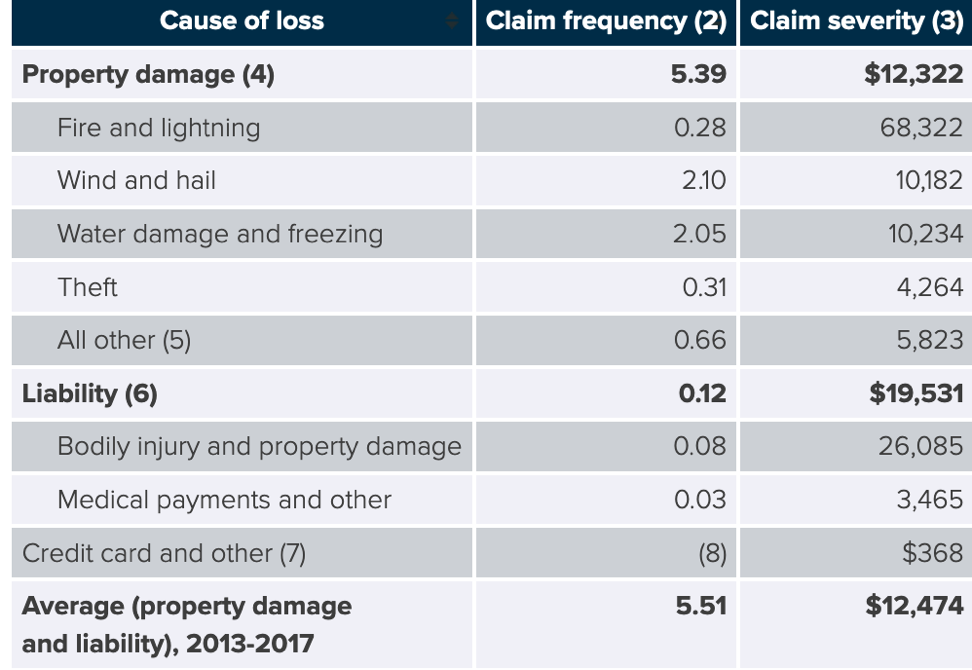 Source: ISO Verisk Analytics Business 'Average Homeowners Losses' 2013-2017)
The issue of damage is an interesting one in insurance parlance. Damage is typically covered if and when the damage is sudden and accidental. If you have a water leak that you leave untreated for days or weeks, then the damages that result will not be covered by your homeowners insurance policy. Why? Because you are deemed to be negligent. If you know about a problem and you don't fix it, the burden is on you.
The homeowners insurance policy will not cover negligence on the part of the homeowner. Anything that happens suddenly and accidentally is typically covered by your policy. Be advised that additional coverage may be required for homeowners who have been affected by flooding, earthquakes, or volcanic eruptions et cetera. It's important to have flood insurance by purchasing a separate flood policy through the National Flood Insurance Program.
Even pesky annoyances like mold which can become major problems need to be addressed early on. If you allow your mold problem to grow out of control, your homeowners insurance policy will not cover it and you will bear the full burden of treating the problem. Similar logic is followed with roof leaks which are caused by sudden, accidental events like storms, tree damage (in certain situations), falling objects et cetera.
Roof leaks caused by critters, aging roofs, sustained wear and tear and so forth will not be covered. There is a common theme in terms of insurance coverage and burden on the homeowner: any neglect will result in non-payment of a claim. Insurance companies instruct homeowners to actively maintain the condition of their home in good order. Typically, covered perils will result in insurance payouts. However, this is not always the case. If a rotting tree, or a broken shed is destroyed in a windstorm and that causes additional damage to your property, you are deemed to be negligent.
When Do You Need Extra Coverage with Your Homeowners Insurance Plan?
Theft is a good place to start this discussion. There are limits to how much you will be reimbursed if cash is stolen from you. Remember, your personal effects are covered regardless of where you are. You could be sitting in a coffee shop and have your laptop stolen, or a burglar could break into your house. Either way, you are covered, up to a limit. Cash reimbursements may be capped at $200, and valuable items over $1500 may require additional coverage. This is known as extra coverage and it is in place for accidental loss, damage, or disappearance of your items.
Another important component of your home is roof repair. If your roof sustained damage, this will usually be covered under your hazard insurance against hail, fire, and wind. However, you may not be covered if your roof is old and hasn't been maintained properly, there is fungus, mold or rot setting in, or if insects, vermin, birds, and rodents have contributed to the decline of the integrity of your roof. You are responsible for maintaining your property. Negligence will only serve to discredit you a result in non-payment of any homeowners insurance claims.
Does Additional Living Expense Coverage Really Work?
Additional living expenses are usually limited to 20% of dwelling coverage. If your home is valued at $300,000, your additional living expenses would be limited to $60,000 for a period of 12 months. At the conclusion of that timeframe, the money stops. At the time of writing, several states allow for extended coverage with additional living expenses. Homeowners are tasked with doing their homework to ensure they allocate the right amount of time to get back into their home.
Additional living expenses coverage is a temporary form of insurance which places you in a comparable dwelling until your home has been repaired. If you going to be out of your home for more than 12 months, you may be out of pocket. Fortunately, provisions in homeowners insurance policies allow for the maintenance of a standard of living. It's imperative that homeowners find a rental home which will be approved by the insurance company in the event of ALE claims. While everyone understands the cost of the accommodation itself such as rentals or hotel accommodation, there are many other fees to factor in such as storage fees, restaurant fees, mileage, pet boarding, utilities and so forth.
This type of insurance coverage is additional. It doesn't cover education, or extra-curricular activities for your children. It's limited to disaster relief. As with all insurance claims, it's important to maintain meticulous records of all payments made, and insurance claims agents you have discussed with so that you can get reimbursed.
(Visited 1 times, 1 visits today)