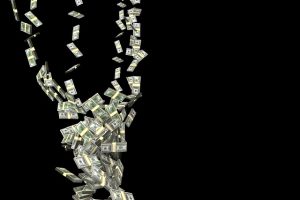 We currently have a lot of different options when it comes to deciding what to do with our money. We could just keep it in a sock under the mattress (which might uncomfortable), put it in a bank account (probably the simplest option), or we could invest it in any number of ways. Financial advisors, or anybody who works with money for a living, can tell us what the best options for our money is according to our own circumstances and future plans. A good financial advisor is someone who takes the long- and short-term financial goals of his or her clients into account.
A financial advisor can give simple money advice, but they can also give advice on investments, taxes, and insurance. Between this and the necessity of actively growing their own client base, financial advisors are people who will have very good people skills.
To expand on the above, a financial advisor's role is to provide financial services to clients, in whatever form that might take.  It has been discovered several times that the people most likely to use the term financial advisor are brokers, investment advisors, financial lawyers, insurance agents and financial planners, among other people, but the label can be applied to any professional who works in finance.
The products and services which a financial advisor can give varies depending on the licenses he or she has, and the training they have gone through. To give some examples, insurance brokers may be able to sell life insurance, but they must be a financial advisor before they can legally create financial plans for their clients, or sell them various financial products.
Financial advisors assume responsibility for their client's finances once they forge a working relationship; there are a variety of ways in which they can help you with your finances and overall investments. Advisors can help you choose equities, or which fixed income vehicles you should invest in. They can take care of various short-term plans, or come up with a viable strategy for you to carry out your own long-term plan.
In short, a financial advisor has a lot of responsibility for each client. Some of the more common ones are listed below:
Trusted advisor – a good advisor builds a rapport with his clients in order to truly be able to help them.
An Educator – a good financial advisor will help you to understand what can be done, and teach you about the available options.
A Planner – a good financial advisor can help you plan for the future and protect your money and investments.
A co-ordinator – financial advisors are often kept by the family through multiple generations, so that a long-term plan can be truly long-term in nature. This also allows for children to easily take over their parents' finances in their old age.
A Portfolio Manager – financial advisors can create an investment portfolio which is both diverse and strong. They are normally assisted in this process by various staff, including research analysts, equity and fixed income trading specialists, and asset managers.
Like Us? Sign Up!
Subscribe to get the updates from The Free Financial Advisor.