To some, the stock market is basically a foreign language. There are certainly a few unique terms and phrases that you won't hear anywhere else. It is key to have a sound understanding of the essential stock terms before you start trading. Educate yourself on these six essential stock terms before you begin to trade.
Bear Market
A bear market means that investors expect stocks prices to fall. Market specialists can usually predict bear markets with some accuracy, but the severity of the decline is harder to pinpoint. Some will sell off stocks before the market falls if possible, while others will ride out the low points. It really depends on if you're pursuing a long-term or short-term investment strategy. When a bear market drives down stock prices, many investors will take the opportunity to buy up stocks while they are low.
Bull Market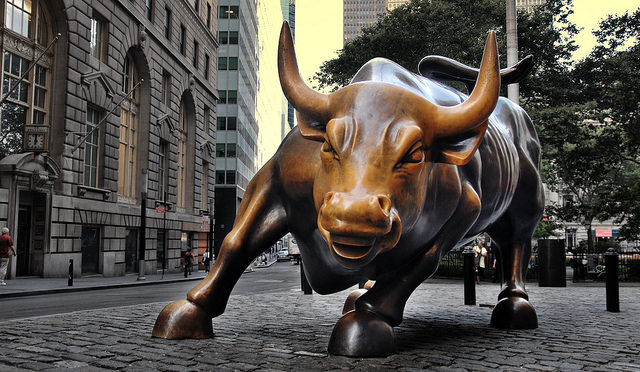 Image via Flickr by Sam Valadi
A bull market is the exact opposite of a bear market. Bull market conditions arise when investors expect stock prices to rise. Usually, buyers will try to pick up stocks before a bear market takes full effect. Selling stocks at the height of a bull market allows sellers to get the highest return possible.
Market Order
A market order is a simple way to buy or sell a stock at its current price. It is hardly ever a good idea to use market orders because you will hardly ever get the best value.
Limit Order
Limit orders are a smarter way to buy or sell stocks because they enable you to set a price limit. For instance, if you are looking to buy a stock, you can set a price that you are willing to buy at. Once the stock price dips that low, your order will be automatically executed.
Fill or Kill
You place a fill or kill order when you want your order filled immediately or not at all. Basically, you want it all or nothing at all. For instance, you could place a fill or kill order for 200 shares of a stock at a certain price. If all 200 shares are not available at that price, the order is killed and nothing is purchased.
Good 'Til Cancelled Order
When you execute a limit order, you can make it a good 'til cancelled order. This means that the offer to buy or sell the specified stock once it reaches a certain point will remain on the table until it is executed or until you cancel it. You have the option of setting a time limit when executing a limit order. For instance, you can buy XYZ stock once it reaches a certain price at any time within the following 48 hours. With a good 'til cancelled order, you don't have to fill out and repeat your limit order. It is a great method if you have a large portfolio and don't have the time to be constantly refreshing expired limit orders.
The more you delve into the stock market, the more advanced terms you will learn.
(Visited 50 times, 1 visits today)