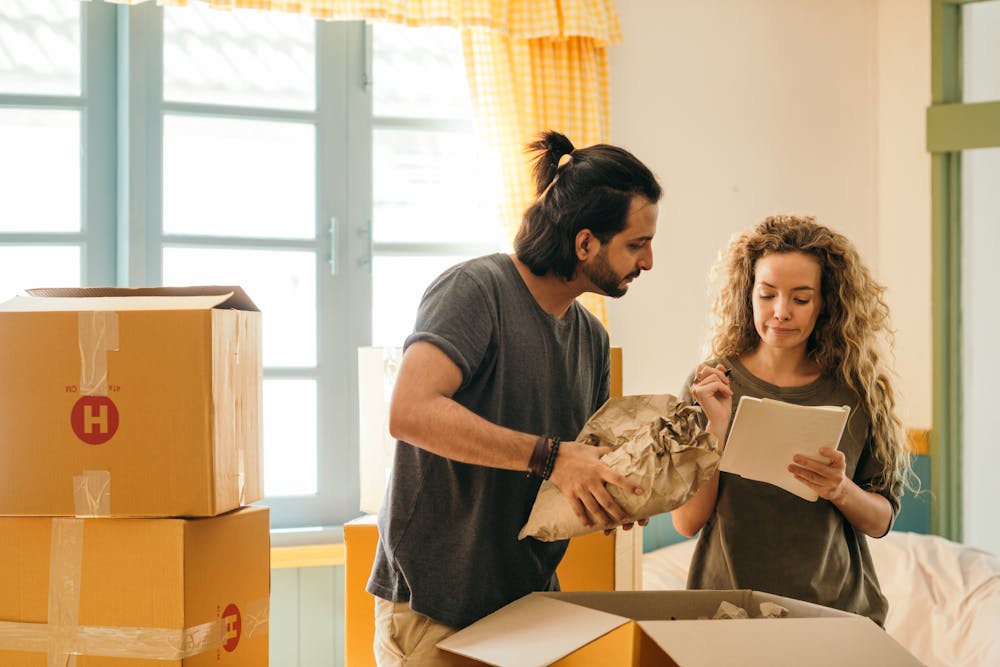 Inflation in the USA is kicking in; this also impacts the moving prices. It's getting more and more expensive to move with the inflation of the housing market. This website can help you with the moving prices. 
In moving you do not only have to worry about the price factor which can be troublesome but also moving is a very hectic and stressful task in which you also have to compromise your office work and daily routine to perform this task. It all depends on your priority and budget. Nowadays, you can hire professional movers to assist your move, which makes your move very simple and stress-free, but indeed for this, you must have to pay a high price because they charge on an hourly basis and on the distance covered. On the other hand, there is the option of a DIY move in which the whole responsibility will depend on you; this will surely save your money but not that much as it seems because there are many hidden monetary and non-monetary factors that you will face while you start working on it.
Those who do not have a high budget to move and want their move to be simple and stress-free can avail hybrid moves in which you can manage some factors according to your budget to get a reasonable move. 
If you want to know some tips that will greatly help you reduce moving costs, then this article is the perfect piece for you; you can find details in the following section. 
Types of moves 
Mainly there are three types of move which all depend on your preference. 
DIY move

Full-service move

Hybrid move 
5 great tips which help you in reducing the moving costs
Maybe you wonder how empty boxes can affect your moving costs, But remember, moving boxes are not so cheap. They can affect your moving budget. One of the simplest ways to decrease your moving cost is to use reprocess and second-hand boxes to pack your shifting stuff. Many people do not pay heed to this and buy new boxes for packing the shifting stuff and dispose of it just after using it once or give them to removalist companies. Keep in mind that a new good quality moving box can be used multiple times before its quality gets affected so, just store them after the completion of your move to reuse them in any further move you plan in the future. You can also find second-hand moving boxes through many removalist companies, or you can also get second-hand boxes through online websites such as eBay, etc. If your friends and family have moved not long ago, you can ask about boxes from them if they feel it is convenient to give you boxes for free. 
Pack everything yourself and save on relocation cost 
Doesn't packing the moving stuff seem very boring and time-consuming? Yes, Packing is a very hectic and time-consuming part of moving. Packing is not very simple as it seems. For the inexperienced person, this is very challenging because, during Packing, you have to care about many things, such as you can not put delicate things together without any foamy protection and thermocol sheet. But to save money on the move, you must have to perform this work by yourself. If you are a newbie and do not know anything about Packing, you can find multiple moving checklists on google, which will assist you in Packing and make this task easy for you. For the safe side and to save money, you can also hire professionals to pack only the fragile and delicate things that can be broken easily rather than hiring for the Packing of the whole stuff.
Be supple on your moving date and time
Choosing the right moving date and time can save you up to hundreds of dollars. This factor belongs to those who aim to hire professional moving service providers because they have their peak booking time and season. Especially at the start and the end of the month, they charge very high because the leases, rents, and closing dates are usually near. The best time to book the professional is mid-month, in which they do not have many bookings; therefore, they provide significant discounts, which will ultimately save your moving budget. Therefore always be flexible regarding the moving date and always book professionals when they offer discounts; otherwise, the DIY move is the choice left.
Moving home is the best time where you can replace as many things as possible. The fewer things you carry in moving, the less you will have to pay to move companies because moving companies usually charge hourly. The lesser things mean you will require a small truck to move, which has lower hourly charges than the larger truck. You can also manage some small stuff moving by yourselves to accommodate the rest of the things in the smaller truck.
Always get a quote from different movers
Those who hire professional movers always get quotes from at least three movers. Always ask the professional mover to pay a visit to your property to inspect the moving stuff so therefore they can give precise quotes. You can compare the rates and services by getting quotes from multiple service providers, through which it will become easy for you to get the best one.
(Visited 1 times, 1 visits today)