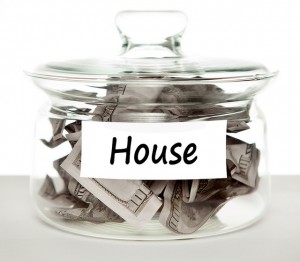 Wouldn't it be nice to stroll around your living room before work with a donut in one hand and a cup of coffee in the other feeling
like the king (or queen) of your castle?
The house is yours. Hooray! After years of apartment serfdom, you finally own the place.
Well…sort of.
There's that mortgage again, nagging at you. Of course, you should never rush into a big financial decision, and having a mortgage can be a really sensible way of staking your claim on the property ladder. But there's no better way to feel like you own the place than, well, owning the place.
Paying your mortgage off early can free up your money, allow you to make investments elsewhere, and make your retirement years more comfortable. Here are some manageable ways to stop that mortgage from dragging you down:
1. Pay one extra payment a year.

It sounds like a simple solution, but you'll be surprised how much extra you can save when you push yourself. By buying one less cup of coffee per week or watching a movie at home instead of going to the movie theater, you can make small daily savings that add up to a hefty sum at the end of the year. This mortgage calculator from Bankrate shows you how repaying a little more here and there can reduce your mortgage in the long run.
2. Plan a staycation.
I'm a firm believer in rest and recuperation, but vacation packages, hotels, and airfare can be really expensive, so why not save some money by vacationing closer to home?
A family road trip or a camping expedition can be an adventure, and there are so many beautiful national parks and sights in the U.S. that you'll always have somewhere new to try. By trading your trip abroad for a staycation even just once every three years, you could save enough to manage some extra payments and be mortgage-free sooner than you think.
3. Refinance for a shorter-term mortgage.
Refinancing your home from a 30-year to a 15-year mortgage can make the light at the end of the tunnel much brighter and reduce the amount of interest you pay overall. You'll need to budget carefully to make sure you can afford the higher monthly payments, but if your income allows, it can be a smart financial move.
4. Use your tax refund.
Making sense of your tax return can be nightmarish, but that magical refund is the reward. Putting that amount toward paying off your mortgage every year could dramatically reduce what you owe and ease the financial burden. Plus, your mortgage may be part of the reason you're getting a refund in the first place, so keeping that money in the mortgage fund is a nice, neat way to control the flow of your finances.
5. Apply your bonus.
Did you just get a bonus at work for a job well done? Instead of going shoe shopping or buying a fancy lawn mower, why not put that extra money toward your mortgage? The only thing more rewarding than cash is that feeling of pride you'll get from owning your home outright.
6. Get a roommate.
If you've got some extra space and wouldn't mind sharing your home with another person, getting a roommate is a creative way to help you pay off your mortgage faster. If a permanent roomie doesn't sound appealing, use sites like Airbnb to fill your extra room for just a couple nights a month to generate some extra money without making a huge commitment.
Don't let your mortgage get you down. Even though it can seem like it's always there, judging you, there are ways to help you be mortgage-free sooner rather than later.
Elizabeth Dodson is the co-founder of HomeZada, a cloud-based home improvement and organizational software tool. HomeZada strives to educate and provide resources for homeowners in all areas of home management, including home improvement projects, maintenance, inventory, property information, and property value.
Photo: TaxCredits
Save More Money in 2018
Subscribe and join the worldwide 52-week money challenge! Get the tools you need right to your inbox.