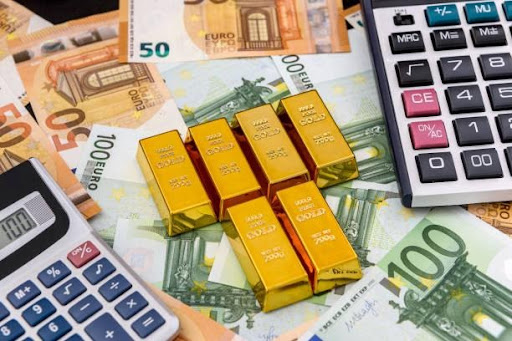 Gold. It's one of America's favorite precious metals. And for good reason: gold is a valuable commodity that almost consistently retains its value even when times get tough. For millennia, humans have been saving, spending, trading, and bartering gold for various goods/services. Investing in it might seem like a relatively new phenomenon in the grand scheme of things but it's really not that surprising that investors would choose to diversify their portfolios with several different types of precious metals. Silver, palladium, platinum, copper, and gold all make great investments for not only diversification reasons but also hedging inflation as it rears its ugly head. While there are many ways to get into gold investments, physical gold is probably one of the most alluring, given its high quality and easy storage methods. If you've been considering buying gold bars to begin your investment journey, here are a few interesting facts about gold bars. 
They Have A High Value
Gold bars are pretty high in value, especially a one Troy ounce (or more) bar. A Troy is a unit of measurement equivalent to 31.103 grams. At the current market rate, it has a value of about $2000. But that can fluctuate over time. Value also largely depends on the size of the gold bar itself. Demand can also greatly influence the price and value of gold. Unfortunately, gold doesn't pay dividends like stocks do or actively create income like bonds. 
The Gold Is Incredibly Fine
When you're dealing with gold bars, the purity of the gold is actually incredibly fine. Usually gold bars are minted with .999 or .9999 purity. These numbers merely indicate that a piece of fine gold (.999) is 99.90% pure while pure gold (.9999) is 99.99% pure. Usually when gold bars are minted, a certain percentage of other precious metals are minted into the bar or coin or bullion to help increase the hardness of the metal. Gold is a naturally soft metal, so sometimes it needs a little platinum or other precious metal to make it a bit more sturdy. It's especially useful for jewelry, but also applies to gold bars. 
Gold Bars Are Almost Inflation Proof
Supply chain issues in the wake of the covid-19 pandemic combined with a rise in prices has led to a period of inflation in recent months. This inflation is disrupting the way we do business in myriad ways. So, in times like these investors might turn to gold as a hedge to protect against inflation. When deflation occurs, the purchasing power of the metal also tends to go up. Gold tends to retain its value during economic issues and can usually rebound significantly once a recession/period of inflation ends. It's price rises when the cost of living rises. Furthermore, investors love gold as a weighted diversification of their portfolio and insulate themselves against geopolitical uncertainty. Overall, the precious metal is a good bet for investing in various capacities.
They Come In Different Sizes
One of the nicer aspects of investing in physical gold is the size, variety, and versatility one can get with these magnificent bars. Buyers can usually get them in sizes ranging from a single gram to 400 ounces. That's a lot of variety! It might be best to start with a certified 1 oz gold bar, experience the joy and advantages that come with it, then branch out into buying more of the same or going into different sizes.
Only A Few Mints Make Them
Interestingly enough, only a few minutes actually manufacture gold bars. Both private and government mints exist, but there are very few. Some mints, such as the Scottsdale Mint, are renowned for their dedication to high quality. Others are better known as bullion manufacturers or for making gold jewelry. Due to the nature of precious metals and their value, getting something directly from the mint offers a unique opportunity to acquire something of immense value and worthwhile investment within the magnificent world of gold bars.
(Visited 12 times, 1 visits today)