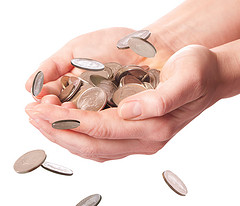 When people think about protecting themselves against financial losses in the future resulting from major accidents or catastrophic events, they normally consider insurance. Homeowners insurance, auto insurance, and even life insurance are considered to be necessities by many individuals. However, one asset that people often neglect to protect is their income. The truth is that you can, in fact, insure your income against loss by purchasing private disability insurance.
Most people envision that they will remain healthy and able to continue working until retirement. This is not always the case, however. In fact, the Social Security Administration estimates that approximately one out of every four 20 year olds will become disabled to some extent before reaching retirement. 1 out of 4 is 25%. The numbers are not exactly favorable. In the event that tragedy strikes, disability insurance enables to you at least have a steady income flow to support yourself and your family in difficult times.
What Are the Benefits of Disability Insurance?
There are actually many varieties of income insurance, but disability insurance is the most common way to protect your income. If illness or a non-work-related accident occurs, at least some of your assets will be protected. Many people think that life insurance is enough; it's not. In the case that a primary wage earner is disabled in a car accident, life insurance isn't going to be helpful. Although everyone is entitled to disability payments from the government, should individuals become disabled, in many cases the payout is just not enough to make ends meet. This is why private disability insurance is a good idea.
Increasingly, financial advisors are recommending that their clients purchase disability insurance as a way to protect their income. In the case of accident or illness, provided that it's not a workers' compensation issue, disability insurance will typically replace a specified portion of an individual's income. While policies vary many will continue to pay this portion of your income until you are able to work again or until you pass away.
Another benefit of disability insurance is that in many cases, because your premiums are paid after taxes, the benefits payments are not taxed. For example, if your disability policy only pays 60% of your income at the time you stopped working, this 60% goes further than you might think because it's not taxed. If we assume that many Americans pay 25% to 30% of their income in taxes of various sorts, this 60% untaxed is not as paltry as it may seem at first.
How Does Disability Insurance Work?
Most policies only kick in after a certain waiting period. For example, after you've been diagnosed with an illness, you may have to wait for six months before you're eligible for disability insurance. Generally, you must first use any sick days or paid leave you may have at your job before receiving disability benefits. This period between the time you are diagnosed or become disabled and the time that benefits start paying is referred to as an "elimination period." Speaking to a financial expert, such as Don Gayhardt, can be helpful to get more information about how disability insurance can work to protect your income.
Do You Already Have Private Disability Insurance?
This is a question you should ask your human resources department. Many employers do offer disability insurance as part of their standard benefits package. It's entirely possible that you already have disability insurance. You should research to find out whether you are covered and for how much. There are some significant differences between group and individual plans, however, so even if you are insured through your employer, you may want to consider an individual policy as well.
What Are the Major Differences between Group and Individual Disability Plans?
A group plan, that is disability insurance provided by an employer, is not portable. If you change jobs, you cannot take your coverage with you. Individual policies are usually more expensive per individual than group plans, but tend to offer better benefits.
What Other Options Are There to Insure Your Income?
Unemployment protection insurance works to guarantee income should you suddenly lose your job. It pays out a specified monthly sum for a limited period of time. Critical illness insurance pays out a single lump sum in the event of a critical illness or disease. Mortgage payment protection insurance can also be helpful in the event that someone loses his or her income.
Most of us don't like to consider how our finances might be affected by illness or catastrophic events. It's certainly not pleasant to think about. However, purchasing private disability insurance is a way to purchase peace of mind. You can know that even if the worst happens, you and your family are almost guaranteed at least some income. You owe it to your family and yourself to make sure that your income is insured.
Like Us? Sign Up!
Subscribe to get the updates from The Free Financial Advisor.