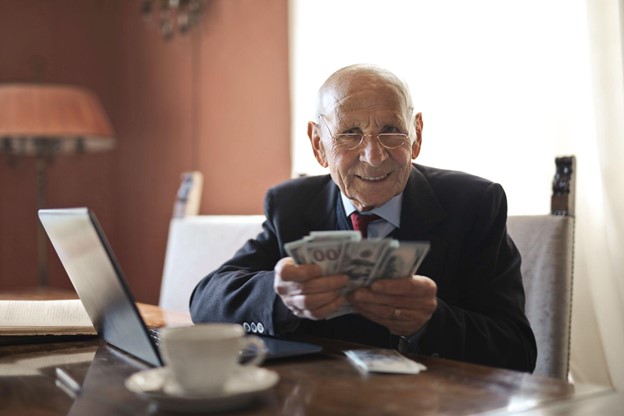 https://www.pexels.com/photo/confident-senior-businessman-holding-money-in-hands-while-sitting-at-table-near-laptop-3823493/
Whether your retirement is approaching or you want to start planning early, it's important to take a close look at your investment portfolio to ensure it's aligned with your current goals and needs. If you're like many people, your portfolio may have been focused on growth over the years. But as retirement nears, you'll want to shift your focus to preserving your assets and generating income. That may mean making some changes to the way your portfolio is invested.
Here are a few things to consider as you re-evaluate your retirement investment portfolio:
Your Time Horizon
How long do you expect to be in retirement? If you're planning to retire relatively soon, you'll want to ensure a substantial portion of your portfolio is in cash or investments that can be readily converted to cash. A good example for this is a gold IRA, which you can withdraw money from at any time, based on some of the best gold IRA companies. That way, you'll have the flexibility to withdraw funds as needed without having to sell investments that may be down at the time.
The right timing for selling investments is often dictated by your need for the money, not market conditions. On the other hand, if you're still several years away from retirement, you have a longer time horizon to ride out market fluctuations. That means you can afford to take on more risk since there's a greater chance that your investments will recover from any short-term losses before you need the money.
Your Risk Tolerance
Are you comfortable with the idea of seeing the value of your investments fluctuate up and down over time? Or would you prefer investments that are more stable in value? As you get closer to retirement, it's generally advisable to reduce the amount of risk in your portfolio by shifting some of your assets into less volatile investments such as bonds or cash equivalents.
But that doesn't mean you should completely abandon stocks and other growth-oriented investments. A mix of both types of assets can provide the potential for higher returns over the long run while helping to protect your portfolio from the potentially devastating effects of a severe market downturn. The key is to find the right balance between risk and return for your individual circumstances.
Your Income Needs
How much income will you need to generate from your retirement savings? If you have a pension or other sources of guaranteed income, you may not need to rely as heavily on investment income. On the other hand, if you don't have a pension or are otherwise expecting a significant drop in income in retirement, you'll want to make sure your portfolio is invested in a way that will provide the level of income you need.
To get a sense of the income you can generate from your portfolio, look at the yield – the percentage of your portfolio's value you can expect to receive in dividends or interest each year. For instance, if your portfolio has a value of $100,000 and a yield of four percent, you can expect to receive $4000 in investment income each year. Of course, the yield on your portfolio will fluctuate over time, so think about how much income you'll need on an annual basis and make sure your portfolio is invested in a way that will provide that level of income.
Retirement Is Not an All-or-Nothing Proposition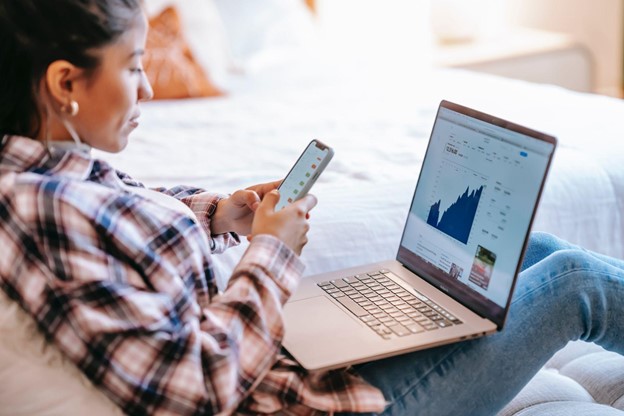 https://www.pexels.com/photo/crop-ethnic-trader-with-smartphone-and-laptop-on-bench-indoors-6347720/
You don't have to retire all at once. You can continue to work part-time or in a consulting capacity and still have time for leisure activities. This also allows you to gradually transition your portfolio from a higher risk/reward posture to a more conservative one. So, as you approach retirement, re-evaluate your investment portfolio and ensure it is aligned with your new goals. Also, consider other good alternative investments to provide both stability and growth potential.
Seek Professional Help
Finally, don't be afraid to seek professional help if you're not sure where to start. A financial advisor can work with you to re-evaluate your portfolio and ensure it's on track for retirement. By re-evaluating your investments now, you can ensure a comfortable retirement later.
(Visited 42 times, 1 visits today)