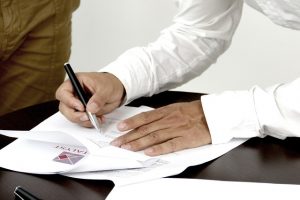 When you're running a business, large or small, you'll be working with contracts regularly as a fact of life. When you're just starting out, it's likely you'll be dealing directly with all your contracts yourself, as you probably won't have a dedicated member of staff or fully developed HR department. It's important to understand the issues involved and make sure you're writing and signing contracts that help you get exactly what you need from members of staff, from suppliers and from landlords.
Here are some tips to make sure you're getting the best out of your business contracts.
Make sure you've taken the time to consider exactly what you need before you come to either sign a contract or write one up: rushing into an agreement without due consideration could saddle you with a supplier, service or even employee who isn't the best use of your resources and is difficult to make a clean break with.
When you can define what you need, make sure a period of assessment is built into the contract: you can measure what you get against what you need and if you aren't getting what both parties have legally accepted what represents value, you are free to terminate the contract. This is typical with employment contracts: most employees will work a probationary period during which time their performance will be assessed: there's no reason the same logic cannot be applied to someone supplying raw materials to you, allowing you to break the contract if they do not make deliveries on time and with materials that meet the standards you need.
This is particularly important when working with a consultancy contract: consultants frequently demand a large fee with the promise of providing dramatic results: make sure you can quantify those results and have a window to release the consultant if they are not a good fit for your business.
Finally, it's important to make sure all of this is actually in the contract: you may have discussed many different possible services and conditions with the other party, but if they don't actually make it into the contract they are not enforceable by law.
Keeping these common sense issues in mind while you deal with contracts will help you get the most out of them and make sure you don't run into unpleasant surprises down the line.
Like Us? Sign Up!
Subscribe to get the updates from The Free Financial Advisor.