While you may think that being frugal is the same thing as being poor or never having enough money, but that's actually not true.  There's a big difference between the two and it has nothing to do with how much money you have in the bank.  Instead, it has everything to do with your mindset.
You're not alone in your situation. Look around you; people everywhere are living on a tight budget. And they all have the same choice to make that you do, decide that you're "poor" and feel sorry for yourself, or know that you can make choices from where you and make the best of your situation.  While your financial situation may be challenging, you always have a choice as to how you respond to it.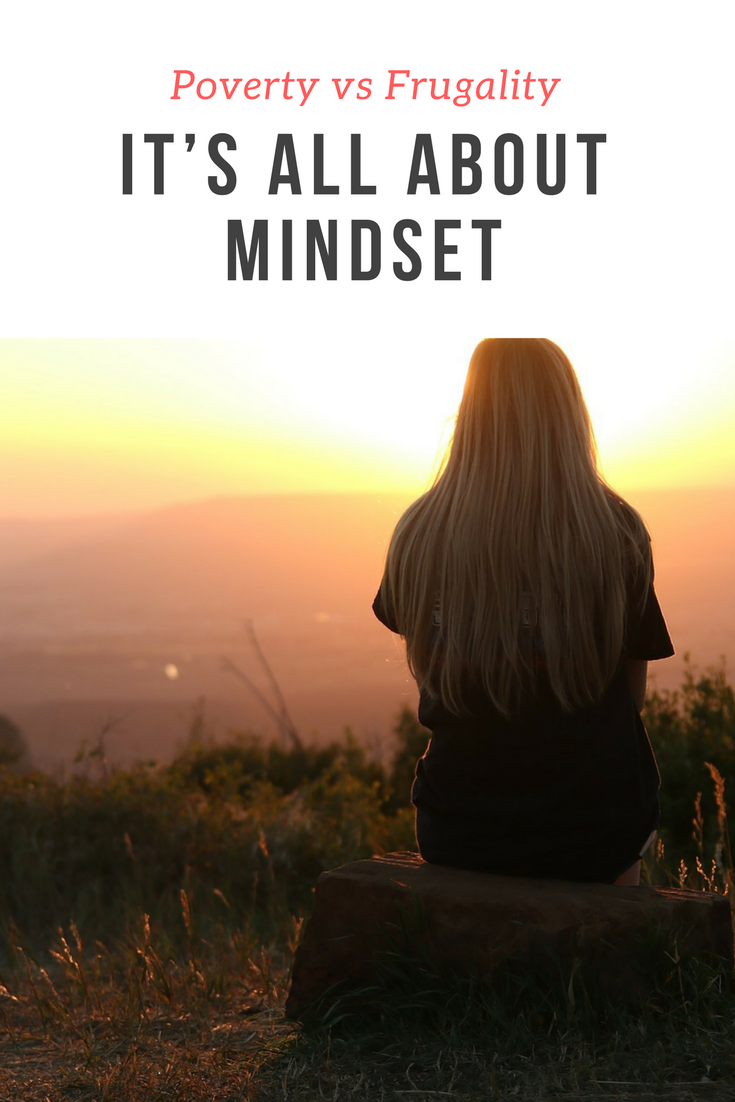 What does the word "poverty" bring to mind? Homeless people begging on the street corner and eating at soup kitchens.  Or living in a rundown home and always having dirty and tattered clothes.
The key to it all is how you let your thoughts control you.  See for yourself:
"I never have enough" or "I have everything I need"
"We can't afford to buy that" or "We choose not to buy that because other things are more important"
"How will we ever manage until payday" or "We're challenged to figure out how make it to payday"
Can you see the difference?  It's all in how you control your thoughts.  With the wrong mindset, you'll never have enough and you'll never be content.  You'll always be wishing you had more.  A poverty mindset comes from being fearful that you'll never have enough so you feel helpless to fix your situation.
But having a frugal mindset means you make "choices" about how you spend your money. This puts you in control of your financial situation and how you spend your money.  Instead of experiencing "fear", you feel "challenged", as if you have an obstacle to deal with.  Being in control is a much different mindset to feeling helpless, all with the same amount of money in the bank.
"Choosing" to budget and live on less gives you a sense of control. You are more careful about the choices you make with your money, but they are still your choices.  Your "wants" don't have to be met right away. You can wait until you've taken care of your "needs".  Instead of impulse shopping and spending your entire paycheck in a weekend, you make better choices and buy only what you need then take care of your other responsibilities like rent and utility bills.
Choosing to live on less means you're in complete control of how and when to spend your money. This allows you to make better financial decisions about the best ways to provide for your family; even if you're a little jealous of what other people are buying.
Even if you make a good living, choosing to spend frugally and saving money whenever you can could possibly be the difference between carrying a lot of debt and living debt-free.  And isn't that a better way to live?
Choose a better mindset when it comes to your financial situation.  The difference is feeling helpless and out of control or feeling smart about your choices even though you sometimes feel challenged.