Having bad credit is frustrating. Not only are you at a lower risk of being approved for a new loan or credit card, you're also less likely to be approved for reasonable terms. No one wants to pay a double-digit interest rate, and deposits for a secured credit card can be impossible to pay.
While thousands of people face the hassle of having bad credit, the good news is that there are many different methods you can use to repair your credit health. A bad credit score isn't a life sentence! While the fix won't happen overnight, consistent good credit habits do make a difference.
Keep reading to learn 5 ways you can repair bad credit and improve your overall credit standing.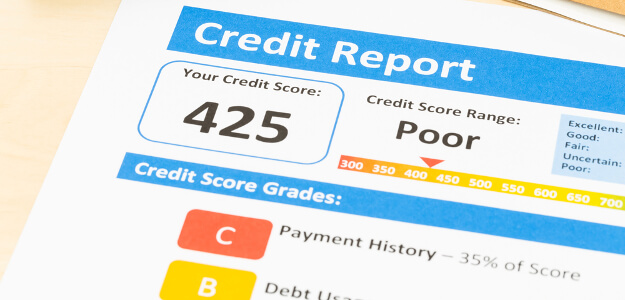 1. Look at Your Credit Report
Before you can start repairing your credit, you have to first know what's causing your score to be so low in the first place. While you may know your credit is damaged, understanding the how is important.
The first step to take in repairing your credit is to carefully review your credit report. Check for any errors which can cause credit score damage. You'll also want to look for any signs of fraud, such as a loan or credit card you never opened.
Once you've disputed any errors and determined that your credit report is accurate, you can start the process of repairing your credit score.
2. Catch Up on Late Bills
One of the most common factors that can cause your credit score to slip is late bills. If you don't pay a bill within 60 days of the due date, the creditor can report the late payment to each of the credit bureaus. If you're still within the 60 day period, now is the time to catch up on payments. Making at least the minimum payment will prevent your accounts from falling into the delinquent status.
For bills that are more than 60 days overdue, the lender has likely already reported to the credit bureau. Your best option is to make a payment so that the status of the report shows that you no longer owe money. This is important because some of the new credit score providers, like VantageScore 3.0 and 4.0 along with FICO Score 9 don't consider collection accounts if they've been paid.
3. Pay Down High Balances
Credit utilization makes up 30% of your credit score. If you have high balances on a credit card, and want to improve your credit score, it's important to pay down high balances. The higher of a balance you carry on a card, the more it negatively impacts your score.
When paying down credit card balances:
Pay off any credit cards that are over their limit first

Focus on the highest interest rate credit card next

Aim to only use 30% of your credit limit
By paying down high balances on credit cards, not only can you improve your credit score, but you're also able to save money in terms of interest and other fees.
4. Get New Credit
Credit mistakes in the past may make you wary of opening new credit accounts. But, getting new credit is a vital step in repairing your credit health. While you're unlikely to get approved for many major credit cards, there are many credit cards available for those with bad credit. One of the best places to look to learn about these credit cards is Get Out of Debt.
With bad credit, be prepared to only be approved for a small credit limit. You may also face higher annual fees and interest rates along with a deposit, especially for secured credit cards. Though not ideal, having a decent credit card is better than having no credit at all.
5. Practice Good Credit Habits
Financial emergencies happen, but many people end up in a lot of debt because of their own spending and credit habits. If you want to make lasting changes to your credit health, you'll need to avoid the bad financial decisions of the past.
To start, always make payments on time. In fact, pay before the due date so that you pay less towards interest. Next, pay your balance off in full each month. If you're unable to pay the entire balance, be sure to pay more than the minimum.
As a rule of thumb, try to stay below the 30% threshold of your credit limit. If possible, stay below 10% so that you keep your credit utilization low.
By implementing good credit habits, you can repair your credit and prevent credit issues in the future.
Conclusion
Being plagued with bad credit can seem like a never ending financial nightmare. But, by using these five tips, you can improve your credit score and know exactly how to prevent ruining your credit again in the future.

If you have any experience rebuilding your own credit after having a low credit score, leave a comment with your experience, and share your best credit repair tips in the section below.
Like Us? Sign Up!
Subscribe to get the updates from The Free Financial Advisor.